The next Volkswagen Amarok will be based on the Ford Ranger and it will be produced at Ford's Silverton facility in Gauteng, South Africa. Take a look at we know about the new Amarok below!
Renders courtesy of Duwyne Aspeling, Cars.co.za
Considering it was launched in South Africa in 2011, the Volkswagen Amarok is, by now, quite long in the tooth. There have been some mild updates along the way, like the addition of a beefy 3.0-litre V6 turbodiesel, as well as the introduction of the range-topping Canyon edition. In 2020, we're expecting an even more potent V6 motor (with a peak output of 190 kW) to make its way into the local market in the 3rd quarter (although, we hasten to add that VW has been promising this engine for a few years already). The V6 turbodiesel has been a hit for VWSA, with most lifestyle customers favouring the bigger engine over the 2.0-litre biturbo. While it may not sell in the volumes that its Toyota Hilux and Ford Ranger rivals do, the Volkswagen Amarok has proven itself more than capable and bagged 3 consecutive #CarsAwards – powered by WesBank category wins in the Leisure Bakkie category.
A product lifespan of a decade is long compared those of passenger vehicles, which are renewed completely every 5 to 7 years. Volkswagen recently presented a sketch of the 2022 Amarok at its annual media conference. Granted, it was a true teaser: the bakkie was proportionally over the top with outrageously huge tyres and a pedestrian-unfriendly bonnet. As wild as it looks, it confirms the German brand is working on a successor to the Amarok. We've created two renders, which we think take the elements from the concept sketch and put them into a more production-ready body.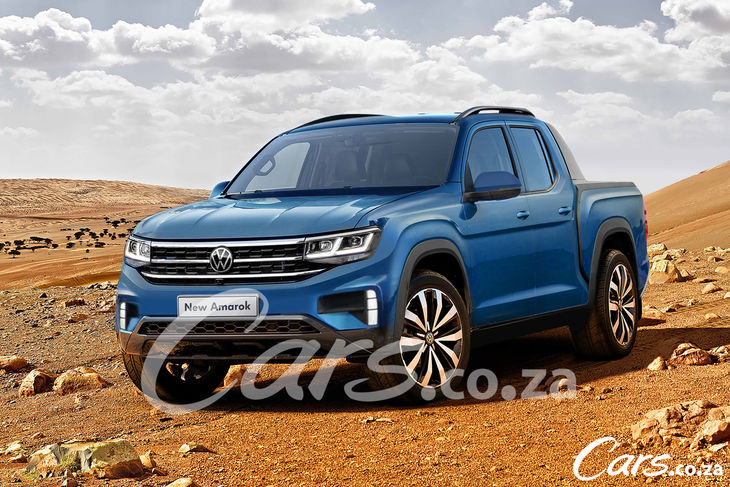 Using an existing Amarok body shape, we've taken inspiration from the latest VW design cues such as the headlights and illuminated grille
However, there's been a significant development in the new Amarok's gestation: Volkswagen and Ford signed an agreement to develop and share costs on the new generation of commercial vehicles, which includes bakkies, as well as vans. The agreement essentially means the next-generation Ford Ranger and Volkswagen Amarok will be developed as part of a collaborative effort and it has now been confirmed that the next Amarok will be produced locally at Ford's Silverton production facility as of 2022. Interestingly, the collaboration has ensured the future of the Amarok and without this alliance in place, the Amarok would have in all likelihood been shelved as pointed out by Thomas Sedran, Chairman of the Board of Management of Volkswagen Commercial Vehicles, who commented, "Ultimately it is our customers who will benefit, as without the cooperation we would not have developed a new Amarok."
Think of it as the bakkie version of the Toyota Supra/BMW Z4 project, with the Blue Oval and its Wolfsburg-based collaborator pooling their resources. Right now, the current iteration of the Ford Ranger is arguably the most digitally-connected of all the bakkies on the market, plus it boasts impressive levels of safety technology, something we're sure Volkswagen will want to incorporate into a new Amarok.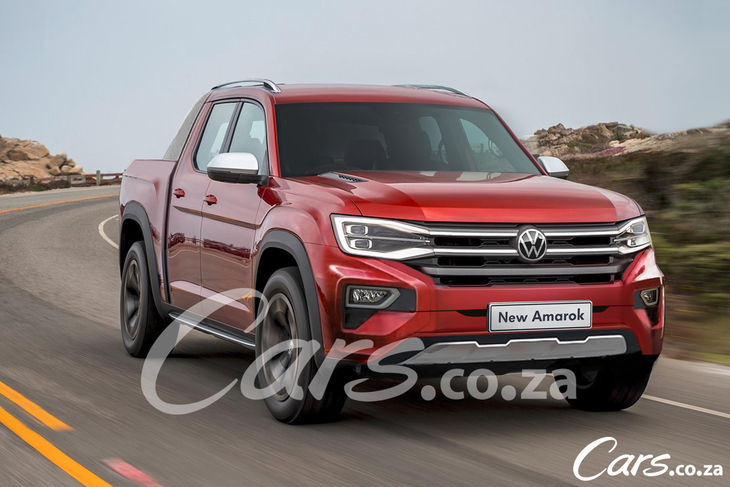 Inspired by the Volkswagen Atlas Tanoak Concept, our 2nd render adopts a more masculine approach.
Now, this is where things get really interesting… Ford South Africa's top business priority is not the sale of vehicles, but to produce engines and vehicles for the local, as well as export, market. The Silverton facility in Pretoria is utilised to produce body panels and for the final assembly of vehicles, while the Struandale engine facility doesn't just make engines to supply South Africa… Ford produces Rangers, Ranger Raptors and Everest adventure SUVs for the right-hand drive markets of the world, while some of the engines are earmarked for products like the Transit.
Ford South Africa will be desperately keen to retain the business of building vehicles and given how popular the Ranger is in South Africa, the local sales numbers that come with it. The Ford Motor Company has made it clear this collaboration focuses on the European, African and SA markets. Interestingly, the USA was not mentioned, presumably as the F-150 dominates that (major) market. 
Much of the Ranger's development and testing is done by the Blue Oval's Thai and Australian subsidiaries, whereas Ford Motor Company of Southern Africa (FMCSA) doesn't have all that much say in the final product that is released into the market. Once it begins assembly of the new model, it can localise certain aspects or fix faults quite quickly, if need be.
2022 Volkswagen Amarok
While it's very early in the development phase, speculation based on trends and past experience means we do have some idea of what could happen. Despite the Dieselgate scandal, turbodiesel will remain critical in commercial vehicles and, given how slowly the fuel quality has improved in Sub-Saharan Africa, we wouldn't be surprised if VW's current engine portfolio of 2.0-litre biturbo diesel and 3.0-litre TDI V6 diesel motors are carried over, albeit with minor revisions. For this bakkie to be sold in Europe, it's going to need to comply with harsh emissions regulations, so there's a massive question mark for that market. South Africa's emissions regulations are much less stringent. Perhaps Volkswagen will shove its Touareg R's hybrid 3.0 V6 turbopetrol motor into the engine bay?
There's is absolutely no doubt that Volkswagen is aware of how well the Ford Ranger Raptor has been received, plus there's the imminent arrival of the GR Hilux. While an Amarok V6 with monstrous tyres and offroad-racing suspension may be a bit far-fetched, Volkswagen would probably consider an R-Line body kit for its next-gen double-cab bakkie, having noted how successful that trim level has been on its other passenger-vehicle products. When last did you see a non-R Line Volkswagen Tiguan? Let's not forget this is a shared collaborative effort with Ford, so there's no reason why we couldn't see Ford engines making their way into the next-gen Amarok, similar to the Z4/Supra overlap, which sees a BMW powerplant feature in both the German roadster and Japanse coupe.
Summary
Both brands have heavily invested in their South African production operations and bakkies are such an integral part of South African motoring culture. With this in mind, the idea of next-gen Ford Ranger ladder-frame chassis units leaving the Silverton factory and heading for Volkswagen's Uitenhage plant for next-gen Amarok bodywork and final assembly is not as radical as you might think. The next-generation Amarok and Ranger are due to be revealed in their final form in 2022. Watch this space, as we're very likely to spot prototype mules undergoing testing in South Africa.
Further reading:
Next Volkswagen Amarok To Be Built Tough in SA
Building the Ford Ranger Raptor's Engine
Mustang power for Ranger Raptor
5 Cheapest Automatic Double-Cab Bakkies in SA
Key Differences: 2019 Volkswagen Amarok Canyon
Original Story by www.cars.co.za