BMW will launch its Golf GTI- and Hyundai i30 N-rivalling 128ti in South Africa in the first quarter of 2021. Fitted with a limited-slip diff, M Sport suspension and a muscular 2.0-litre turbopetrol, the 128ti is claimed to bolt from 0 to 100 kph in just 6.1 sec. It will also mark BMW's first stab at the traditional front-wheel-drive hot hatchback market…
Ever since BMW waded into premium compact hatchback segment with the 1 Series, be it with the rear-wheel-driven 1st-gen (E81/E82/E87/E88) or 2nd-gen model (F20/F21), the Bavarian manufacturer has curiously avoided a confrontation with the benchmark Volkswagen Golf GTI and fellow front-wheel-driven (FWD) hot hatches. Why? Well, the firm initially put its performance focus on 1er derivatives with inline-6 turbopetrol motors.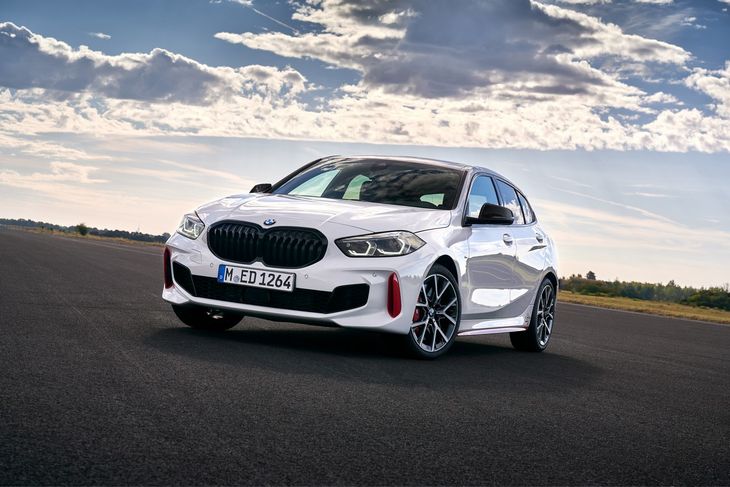 However, when BMW switched to a FWD platform for the third (and current) F40-generation 1 Series, it began by aiming low with the entry-level 118i (powered by a 1.5-litre 3-cylinder engine) and, from there, ventured into Audi S3, Golf R and Mercedes-AMG A35 territory with the potent all-wheel-driven M135i xDrive flagship – read our recent review. More versions of the 1 Series are offered in overseas markets, but in Mzansi there is a near-R250k chasm between the aforementioned cheapest and dearest derivatives – and nothing but 118i trim lines in between. Well, that will change when the 128ti arrives in Mzansi next year and it will rival more than a mid-range Audi A3 Sportback and Mercedes-Benz A-Class!
In BMW's new front-wheel-drive (unless with xDrive, on top versions) compact car era, however, a showdown with the Golf GTI, Renault Megane RS, Hyundai i30 N, Honda Type R and other models is inevitable. Given that the Golf GTI is such an influential player in the premium compact hatchback segment (even though it may no longer be the benchmark hot hatch in terms of outright performance), BMW needs to package a sporty 1 Series derivative that will appeal to typical GTI buyers; a hot hatch with kerb presence and pedigree, but also a superbly balanced driver's car. Of course, the BMW's arrival is also juxtaposed with the recent unveiling of the dual-clutch-automatic version of the facelifted Hyundai i30 N.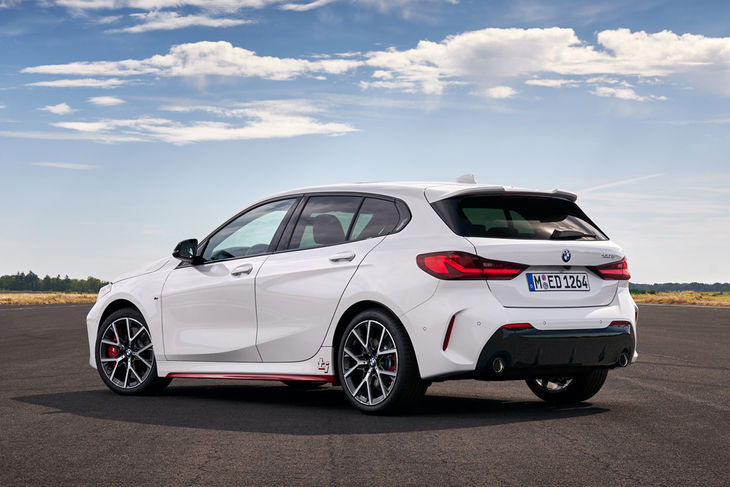 Why a "ti"?
You might be wondering what's with the "ti" (Turismo Internazionale) suffix, which is more commonly associated with an Alfa Romeo trim line. Well, BMW used it on its 3 Series Compact derivatives at the turn of the last century, but the brand has been using the designation (sparingly) since the '60s. To be fair, the BMW might be reluctant to call its newcomer "M128i" because it has decided to associate the M prefix with all-wheel-drive derivatives as far as its compact models are concerned. Besides, any association with the 1970 Nurburgring 24 Hour-winning 2002ti is positive!  
The Munich-based firm previously teased a pre-production version of the 128ti undergoing calibration test drives on the hilly roads of the Eifel around the Nürburgring Nordschleife and, of course, on the famous race track itself. Now that it has been fully revealed, it's evident BMW was keen to follow the GTI's example and make its new hot hatch look eye-catching and purposeful, but without upstaging the M135i xDrive, of course.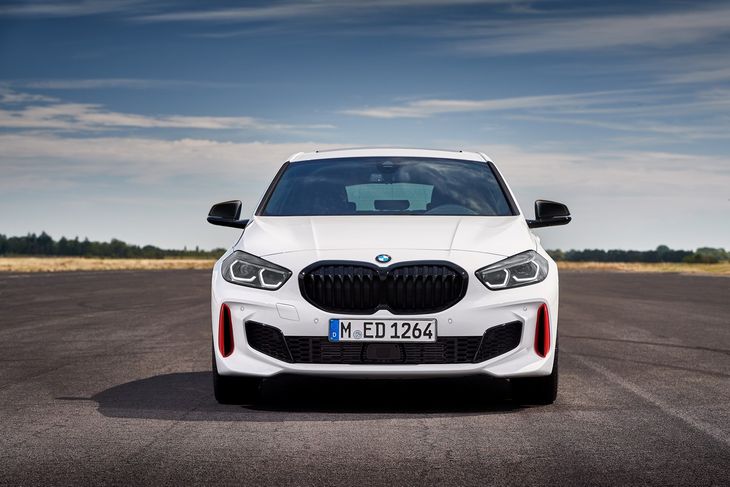 To that end, the newcomer features M Sport bumpers fore and aft with high-gloss black inserts and specially sculpted side air intakes – or Air Curtains, in BMW parlance – as well as air vents at the rear that are finished in red. The side skirt extensions and "ti" livery ahead of the rear wheel arches are in a matching red, unless the car is finished in Melbourne Red or Misano Blue metallic, when the accents come in black.
What's more, the 128ti features a black grille, -side-mirror caps and BMW Individual High-gloss Shadowline window trim, while a darkened "BMW Individual" headlight finish is optional. The "128ti" badge on the tailgate is in chrome, the two tailpipes each have a diameter of 90 mm and the 18-inch Y-spoke 553 M bi-colour light-alloy wheels are exclusive to the derivative.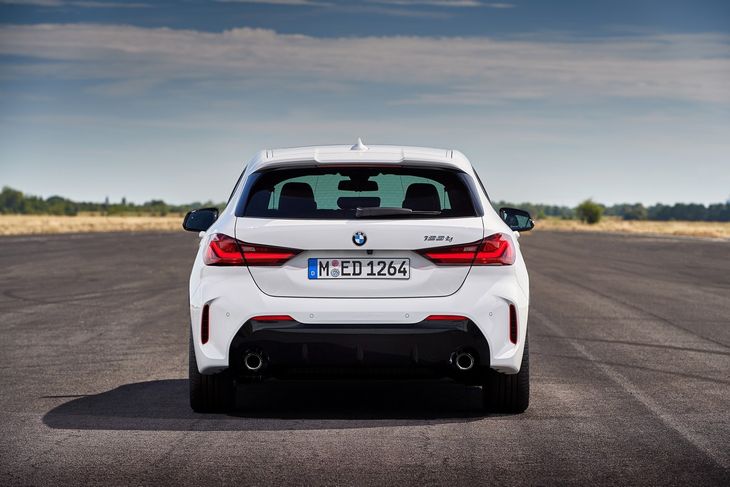 The racy-red theme continues in the BMW's interior, which features a plethora of accents. A red-stripe pattern adorns the backrests of the standard Sensatec/cloth sport seats, while a red "ti" is embroidered into the centre armrest, matched with contrast stitching on the door panels and armrests, instrument panel, floor-mat edging and the standard M Sport steering wheel.
Standard spec includes a sporty black headliner, an M footrest, stainless steel-capped M pedals, M strips on the front door sills, and M seat belts, but sport seats or M Sport seats (with integral head restraints and extendable seat surfaces) are optional, trimmed either in Trigon/Sensatec upholstery in black with special BMW M piping and blue contrast stitching or – like the sport seats – with Dakota leather in Magma Red or black.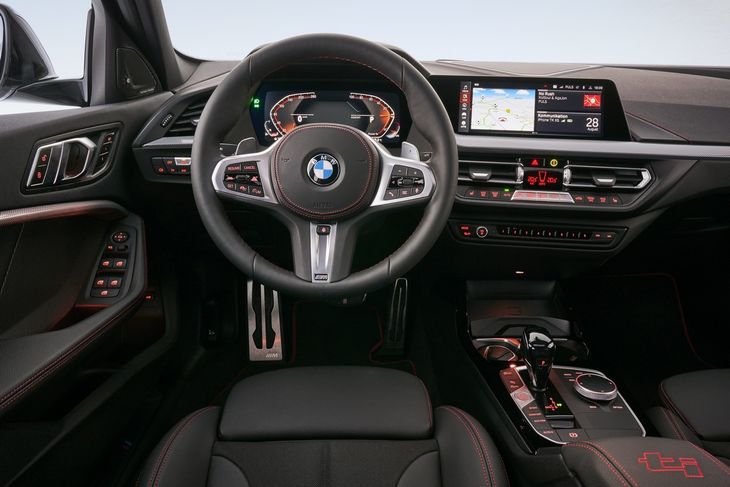 Where it fits in
The 128ti will slot into the 1 Series line-up just below the M135i xDrive, but whereas the latter is all-wheel-driven and produces 225 kW and 450 Nm from, the 128ti is front-wheel-driven (but fitted with a Torsen limited-slip differential) and produces still-potent outputs of 195 kW (4 750 to 6 500 rpm) and 400 Nm (1 750 to 5 500 rpm) from its 2.0-litre 4-cylinder turbopetrol motor, mated with an 8-speed Steptronic sport transmission.
BMW claims its newcomer is capable of bolting from 0 to 100 kph in 6.1 sec and going on to a limited top speed of 250 kph, but the 128ti doesn't only rely on its punchy powertrain for its performance – it carries over some the M135i xDrive's hardware, such as the lowered (by 10 mm) M sport suspension, which includes firmer anti-roll bars and anti-roll bar mounts with high preload, as well as stiffer springs and shock absorbers.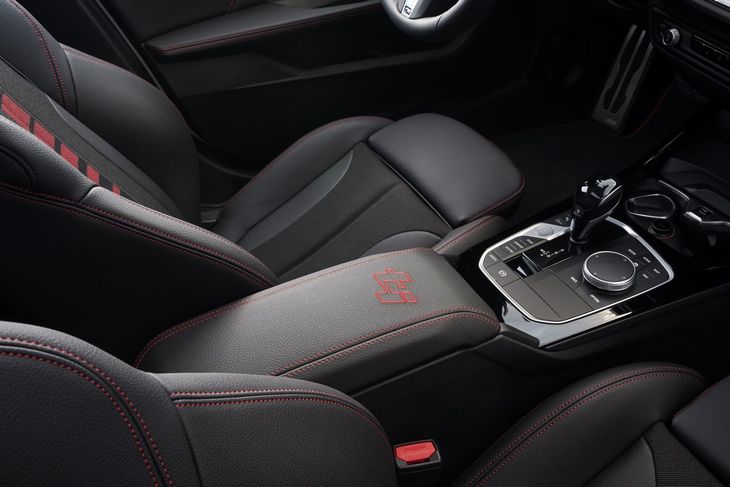 Along with a model-specific steering setup, BMW has also fitted an M Sport braking system (but with red calipers!), that consists of 360 mm ventilated discs with aluminium 4-piston monoblock fixed callipers at the front, while 300 mm discs are fitted at the rear.
Crucially, the front-wheel-drive 128ti is around 80 kg lighter than its flagship sibling and the limited-slip diff, with locking factors of 31% when accelerating and 26% when decelerating, is assisted by BMW Performance Control, whose "sharper" yaw-moment distribution boosts rear-axle agility and the 1 Series range's integral ARB (near-actuator wheel slip limitation) technology, which works in conjunction with DSC to reduce power understeer – a typical drawback of front-wheel-drive cars – "without the need for corrective inputs to stabilise lateral dynamics," BMW says.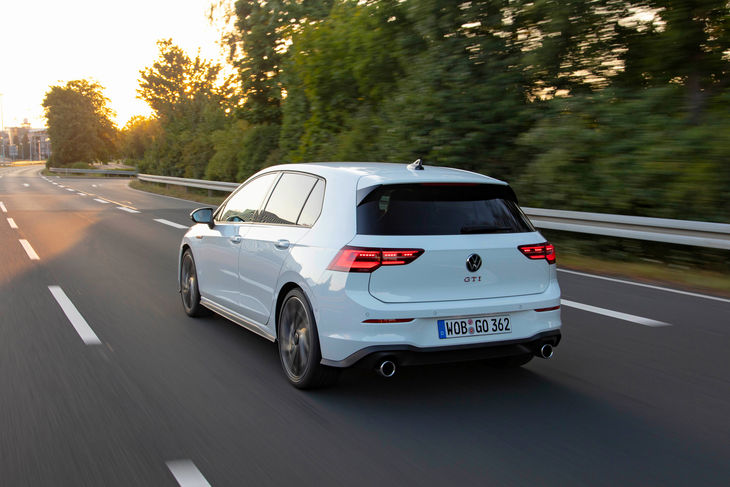 The Volkswagen Golf 8 GTI is also scheduled to arrive in South Africa early next year. Read our launch review here.
Now for the proverbial tale of the tape. Asually a high-end (but non-M) 1 Series derivative would be compared with 2.0-litre turbopetrol versions of the Audi A3 Sportback and Mercedes-Benz A-Class; but seeing as Audi does not currently offer anything between its 1.5-litre turbopetrol- and S3 derivatives, the Bimmer's first and best premium-marque competitor is the Mercedes-Benz A250 AMG Line, which delivers notably lower outputs than its Bavarian rival and, compared with the Volkswagen Golf 8 GTI, the 128ti delivers an additional 15 kW and 30 Nm of torque. 
Altough the Bimmer produces a slightly lower peak power than the Hyundai i30 N N-DCT and Renault Megane RS 280 Lux/Cup and 33 kW less than the Honda Civic Type R, its maximum torque figure is slightly higher than the Hyundai and Renault's and matches the Honda's. In the table below, we've included the figures of the Megane RS 300 Trophy and Volkswagen Golf 7.5 GTI TCR, both of which arrived in Mzansi recently.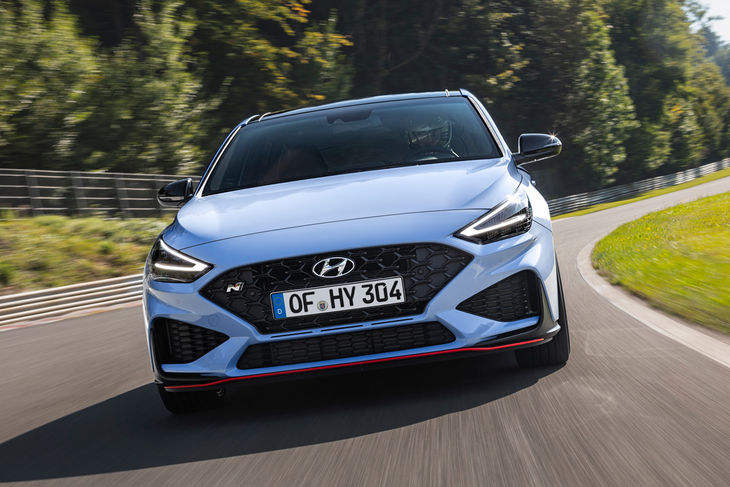 With the introduction of a dual-clutch automatic 'box, the facelifted Hyundai i30 N has a bigger target market. Read more.
Here's a breakdown of what the market's headlining hot hatches produce:
* Note: We've left out the A35 AMG 4Matic, Audi S3 and Golf 8 R because they're all-wheel-drive cars.
The all-new BMW 128ti will be arriving in South Africa in the first quarter of 2021, which is round about the same time as the arrival of the new Volkswagen Golf 8 GTI. Let's get ready to rumble.
Related content:
BMW M135i xDrive (2020) Review
Volkswagen Golf 8 GTI (2020) International Launch Review
Renault Megane RS 300 Trophy (2020) Review
Mercedes-Benz A250 AMG Line (2019) Review
Original Story by www.cars.co.za