The BMW 3 Series has undergone its Life Cycle Impulse (LCI) update. We attended the local launch of the 2023 business-class sedan to experience the changes in the metal.
The 3 Series needs little introduction: for many motoring enthusiasts, it's the quintessential BMW model. Since the arrival of the first generation 3 Series back in 1975, more than 16 million units have been built and the latest iteration of the German sedan – the G20 generation – has attracted over 1.1 million sales!
South Africa has been a key market for the 3 Series; BMW SA now builds the X3 in Rosslyn, but before that it produced no fewer than 5 iterations of the 3er (up to the F30, of which production ended in 2018).
In fact, the 3 Series used to be one of Mzansi's top sellers, but as the model has grown larger, moved further upmarket and become pricier, its segment has declined. Now, the 3 Series needs to stand out more than ever, especially with an all-new locally assembled Mercedes-Benz C-Class to contend with.
Does the BMW 3 Series LCI make a stronger case for itself in an SUV-dominated market? Let's find out.
What's Changed?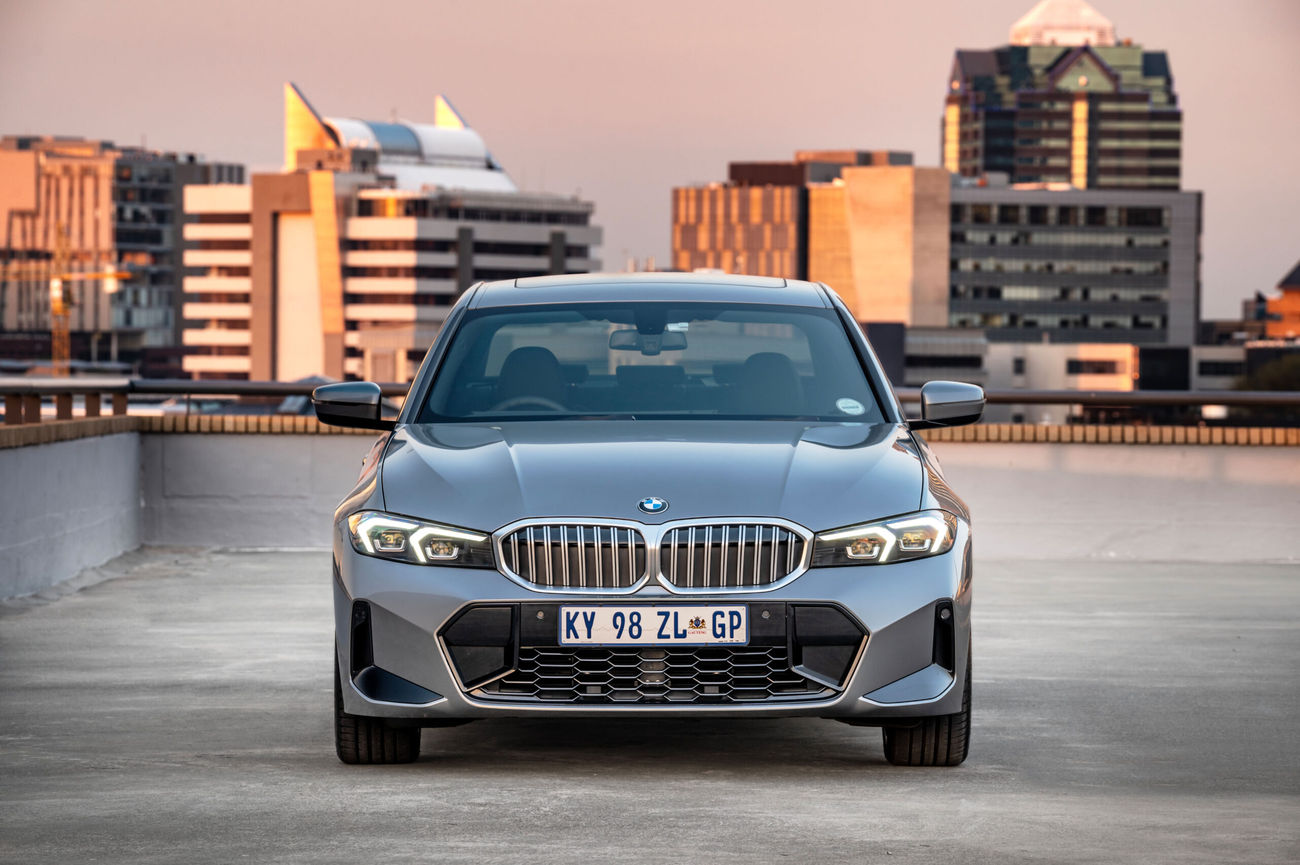 In order to keep the appearance of the BMW 3 Series (2023) looking fresh, the Munich-based brand has revised its business-class sedan's front end by fitting a redesigned bumper with a larger honeycomb-mesh air intake. Those with a keen eye will also notice the slimmer "inverted L" LED headlights.
At the rear, a new-look lower bumper gains a sportier diffuser, while dual 100 mm exhaust ends hint at the 3 Series' performance intentions. It may have put on a tailored suit, but the 3er is still a sporty sedan!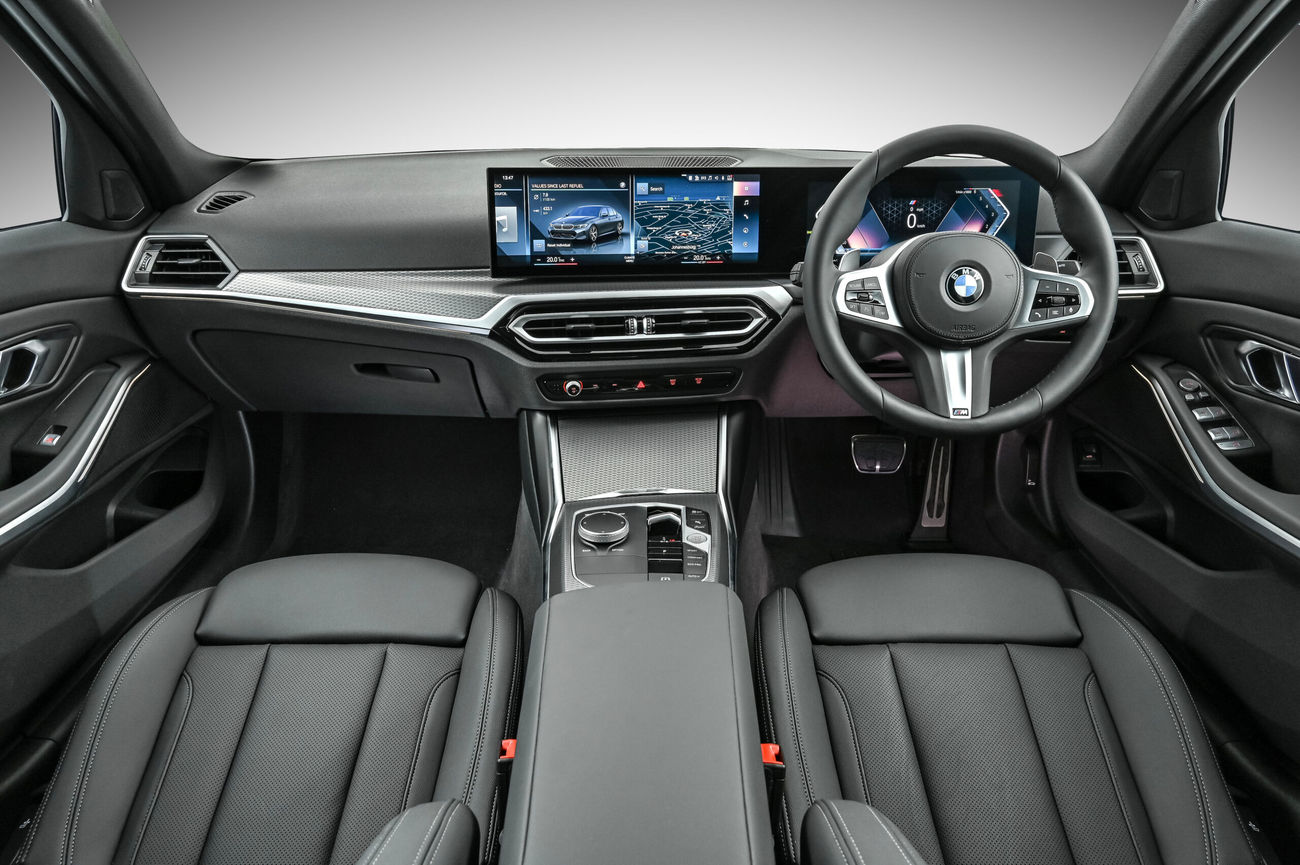 Inside, the most prominent change is the fitment of BMW's Curved Display, which is standard on all 3 Series derivatives. Not only does it incorporate an all-digital 12.3-inch instrument cluster and an enlarged (14.9-inch) infotainment touchscreen, it's powered by BMW's latest software (Operating System 8).
The Curved Display has undoubtedly made the cabin look and feel more sophisticated. We found the system fairly easy to navigate and use, plus the intuitive voice control (with BMW Intelligent Personal Assistant) makes it palpably easy to access basic functions without lifting your hands from the 'wheel.
Another benefit of the Curved Display installation is the reduction of buttons on the centre stack, plus you'll notice that the redesigned centre console now features a discreet transmission-mode selector.
Overall, the interior looks thoroughly modern and technologically advanced, which is precisely what you would expect from a business-class sedan. BMW was clearly determined not to let Mercedes-Benz get too far ahead with the portrait-oriented, tablet-style infotainment touchscreen in the latest C-Class!
What's the BMW 3 Series LCI like to drive?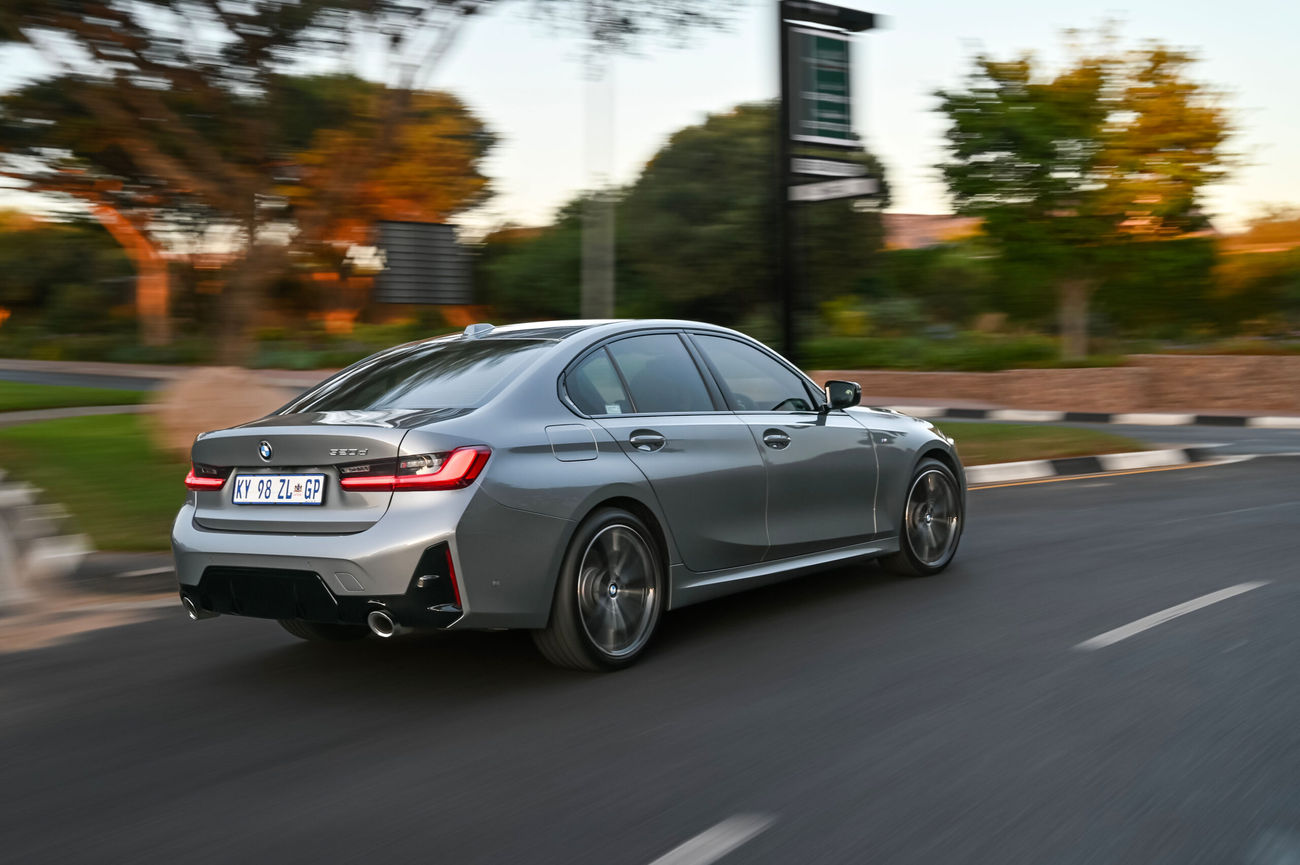 The powertrain line-up is unchanged. The 3 Series range begins with the 115 kW/250 Nm 2.0-litre 4-cylinder turbopetrol engine in the 318i, which is followed by a more powerful version of the motor in the 320i (135 kW/300 Nm). As before, an 8-speed automatic transmission is standard on all derivatives.
There's also a 320d, which is powered by a 140 kW/400 Nm 2.0-litre 4-cylinder turbodiesel engine and we had a chance to sample this derivative at the launch. These days, several manufacturers are phasing out turbodiesel engines from their passenger-car line-ups (apart from their bigger SUVs), but the 320d is arguably the most sensible offering in the range: it strikes a good balance between performance and efficiency. It has sufficient grunt to satisfy most consumers and that extra wallop torque helps to propel the business-class sedan forward with genuine gusto, which is useful when overtaking, for example.
The 320d's handling is praiseworthy too. Compared with its predecessors, the BMW 3 Series feels quite conservative (buttoned-up, if you will), but the G20 generation's steering setup feels sufficiently sharp and responsive, allied with superb sure-footedness and admirable body control under cornering load.
BMW claims an average fuel consumption figure of 5.0 L/100 km for the 320d, which sounds a trifle ambitious, but it makes this derivative an attractive proposition in the current fuel price environment.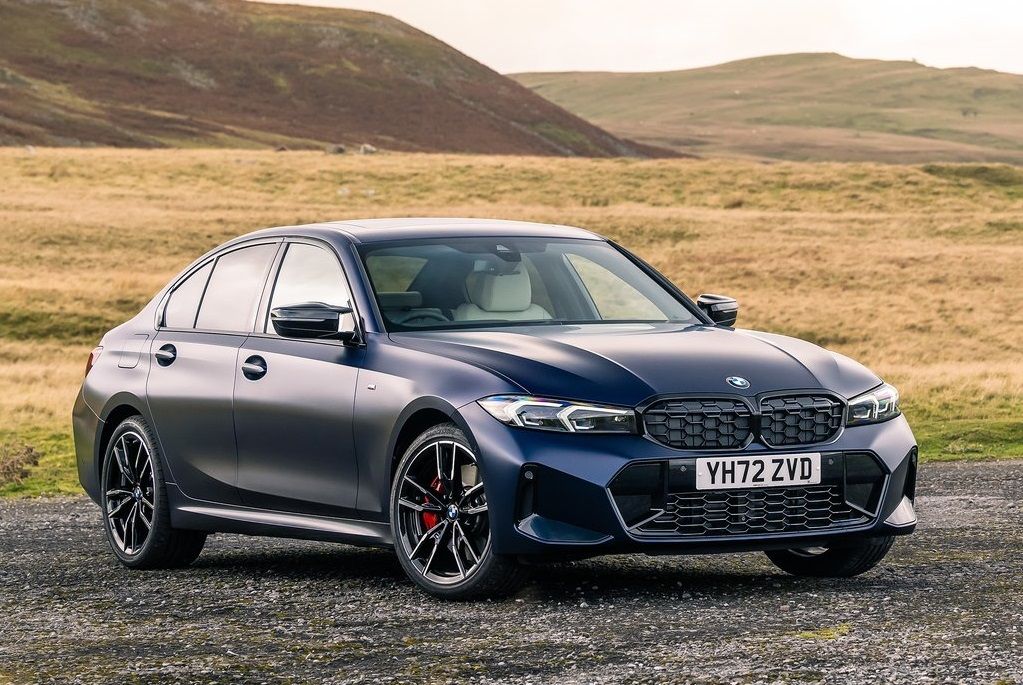 For those seeking heightened driver engagement (a more visceral driving experience, in other words), the all-wheel-drive M340i xDrive is arguably the go-to derivative if you can't stretch your budget to acquire the full-blown M3 (the LCI M3 is coming in 2024) – and what a fine performance machine it is!
Powered by BMW's evocative 3.0-litre, 6-cylinder twin-turbocharged petrol engine that dishes out a meaty 285 kW and 500 Nm (in conjunction with a quick-shifting 8-speed Sport transmission), the M340i xDrive is a rather potent, but also wonderfully balanced, performance-oriented business-class sedan.
As you'd expect, the ride quality is on the firm side (by virtue of the sporty M suspension), but thankfully the latter doesn't sacrifice comfort entirely; it proved to be quite forgiving on Gauteng's potholed roads.
Acceleration is blisteringly fast. If you flatten the accelerator pedal, the M340i xDrive will bolt from a standstill to 100 kph in just 4.3 seconds. Of course, its all-wheel-drive system (appended with an M differential) helps to ensure optimal traction, but it's notably rear-biased… and that gives the 6-cylinder derivative a touch of playfulness) if you're brave enough to explore the full breadth of its performance).
The M340i xDrive is purposely restrained (so as not to upstage the M3), but it emits a glorious noise at full tilt. Occasional pops and bangs from the Bimmer's exhaust will put a smile on your face every time.
See our full review of the BMW M340i xDrive
Summary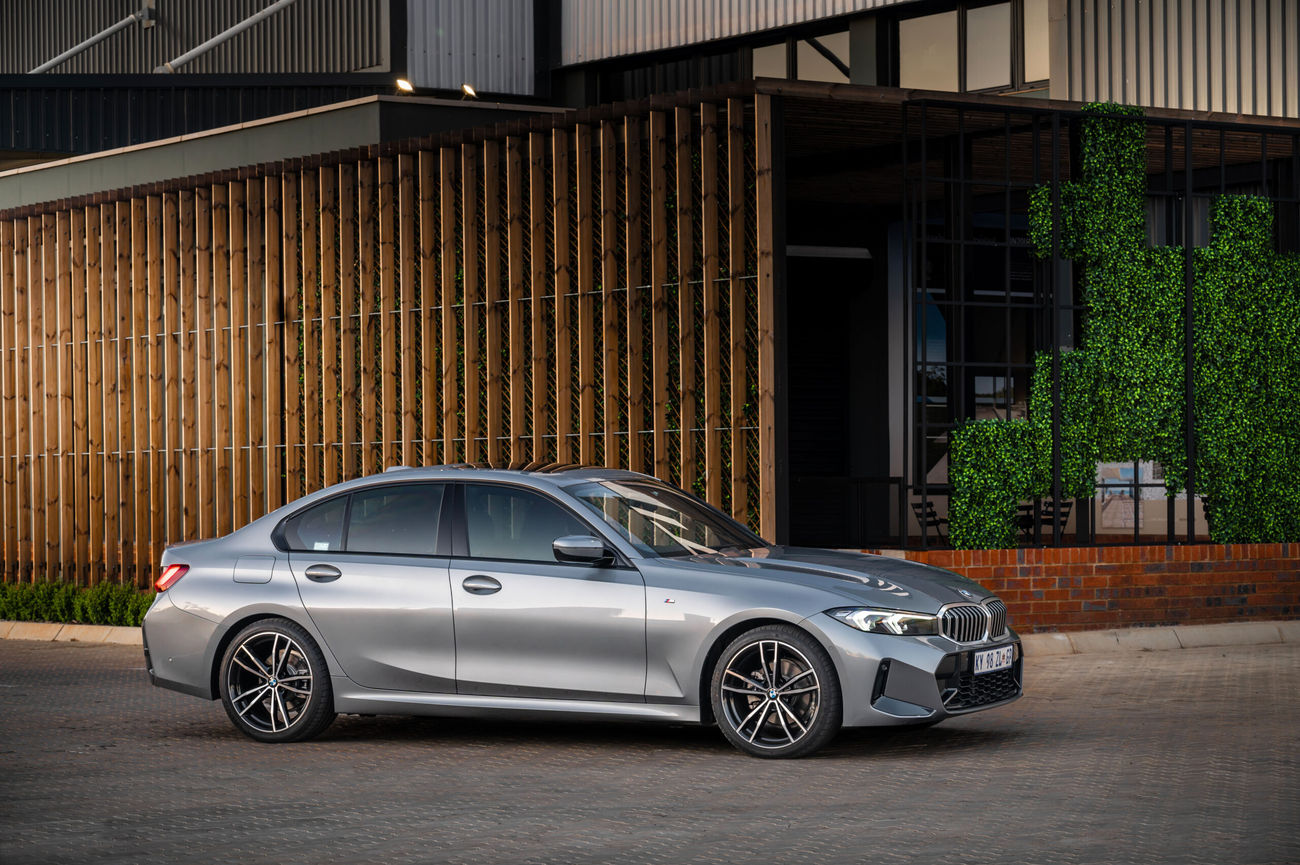 The 2023 BMW 3 Series builds on an already impressive product; the styling tweaks incorporated in the LCI update should find favour with local buyers. Besides, we think that the G20-generation 3er remains the most expressive business-class sedan in our market – yes, even ahead of its arch-rival, the C-Class.
Moreover, the interior tech updates are timely and the cabin's general fit-and-finish remains impressive.
Perhaps most impressive of all, however, is the 3 Series' driving experience and effortless performance. Whether you opt for the 320d or the M340i xDrive, it matters not – you're unlikely to be disappointed.
BMW 3 Series Price in South Africa
| | |
| --- | --- |
| BMW 318i | R767 894 |
| BMW 318i M Sport | R817 894 |
| BMW 320i | R832 894 |
| BMW 320i M Sport | R882 894 |
| BMW 320d | R880 768 |
| BMW 320d M Sport | R930 768 |
| BMW 330i M Sport | R953 197 |
| BMW M340i xDrive | R1 338 207 |
All BMW 3 Series derivatives come standard with a 2-year/unlimited km warranty and a 5-year/100 000 km maintenance plan.
Buy BMW 3 Series on Cars.co.za
Related Content
BMW 3 Series (2022) Specs & Price
Sorry, Folks: New BMW 3.0 CSL Not Coming to SA
Original Story by www.cars.co.za