Meet the finalists in the Budget Car category of the 2020/21 #CarsAwards powered by WesBank!
Now in its 6th year, the #CarsAwards was conceived to be South Africa's definitive automotive awards programme and is backed, for the 5th year running, by the country's leading supplier of vehicle finance, WesBank.
Read more about the 2020/21 Cars.co.za Consumer Awards powered by WesBank here 
Best Budget Cars in SA 
In this revised category we are looking for a car that represents exceptional value for money, whether you're buying up, or down. The winner in this category must also represent a significant step up from the Entry-Level Category in terms of finishes, design and features. The price cap on this category is R250 000.
This category is guided by both eligibility factors and Pillars of Success. 
Eligibility factors for this category include a list price between R200 000 and R250 000 (as of October 1, 2020) and pricing must include the cost of all necessary optional features to meet the eligibility criteria. 
Eligible vehicles must be equipped with ABS, dual front airbags and a service plan. 
Pillars of success for this category include fuel economy, value for money, practicality and brand strength.
Visit www.carsawards.co.za for more information. In no particular order, the finalists are as follows:
Suzuki Ignis 1.2 GLX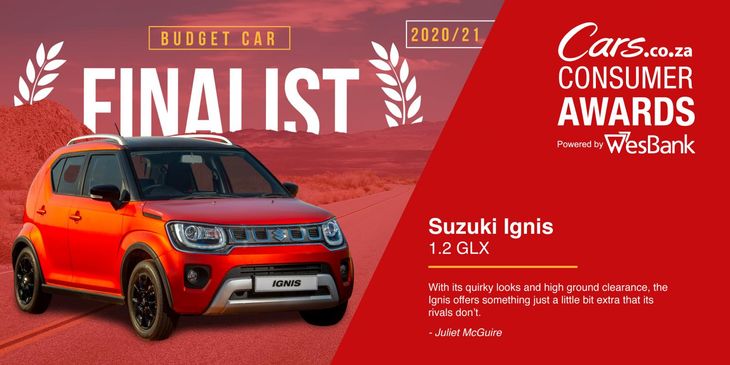 Suzuki's Ignis brings crossover appeal to the budget-car market. With a raised ride height of 180 mm, the Ignis is well-suited to local conditions and, in particular, traversing poorly-maintained road surfaces. Combining charming styling, practicality and frugality, the recently updated Ignis has much to offer and could be on its way to reclaiming the budget car title it won in 2017.
View specification details for the Suzuki Ignis 1.2 GLX
Toyota Starlet 1.4 XR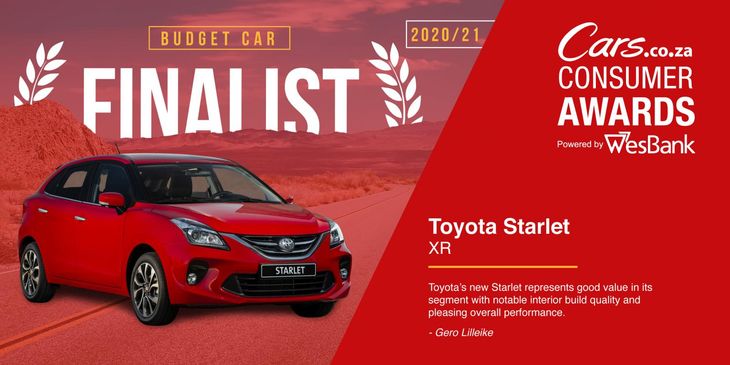 The return of the Starlet nameplate has raised a few eyebrows; as a product of a collaboration between Toyota and Suzuki, the newcomer is a rebadged version of the latter firm's Baleno compact hatchback. Nonetheless, the Starlet is a smartly-packaged model. Not only does it represent a significant improvement over the now-discontinued Etios, but it's also even an alternative to its Yaris sibling.
View specification details for the Toyota Starlet 1.4 XR 
Suzuki Baleno 1.4 GLX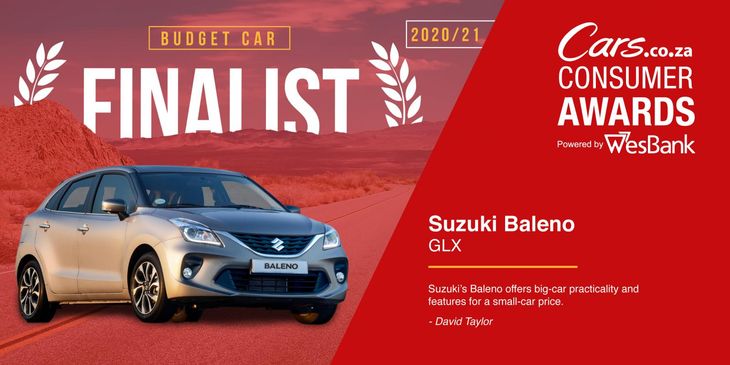 The Toyota Starlet (see above) is essentially a rebadged Suzuki Baleno and a product of a collaboration between the two Japanese brands. Nonetheless, the perennially underrated Baleno compact hatchback deserves a closer look because of its solid build quality, spaciousness, refinement and sheer value-for-money proposition.
View specification details for the Suzuki Baleno 1.4 GLX 
See last year's #CarsAwards winners here!
Original Story by www.cars.co.za