Our intrepid adventure journalist, Gero Lilleike, travelled to the Namib Desert to drive the new Ford Ranger Raptor! Is this the most capable new 4×4 vehicle money can buy?
The new Ford Ranger Raptor is one of the most highly anticipated new vehicle introductions of 2023. Not only does the potent 3.0-litre, twin-turbo petrol V6-powered Raptor top Ford's new Ranger line-up – it's also the most powerful double-cab bakkie you can buy in the South African new-vehicle market.
Ford Motor Company of Southern Africa (FMCSA) wanted to showcase the new Ranger Raptor's talents on a grand scale and chose the Namib Desert in Namibia as a fitting location to host international and local media for a 4×4 off-road experience like no other.
Is the new Ranger Raptor just another "Ford sticker job" or is there serious performance on offer here?
What makes the Ford Ranger Raptor special?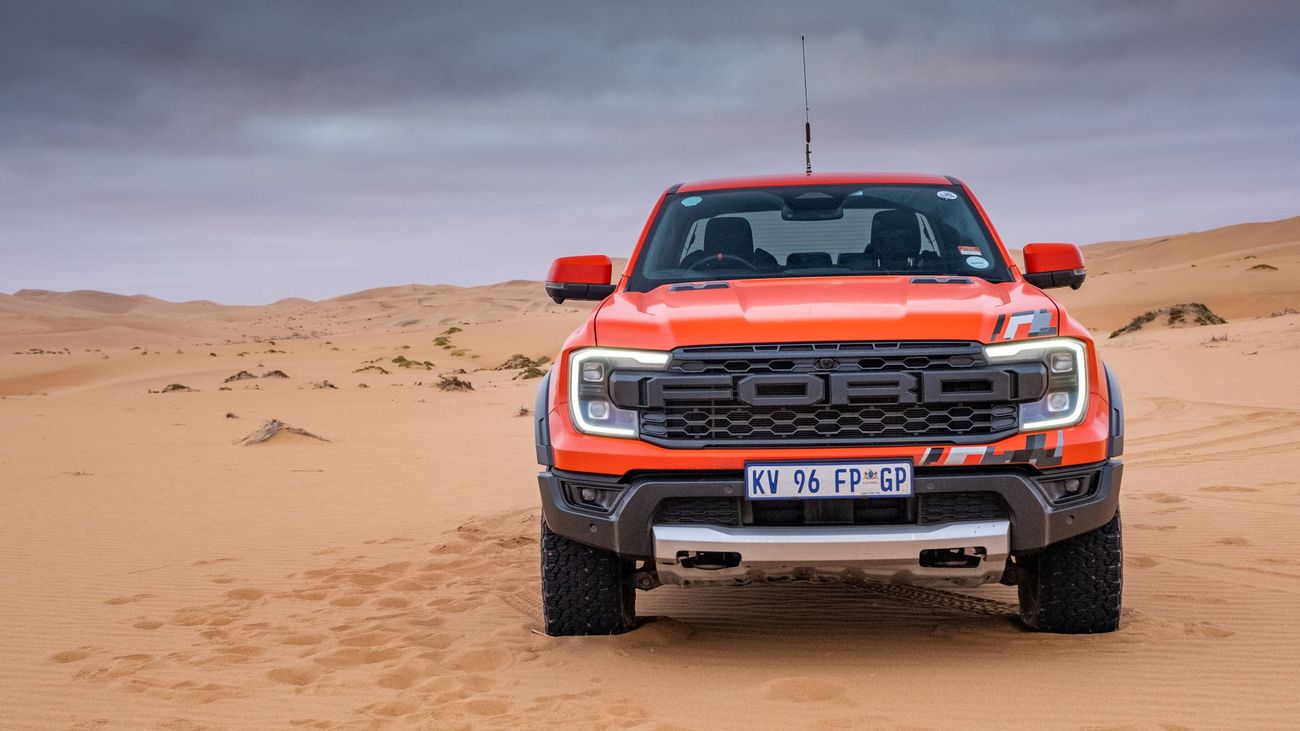 Just look at it! Doesn't the new Ford Ranger Raptor look like an absolute beast? In terms of the newcomer's styling, we think the Blue Oval has nailed it! The bakkie looks – and sounds – fantastic!
The new Ranger Raptor lacks nothing for parking bay-filling presence. Its wide, squared-off front end and dramatically sculpted bonnet impart a sense of strength, while the large F-O-R-D lettering across the grille is flanked by Matrix LED lights with distinctive C-Clamp daytime running lights.
Ford has also fitted an extra thick (2.3 mm) steel bash plate, which is meant to protect the bakkie's vital components while you're off-roading – probably with considerable zeal! – and the flared wheel arches further contribute to the hardcore look; they cup 17-inch BF Goodrich KO2 all-terrain tyres.
The Ranger Raptor's dual active exhaust tips hint at the flagship derivative's performance intent and the level of noise produced by those pipes can be adjusted using the 'wheel-mounted controls – they can also alter a host of other settings, including steering and suspension settings (but more on this below).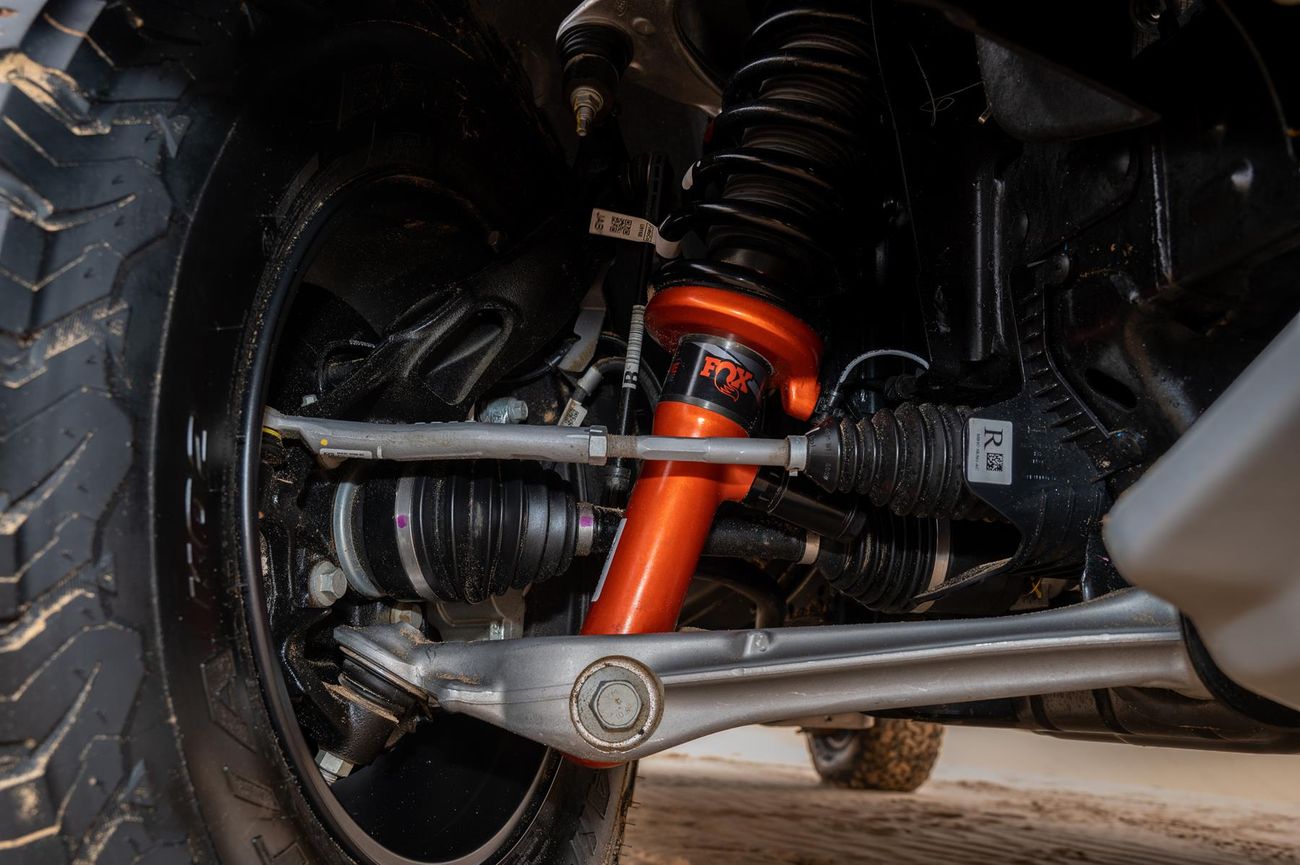 The Raptor is positioned as a high-performance off-road vehicle and, as such, its powertrain and suspension are required to perform at the highest level. The 3.0-litre, twin-turbo petrol V6 engine develops a whopping 292 kW and 583 Nm of torque, all of which is directed to the permanent 4-wheel-drive system via a specifically calibrated 10-speed automatic transmission. It produces 135 kW/83 Nm more than the outgoing (admittedly 2.0-litre bi-turbodiesel) Raptor – what a phenomenal power hike.
But that's not all! The Raptor's astonishing off-road ability is made possible by its newly designed suspension system, which includes rear Watts Link coil springs for increased stability on- and off-road, as well as a new Fox 2.5-inch Live Valve Internal Bypass shock absorbers with electronic damping.
The Raptor's damping is adjusted continuously (up to 500 times per second, depending on which drive mode has been selected) to optimise the bakkie's composure during high-speed, hardcore off-roading.
What's the Ranger Raptor's interior like?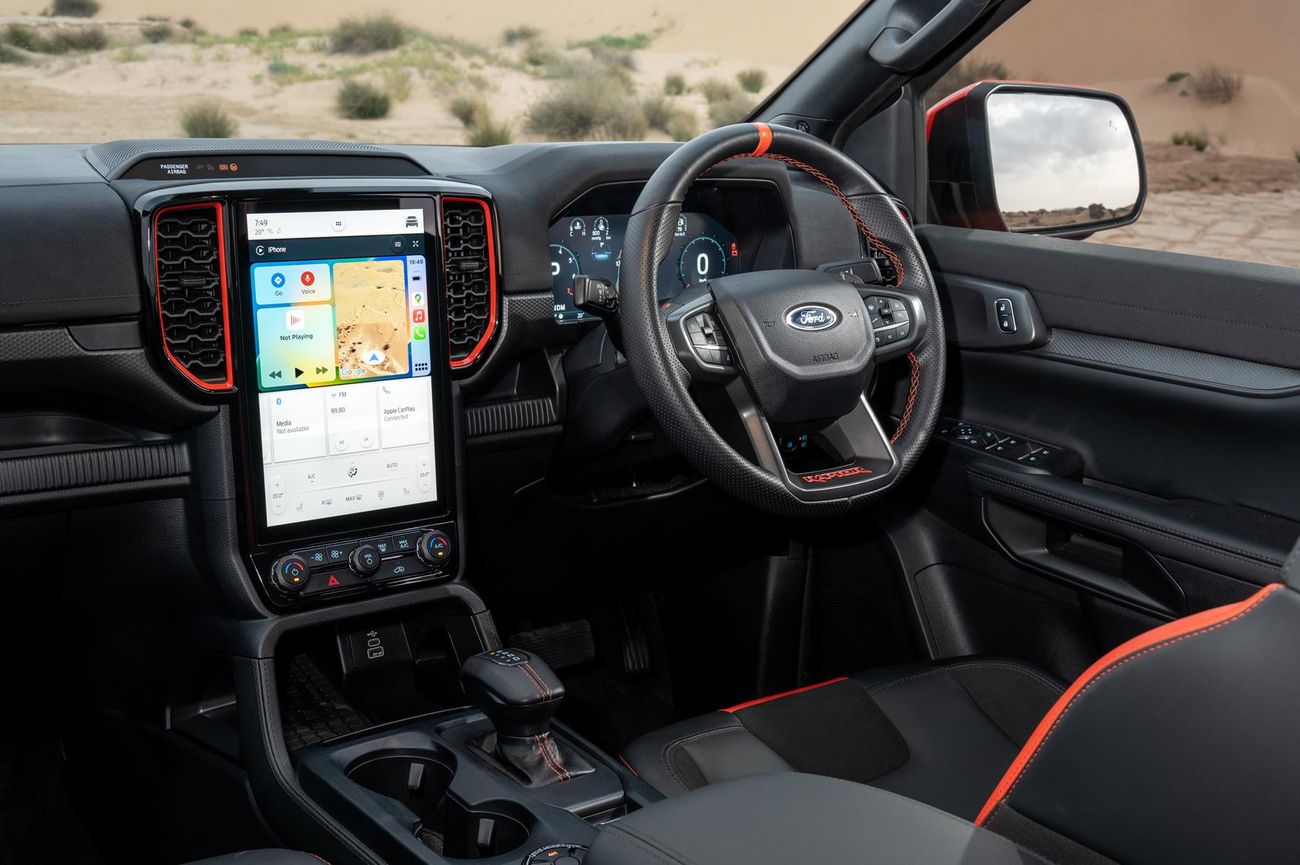 The Ranger Raptor's cabin exudes a sense of occasion. The first feature I really like is the fighter-jet-inspired leather-trimmed seats, which are comfortable but also heavily bolstered to provide maximum support when you are bombing through the desert… or trundling through leafy suburbs in Gauteng.
The driver is seated behind a finely-stiched multifunction 'wheel adorned with a red centre marking, magnesium shift paddles and a Raptor logo to remind you that this is no ordinary Ranger derivative.
By using the 'wheel-mounted controls, the driver can sift through the menus of the impressive 12.4-inch digital instrument cluster, which displays driving and off-road data, driver assistance settings, media and telephony, plus more. This digital instrument cluster is also found on the new Ford Everest Platinum.
Meanwhile, the Ranger Raptor's impressive-looking, portrait-oriented and tablet-style 12-inch touchscreen infotainment system is powered by Ford's latest SYNC4 operating system – it supports wireless Apple CarPlay and Android Auto. Wireless smartphone charging is also standard in the Raptor.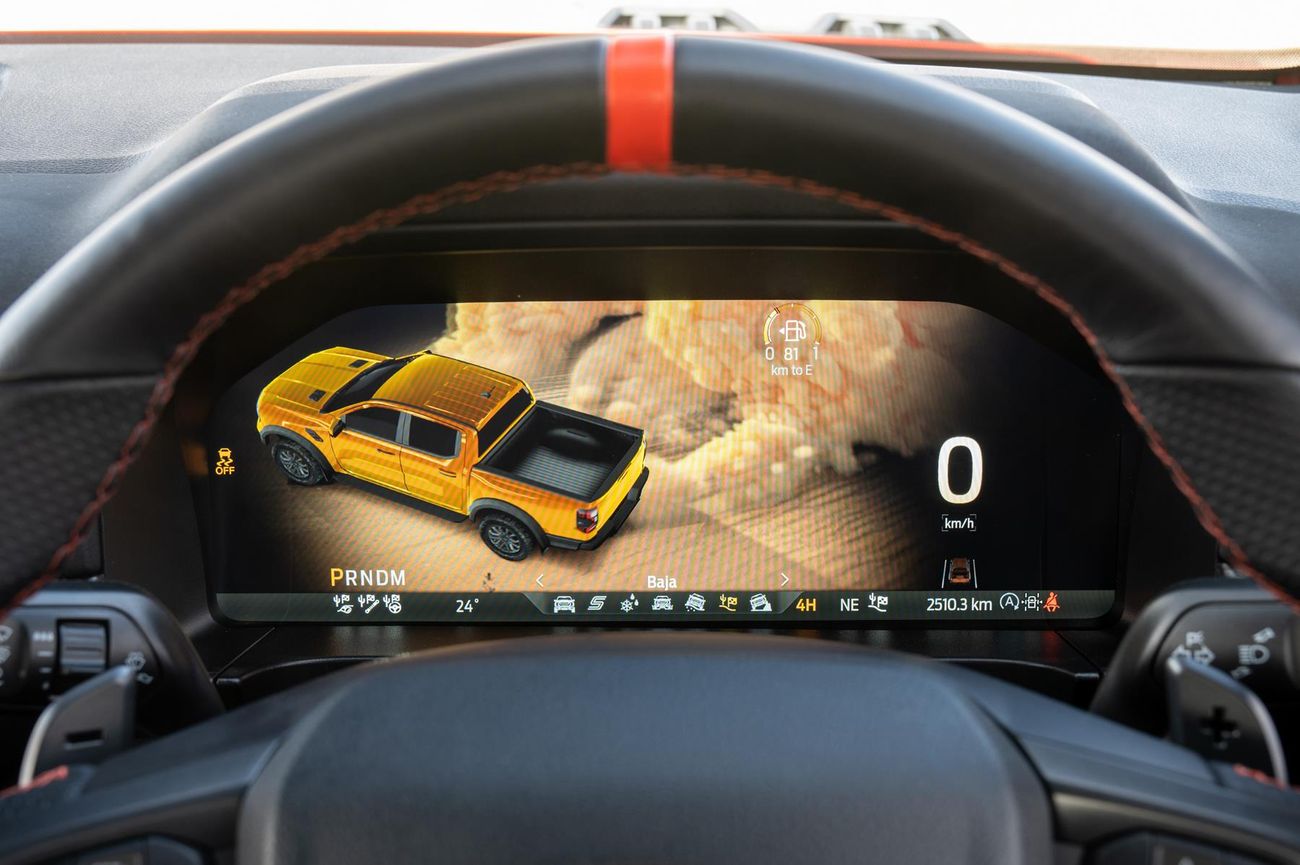 The centre console houses what Ford calls the "drive mode" dial – with it, you can toggle between 4A (automatic 4×4), 2H (rear-wheel-drive), 4 High and 4 Low. Note that the Raptor is also fitted with front- and rear differential locks, which can be engaged using the off-road menu in the infotainment system.
Perceived interior build quality is very good with nice soft-touch surfaces. As I expected, the cabin feels well-made and robust, which is needed in a vehicle that's designed to withstand the rigours of the wild.
Average-sized adult occupants will find leg-, head- and shoulder room adequate at the back, but taller passengers may find legroom a little tight. They also have access to 2 USB ports, a 240V power outlet, cupholders, plus bottle holders in the door pockets. If you need to store some valuables out of sight, you will discover there's additional storage space when you lift up the rear bench's squab. Very nifty, Ford…
What's the new Ford Ranger Raptor like to drive?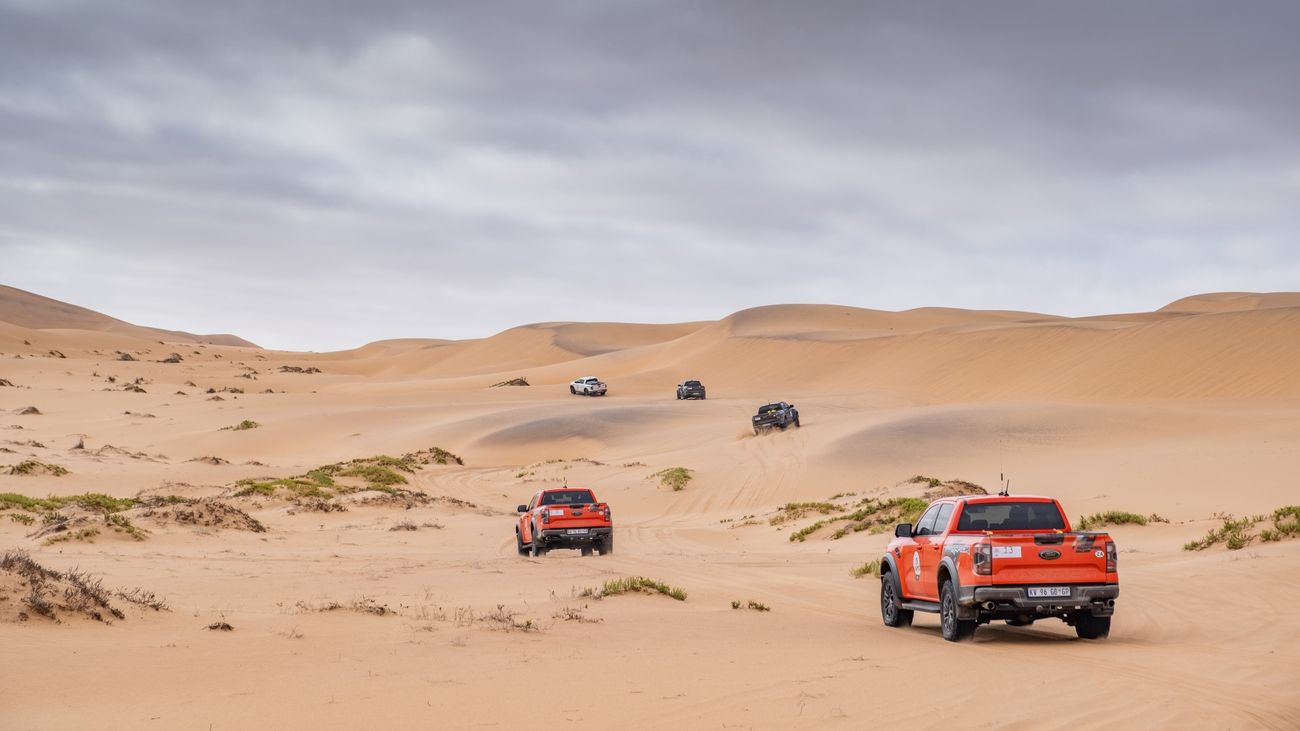 We landed in Walvis Bay, where the FMCSA team and a throng of Raptors were waiting to transport us to a remote desert camp in the Namib Desert… Would Ford's flagship double cab tame the shifting sands?
Ha, it didn't take us long to realise just how formidable the new Ranger Raptor is. The first performance indicator is the fantastic engine sound that emanates from the Ford's exhaust system. The motor's raspy, racy soundtrack is utterly addictive and the driver can choose between 4 exhaust note settings: Quiet, Normal, Sport and the loudest, Baja (which can only be accessed when Baja drive mode is selected).
Speaking of which, Baja is one of no fewer than 7 drive modes that are available in the Ranger Raptor – and it's by far the muscular Ford's most intense setting; it can be used to extract peak performance, because it primes all the bakkie's systems, including throttle and transmission response, suspension and braking for high-performance driving. The other drive modes include on-road modes such as Normal, Sport and Slippery and then a host of off-road modes, including Rock Crawl, Sand and Mud/Ruts.
When we traversed the Namib Desert – quite often at heady speeds – we used the Sand and Baja modes most of the time. The 3.0-litre, twin-turbo V6 loves to rev and it produces full-bore acceleration that is nothing short of exhilarating. The Ranger Raptor has so much power to draw on that it never felt out of puff – its overall performance in the sand was mightily impressive, particularly when driven at speed.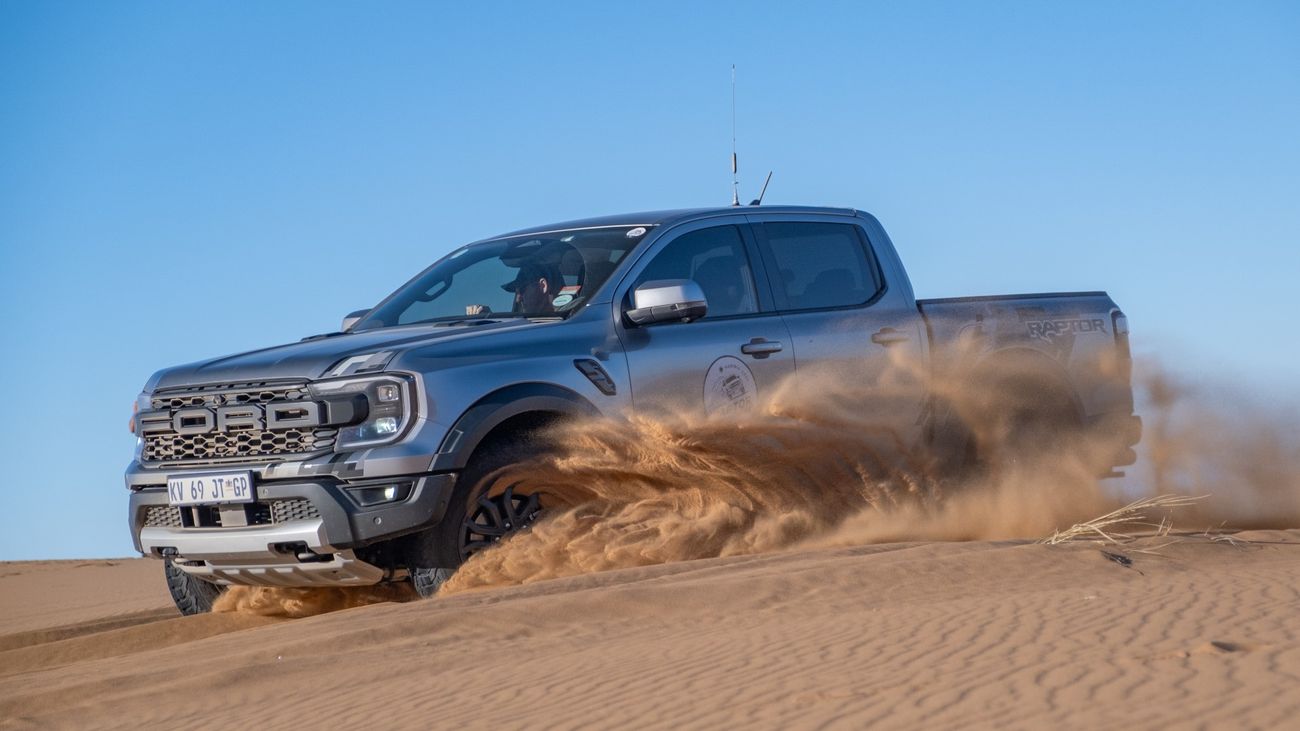 Talking about speed, the new Ranger Raptor is unofficially the fastest double-cab bakkie in South Africa. I say unofficially because Ford hasn't quoted a 0-to-100 kph time for the Raptor, but testing in Australia confirmed a time of around 6 seconds, which is blistering for a bakkie with a kerb weight of 2 460 kg.
The new Ranger Raptor is therefore substantially faster than the outgoing Volkswagen Amarok 3.0-litre V6 TDI, which was said to sprint from a standstill to 100 kph in a handy 7.6 seconds. We can't wait to conduct an acceleration test of the Ranger Raptor, on tar, when we receive a test unit to review.
In demanding terrain, such as the Namib Desert, any and all vehicles can run into trouble in softer sand – and they often do… Even the mighty Raptor succumbed to the pull of the sand on a few occasions, but for the most part, it cut and sliced through the desert with aplomb, unlike any other bakkie I have driven.
The Ranger Raptor's performance truly is on another level and it's precisely why it doesn't have any direct rivals at this point in time. How many buyers will test it to its ultimate ability though? We wonder.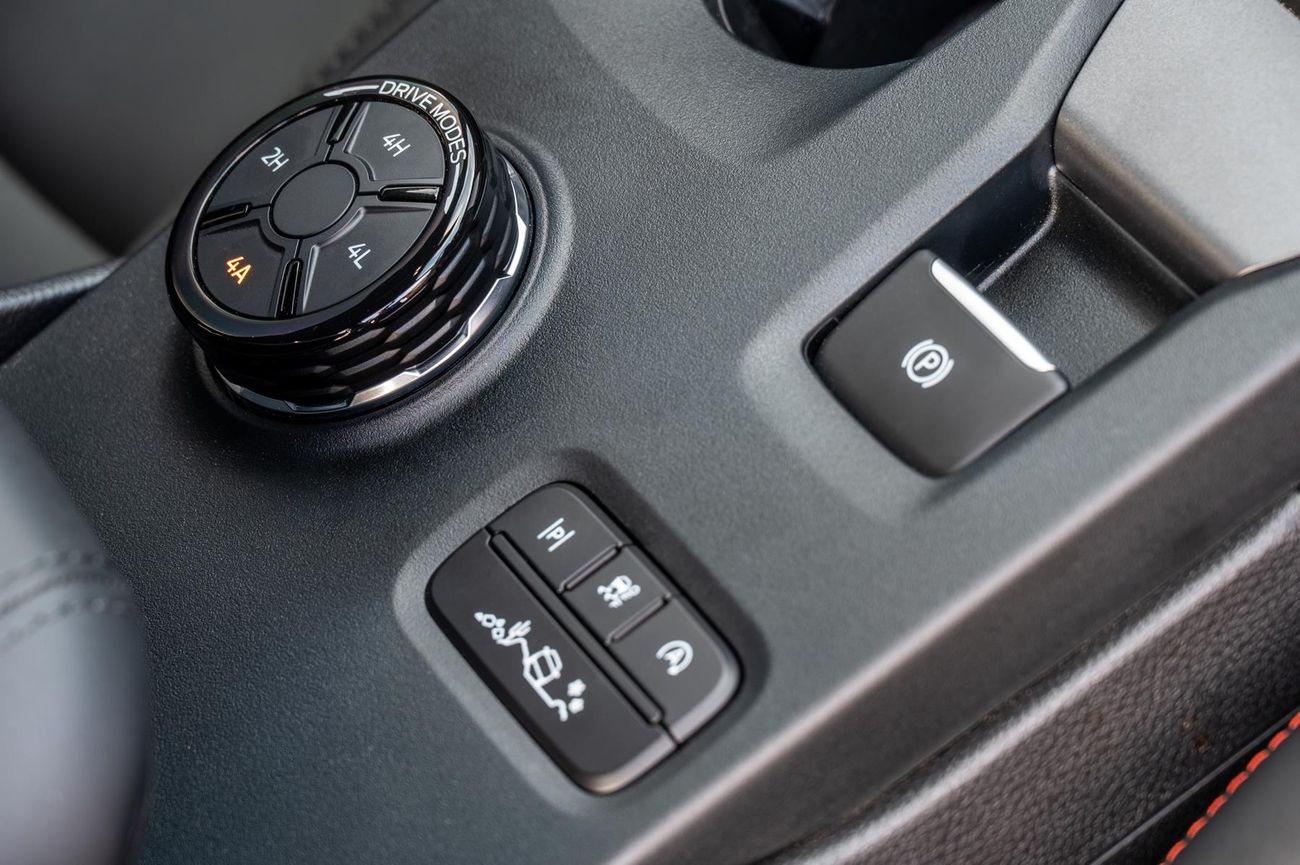 We also had the chance to test the Raptor's new off-road feature: Trail Control. Ford describes Trail Control as "cruise control for off-roading" and we were eager to see how it works. The feature can be accessed via the dedicated off-road screen and it allows the driver to set a vehicle speed up to 32 kph so that they can focus purely on their steering inputs (while driving over, or through, off-road obstacles).
We tested this feature while the Ranger Raptor ascended a treacherous Damara Granite mountain in the desert and it proved to be hugely beneficial (in conjunction with the 360-degree camera). The Raptor's new front differential lock proved its worth when scaling challenging inclines riddled with loose shale.
The Raptor clung to the rocky surface (with all 4 of its talons?) and proceeded to conquer the otherwise intimidating mountain with little to no wheel slip to speak of. And it did it all without breaking a sweat!
Note that the Ford has a substantial ground clearance of 272 mm and a wading depth of 850 mm. The Raptor's quoted departure angle is 24–27 degrees, the breakover angle is 24 degrees and the approach angle is 32 degrees. The braked towing capacity is rated at 2 500 kg and the load capacity is 667 kg.
As for fuel consumption? It's better not to ask. Buyers who want the mega off-road ability and powerful performance of this bakkie will have to live with its high fuel consumption. Ford claims 11.5 L/100 km and we saw figures around 20 L/100 km while off-roading in the dunes. That number will drop significantly under normal driving conditions, but we have yet to see how the Raptor performs in an urban setting.
Final thoughts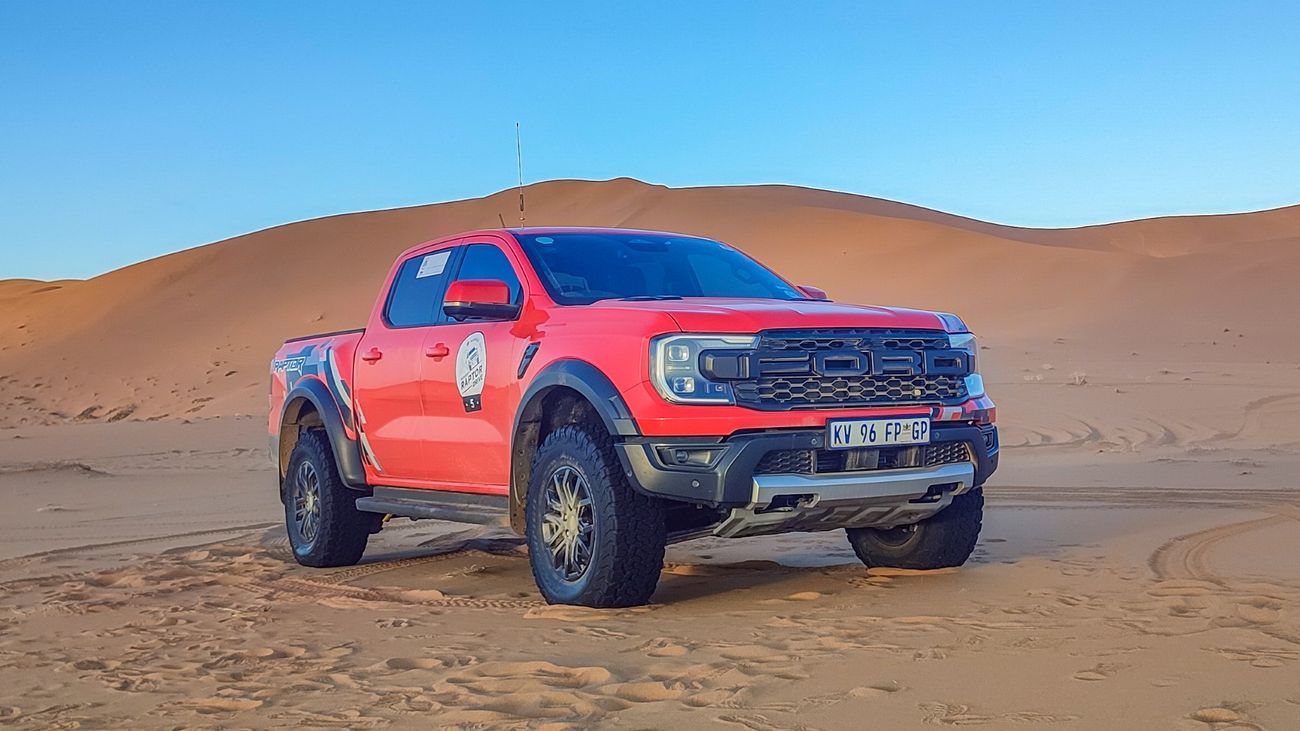 There's no doubt about it – the Ford Ranger Raptor is a phenomenal high-speed off-road machine with a breadth of 4×4 ability that no other bakkie (available in SA's new-vehicle market) can match. Early on in our test drive, we named the Raptor we were driving the "Dune Destroyer"; it was – and remains – apt.
Considering the staggering performance that this vehicle offers, the starting price of R1 094 900 is relatively (again, relatively) reasonable. Bear in mind, however, that a service- or maintenance plan is an extra cost option… According to a local Ford dealer, a 4-year/60 000 km service plan costs R9 283.95, while the 6-year/90 000 km and 8-year/135 000 km ones cost R18 740.40 and R34 060.70 respectively.
We guess you could kind of compare the new (now Thai-made) Ranger Raptor with the Jeep Gladiator 3.6 Rubicon double cab (R1.3 million), but with all respect to the, um, cumbersome American offering, this particular Ford product will only truly have competition when Toyota, Isuzu or GWM decides to build a rival out of their Hilux, D-Max or P-Series. As things stand, however, the Ranger Raptor is peerless.
How much does the new Ford Ranger Raptor Cost in South Africa?
| | |
| --- | --- |
| Ford Ranger Raptor | R1 094 900 |
The new Ford Ranger Raptor is sold with a 4-year/120 000 km warranty.
Buy a Ford Ranger Raptor on Cars.co.za
Related Content
New Ford Ranger Raptor: 6 Cool Things to Know
Original Story by www.cars.co.za