The Hyundai Tucson N-Line has arrived; armed with a sporty body kit and all-wheel drive, it now heads up the Tucson range. We drive the new 2.0D N-Line AT AWD.
The 25th of May 2023 was the perfect day to try out Hyundai's new flagship Tucson derivative in the Western Cape. And why? Because a typical winter cold front had arrived in the Cape of Storms, bringing with it sheets of rain and chilly temperatures. The rainfall was – in a word – torrential, which made the roads precariously slippery. An appropriate scenario to evaluate the all-wheel-drive newcomer, then.
Until recently, if you were looking for a turbodiesel-powered family car with all-wheel drive, your choices were limited to the VW Tiguan TDI 4Motion and Mazda CX-5 2.2 Akera. Hyundai has entered the chat.
What is Hyundai Tucson N-Line?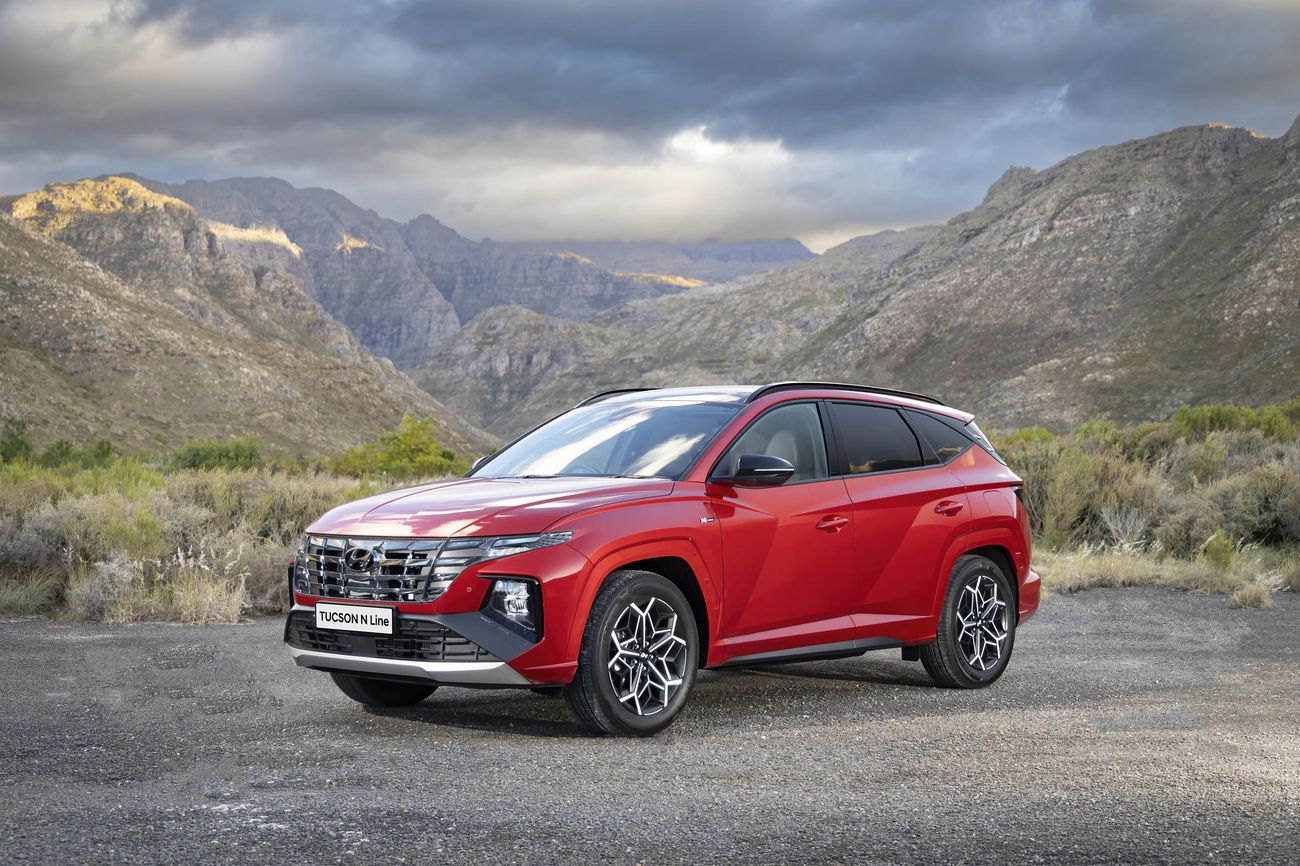 To refresh your memory, the N-Line treatment lends a sporty look to Hyundai's mainstream offerings. Whereas performance-focused N models (such as the Kona N and i30 N) feature an array of cosmetic and mechanical upgrades, N-Line derivatives simply gain sporty bumpers, bigger wheels and a few eye-catching cabin accents compared with their standard siblings. In this case, the new Tucson flagship features striking 19-inch wheels, prominent exhaust ends, N-Line badging and a slightly different grille.
Still, a flagship derivative should incorporate more than exterior upgrades, so Hyundai's added a few more features and all-wheel drive to make the newcomer stand out. The South Korean brand tends to apply grade-specific interior accoutrements sparingly, yet the newcomer's cabin is adorned with metallic pedals, sporty trim, leather-and-suede seats, an N-branded transmission lever and a powered tailgate.
The engine on duty is the 2.0-litre 4-cylinder turbodiesel (the same as the one found in the second-from-the-top 2.0D Elite AT) – it has 137 kW and 416 Nm of torque on tap. The motor is paired with an 8-speed automatic transmission and Hyundai claims an average fuel economy figure of 6.5 L/100 km.
What features does it offer?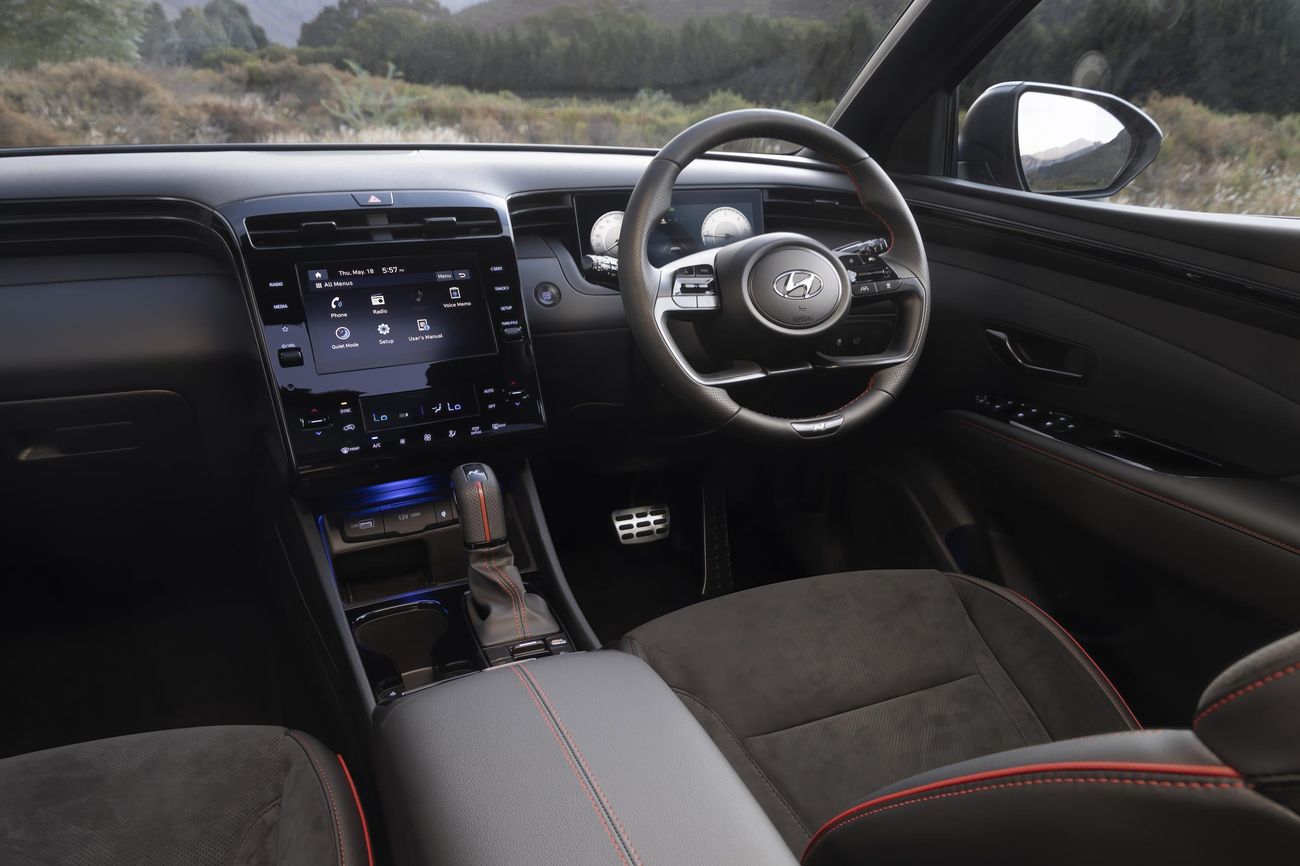 As befitting the flagship derivative, the Hyundai Tucson N-Line comes comprehensively equipped. Plus, there are no optional extras at all, the list price of R799 900 is all-in. The N-Line is based on the Elite specification, so if you don't need all-wheel drive and the sportier looks, then you could opt for that.
The list of standard features is exhaustive, but suffice it to say, most of the prerequisite luxuries (for the price), such as heated/ventilated seats, panoramic roof, heated steering wheel, wireless charging pad, Apple CarPlay/Android Auto, 10.25-inch digital display, drive modes, auto lights and -wipers, are fitted.
More: Hyundai Tucson N-Line: A comprehensive look at specifications, features and pricing
What is the Tucson N-Line like to drive?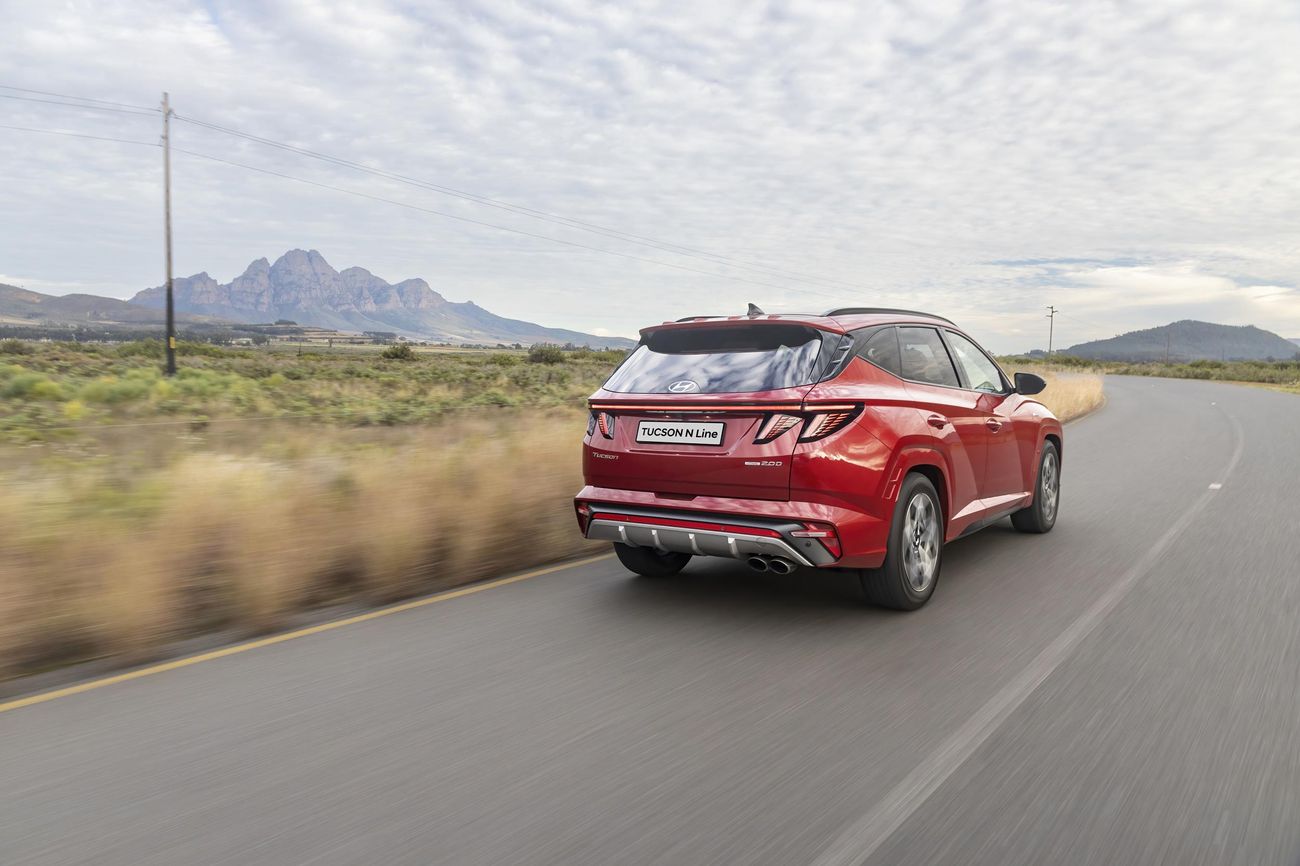 To reiterate, the Tucson 2.0D N-Line AT AWD's launch took place on Cape Town's wettest day of 2023 (thus far). Given the slippery roads, all-wheel drive helped to keep the Hyundai planted on the asphalt. The vehicle also offers off-road modes that dynamically adjust the drivetrain for low-grip conditions.
Our launch route incorporated stretches of the national highway and urban roads, before a detour on some farm roads, which had become exceptionally muddy as a result of the persistent precipitation.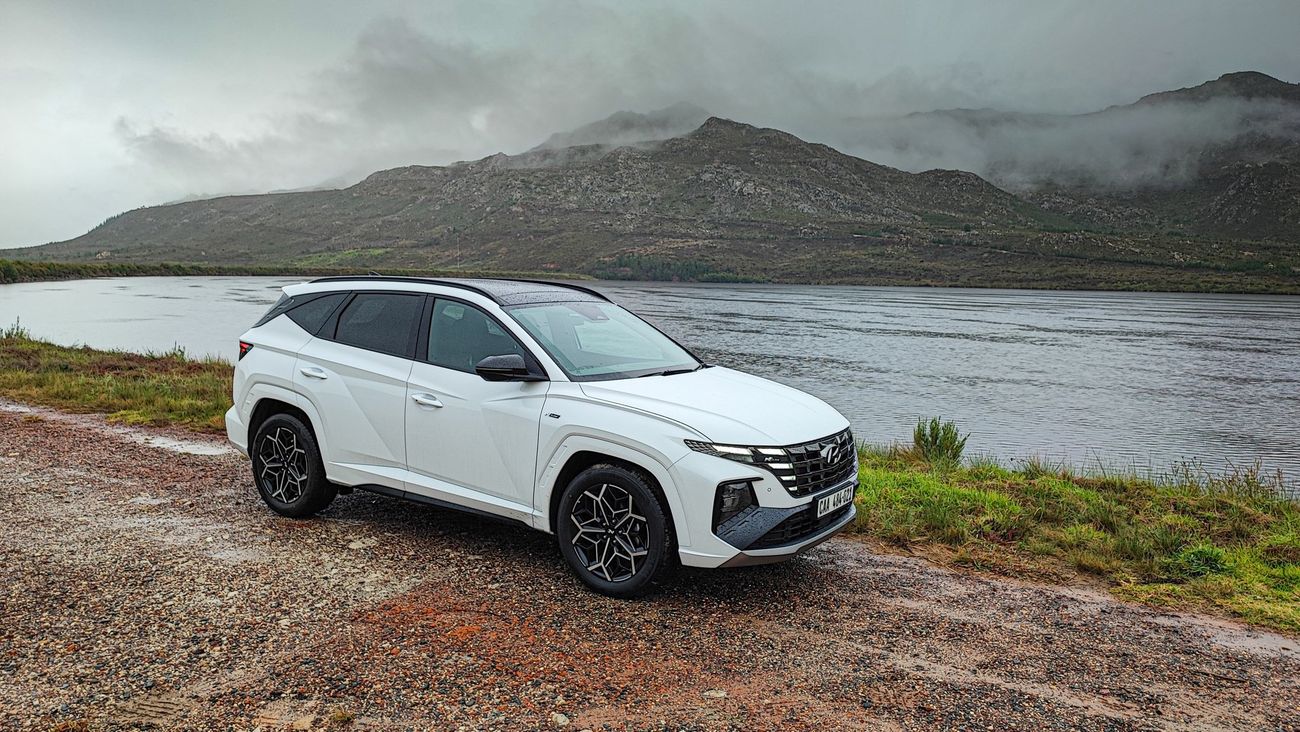 The Tucson 2.0D N-Line AT AWD's ride quality is generally comfortable – we're happy to report that the fitment of sporty-looking 19-inch wheels hasn't made the ride too fidgety. The steering setup is nicely weighted; the 'wheel has a light and quick action, yet offers sufficient feedback for a car in this segment.
When we were driving on a wet and muddy gravel road around Botrivier, we activated the 2.0D N-Line AT AWD's drive-mode setting for mud and, despite the appalling conditions, the Tucson made steady progress and maintained its stability/composure. In such conditions, a 2-wheel-drive Tucson derivative would most certainly have struggled for traction… So, if your lifestyle will see you driving on unsealed road surfaces regularly, you might want to dig deep for the all-paw derivative in the Tucson line-up. But don't start planning far-flung off-road adventures, because there's only 181 mm of ground clearance.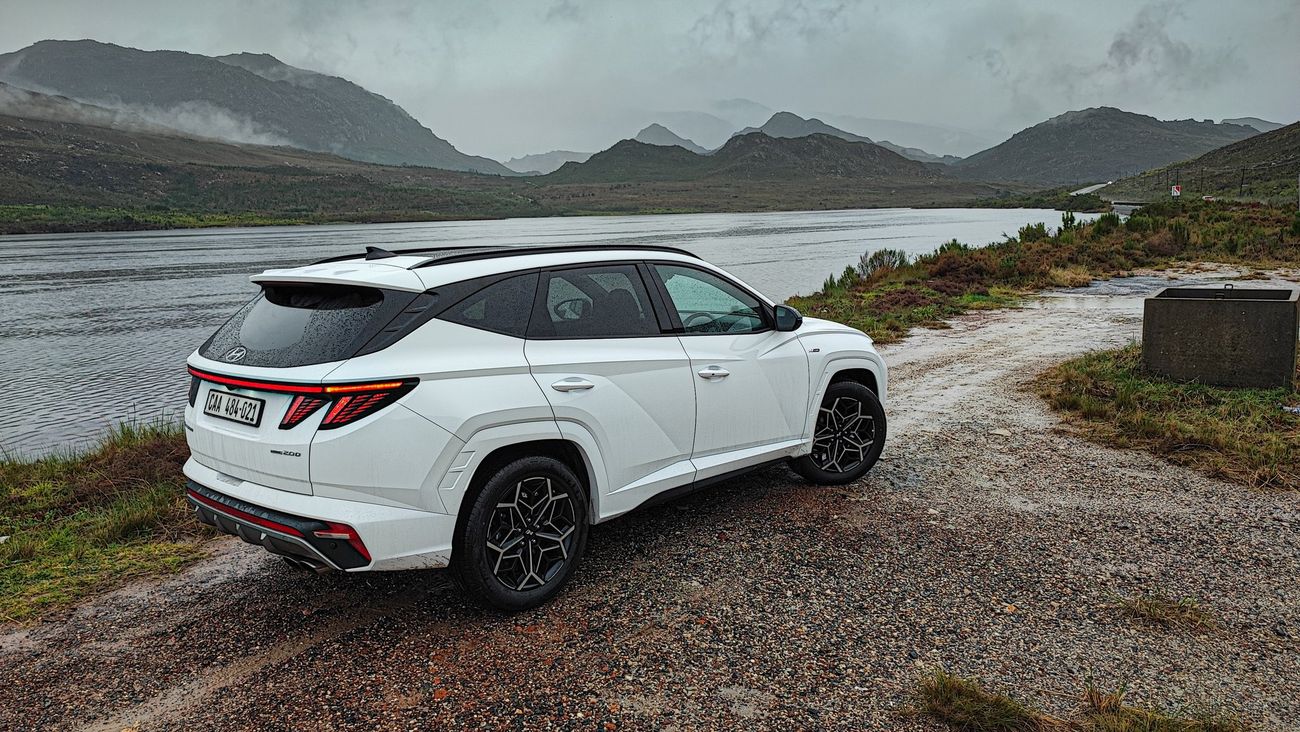 The engine-gearbox combo is well-proven and instils confidence: the turbodiesel mill only really makes itself heard if you flatten the accelerator pedal, but there is no need to deploy more than half throttle – a swathe of torque is readily available. The 8-speed automatic does a good job of seamlessly swopping cogs and the 'box's shifts are well-timed. All said, the powertrain feels stronger than its outputs suggest.
The best part? Despite some spirited driving (we're motoring journalists!) we finished our test route with an indicated fuel economy figure of 6.7 L/100 km. And we utilised the default drive mode; if we selected Eco mode and employed a more measured driving style, we would have achieved an even lower figure.
How much does the Hyundai Tucson cost in SA?
The Hyundai Tucson is sold with a 5-year/150 000 km vehicle warranty, 7-year/200 000 km drivetrain warranty and a 6-year/90 000 km service plan.
| | |
| --- | --- |
| Tucson 2.0 Premium AT | R561 900 |
| Tucson 2.0 Executive AT | R613 900 |
| Tucson 2.0 Elite AT | R683 900 |
| Tucson 2.0D Elite AT | R749 900 |
| Tucson 2.0D N-Line AT AWD | R799 900 |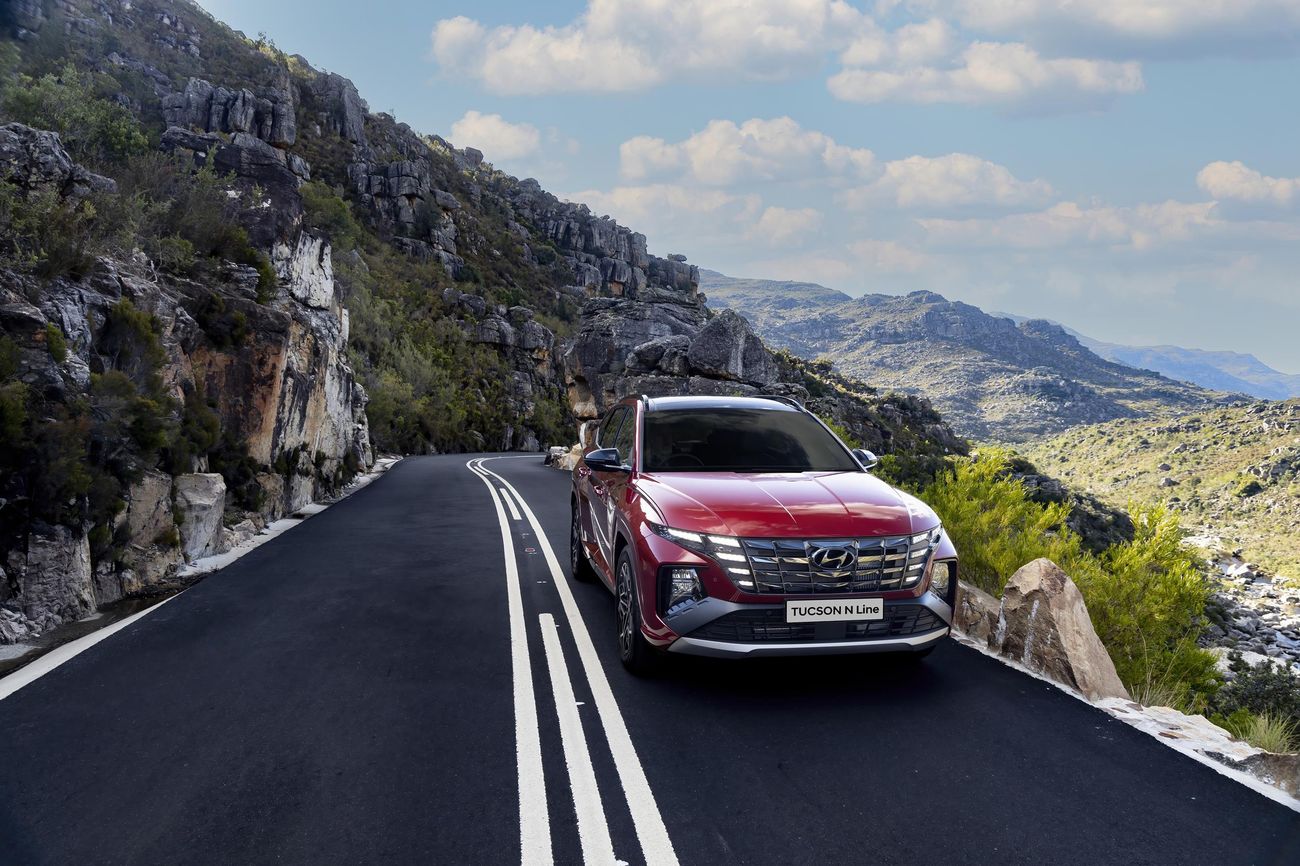 Summary
The Hyundai Tucson has needed a flagship derivative since the current-gen model was launched in Mzansi in March 2022… and this sporty-looking all-wheel N-Line certainly ticks the proverbial boxes. Not only does the 2.0D N-Line AT AWD look the part – it's also notably capable thanks to its clever all-paw system. Plus, it comes packed with tech, both in terms of convenience and semi-autonomous safety.
Should you buy one? The newcomer is a tempting prospect, if only for its impressive kerb presence, because all-wheel drive is not a must-have for family-car buyers. Nonetheless, the Hyundai Tucson range offers both petrol and diesel engines, as well as various levels of trim to satisfy most needs.
Original Story by www.cars.co.za