Marking a turning point in Kia's story, the 3rd-gen Kia Rio was streets ahead of its predecessor. Keen to buy one on the used market? Here's what's available, what you should look out for and which variant you should consider…
The global B-segment of today is a shadow of its former self. Subcompact hatchbacks and sedans have fallen out of favour in key markets thanks to the rapid worldwide shift first to crossovers and now increasingly towards electric vehicles. Inconceivable just a few short years ago, big-name players like the Ford Fiesta – a nameplate spanning seven generations and more than 46 years – are being put out to pasture.
In South Africa, we've also seen the demise of once-popular models such as the Nissan Micra and Toyota Yaris (not counting the manic GR, that is). Even the 4th-gen Kia Rio is due to exit the market at the end of 2023. Though there's clearly still a market for the locally built Volkswagen Polo, sales of this model and rivals continue to dwindle as local buyers pivot towards small crossovers (and requirements in Europe change). It's all very doom and gloom.
But back in 2011, when the 3rd-generation Kia Rio – which was known as the Pride in its home country and the K2 in China – hit the market, the B-segment was one of the most hotly contested of all. And such was the all-round competence of the Korean firm's 3rd attempt at the Rio that a number of its more established rivals were caught well and truly off guard.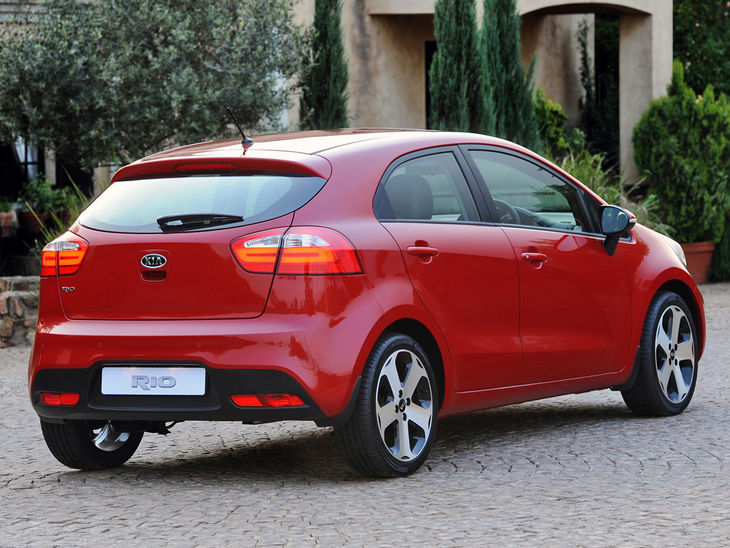 The 3rd-generation Rio was a massive step up from its predecessor.
Yes, the Kia Rio Mk3 signalled a turning point for the Korean firm, not only over in Europe but also here in South Africa. It was sharply styled (thanks to the design influence of a certain Peter Schreyer), but perhaps more importantly a far cry better resolved than its frankly underwhelming predecessor in virtually every way. As a result, it soon found itself duking it out with the segment's best.
At the time of its launch, the market was experiencing something of a buying-down trend as motorists grappled to beat rising fuel costs (sound familiar?). The Rio was shrewdly positioned to take advantage of this, offering added space and the sort of features buyers would expect from a car in the segment above. When all was said and done, the UB-generation Rio enjoyed a strong run in South Africa, while also serving to introduce many new customers to the Kia brand and ultimately help to take it truly mainstream.
Kia Rio model line-up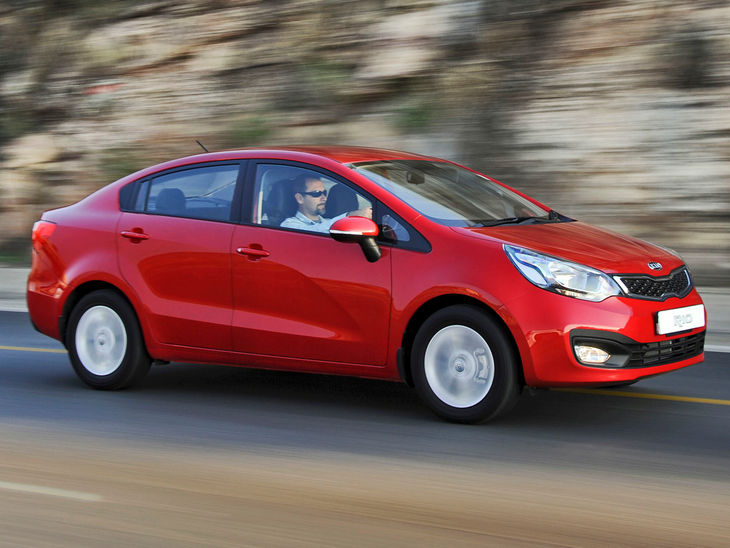 The sedan body style launched locally in the 2nd quarter of 2012.
The 3rd-gen Rio was revealed – in 5-door hatchback form – at the Geneva International Motor Show in March 2011, with the first units rolling off the Sohari assembly line in South Korea shortly thereafter. By September of that year, it was already on display in South Africa at the 2011 Johannesburg International Motor Show.
The 5-door hatchback officially launched locally in November 2011, while the 4-door sedan version followed in April 2012. Each body style was available with a choice of 2 transversely mounted, naturally aspirated, 4-cylinder petrol engines driving the front wheels via a 5- or 6-speed manual gearbox or a 4-speed automatic transmission. All models shipped standard with a 5-year/100 000 km warranty, which was considered quite lengthy cover at the time. At launch in South Africa, the following powertrain variants were available (note the 1.4-litre models were also offered in flagship Tec trim, thus taking each of the 2 body style ranges to 5 variants):
1.2 (65 kW/120 Nm) 5-speed manual
1.4 (79 kW/135 Nm) 6-speed manual
1.4 (79 kW/135 Nm) 4-speed auto
When the 3rd-gen Rio first hit the market in South Africa, Kia admitted the outgoing model had kept a "relatively low profile" in the segment, but was confident the new version would appeal to a far wider audience. That's exactly what happened, with the Rio quickly graduating to the position of Kia Motor SA's best-selling vehicle, a role it was likewise playing on the global stage at the time.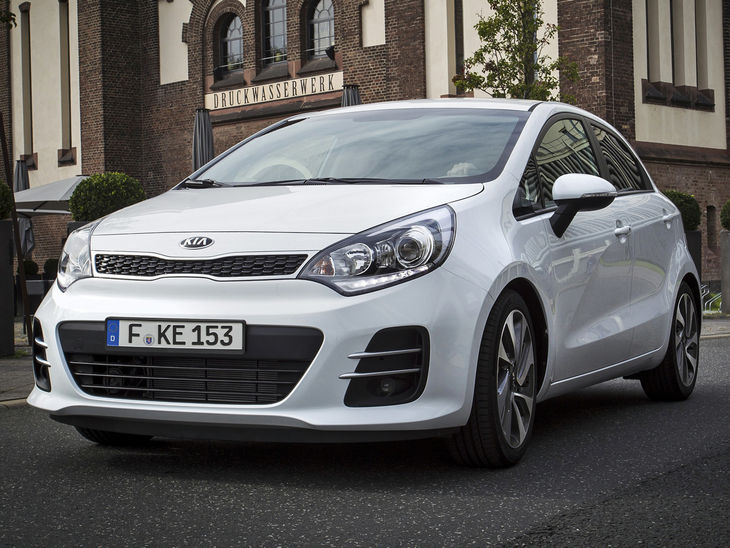 Note the new bumper treatment of the facelifted Rio, introduced to SA in early 2015.
The 10-strong line-up continued virtually unchanged until February 2015, when the facelifted version – unveiled in Paris in September of the previous year – touched down on local soil. While the engines carried over unaltered, styling tweaks included an updated version of the so-called tiger-nose grille, along with refreshed bumpers (fore and aft) and new alloy wheel designs. Inside, the mid-cycle update brought a smattering of chrome-effect accents and a redesigned centre-stack around the audio system, complete with piano black trim.
In January 2016, the local Rio range expanded to 12 derivatives with the arrival of the 3-door body style, which was offered exclusively with the larger engine (and either gearbox) and in flagship Tec specification. The newcomer was further set apart by the fact it boasted a sunroof as standard; at the time, this was a R7 000 option for the Tec versions of the 5-door hatch and saloon.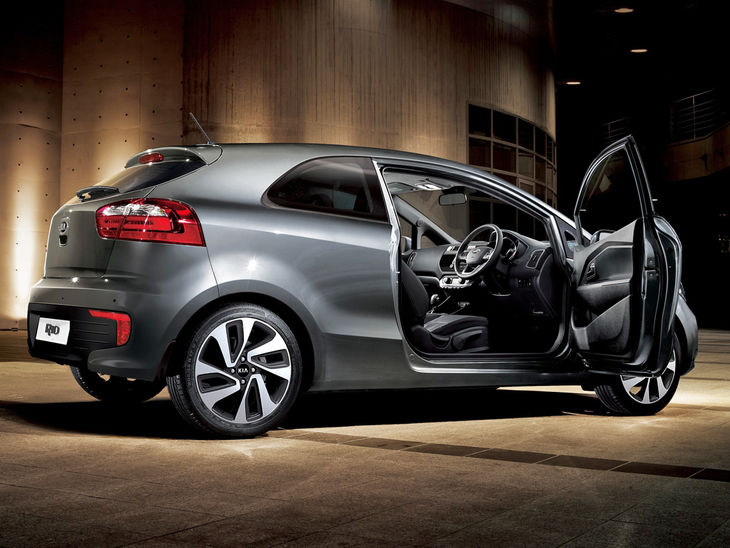 The 3-door version arrived in South Africa late in the 3rd-gen Rio's life.
Though the 4th-gen Rio was revealed in 2016, it made landfall in South Africa only midway through 2017, effectively closing the 3rd-gen model's highly successful local chapter. The sedan, though, technically soldiered on to the end of 2018.
Product strengths
Improved practicality: The UB-generation Rio hatchback was 20 mm longer, 25 mm wider and 15 mm lower than the model it replaced, boasting an additional 70 mm between its axles. It's the latter than resulted in a marked increase in both rear passenger space and cargo capacity. The boot could handle a claimed 288 litres (expandable to 923 litres, with the rear bench folded down) while also housing a full-size spare wheel.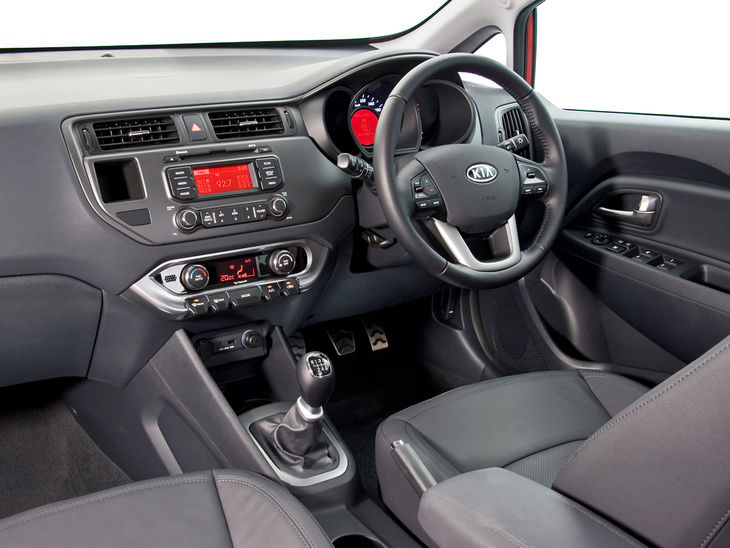 The perceived build quality and overall practicality represented big steps forward for the UB-gen Rio.
The Rio sedan, meanwhile, boasted a 389-litre luggage compartment (representing a 14.4% improvement over that of its predecessor), while the rear seat's backrest could also fold down to create an almost flat-floored area. Both body styles furthermore featured a wealth of cabin storage areas, including a 1.5-litre cubbyhole, a 3.0-litre centre console and door pockets capable of housing a 1.5-litre bottle up front and a 0.5-litre item at the rear. The perceived build quality was also a noticeable step forward, with the flagship version's cabin even bordering on premium.
Generous standard specification: While the 1.2-litre derivatives made do with basic items like 15-inch steel wheels (with hubcaps), even these entry-level models were generously equipped for the money, shipping standard with features such as a height-adjustable driver's seat, tilt-and-telescopic adjustment for the steering column, electrically adjustable side mirrors, electric windows all round, air conditioning, a Bluetooth hands-free system and a 4-speaker sound system. The main safety features, meanwhile, were dual front airbags and ABS with EBD.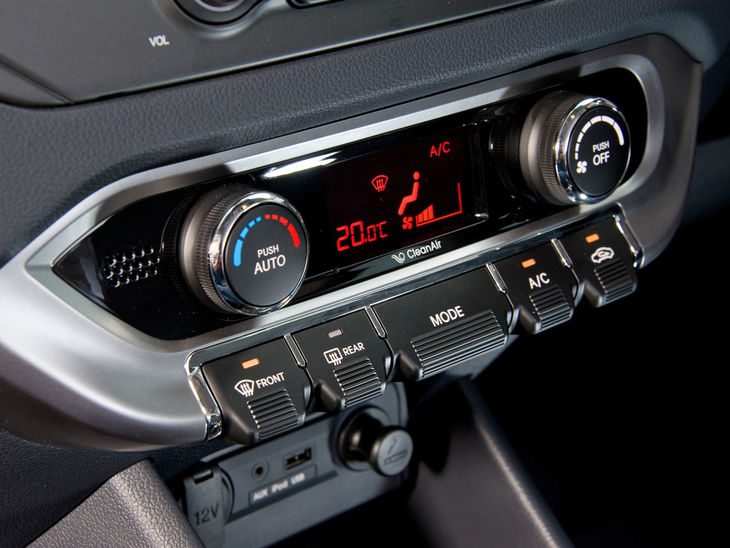 The flagship Tec trim level featured this classy climate-control arrangement.
Upgrading to the 1.4-litre version added 15-inch alloys (or 17-inch items as an option), front foglamps, power-folding side mirrors, automatic headlights, an uprated instrument cluster, a centre console armrest, a pair of audio tweeters and leather trim for the steering wheel and gearshift knob. Finally, the 1.4 TEC flagship furthermore scored 17-inch alloys, projection-type headlamps, LED positioning lights, LED rear lamps, rain-sensing wipers, rear parking sensors, climate control, a cooling function for the cubbyhole, leather upholstery for the seats, faux-leather interior door trim panels, alloy pedals, and side and curtain airbags (for a total of 6). Note, however, no models in the Rio range featured stability control.
Proven engines: While rivals such as the facelifted Volkswagen Polo Mk5 made the switch to downsized turbocharged engines, Kia opted to stick with proven – and fairly straightforward – naturally aspirated mills in the form of the 1.2-litre (Kappa G4LA) and the 1.4-litre (Gamma G4FA) units. The latter proved its mettle in the previous-generation Rio and an exmaple that's been properly maintained should provide many years of reliable service. Both powerplants used so-called lifetime timing chains rather than belts.
Product weaknesses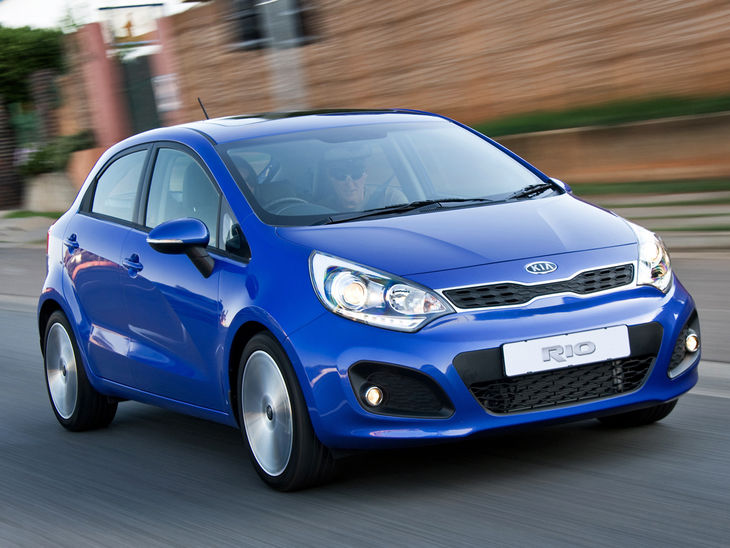 The atmospheric powerplants in the Rio range offered little in the way of low-down pulling power.
Lack of low-down grunt: Although the Rio scores points for potential reliability thanks to its relatively uncomplicated atmospheric engines, the downside is a distinct lack of low-down torque compared with turbocharged alternatives. Indeed, the 1.2-litre mill's peak twisting force of 120 Nm arrives only at 4 000 rpm, while the 1.4-litre unit makes its maximum figure of 135 Nm at an even loftier 4 200 rpm. Naturally, this necessitates frequent gear changes. While neither engine is averse to being revved, working them in this way will, of course, have a negative impact on fuel economy.
Dashboard rattles: Fairly early in the UB-generation Rio's life, Kia issued a technical bulletin in some markets over a "squeaking, rubbing or creaking noise" coming from the dashboard (and often more prevalent in cold temperatures). Unfortunately, the fix required the complete removal of the facia and the fitment of insulating material to four offending contact tabs. Though we know of no official action being taken in South Africa, our country's models were clearly also impacted as we've heard of a number of complaints of such from local Rio owners. Make sure to listen out for any odd noises coming from the dashboard during your test drive.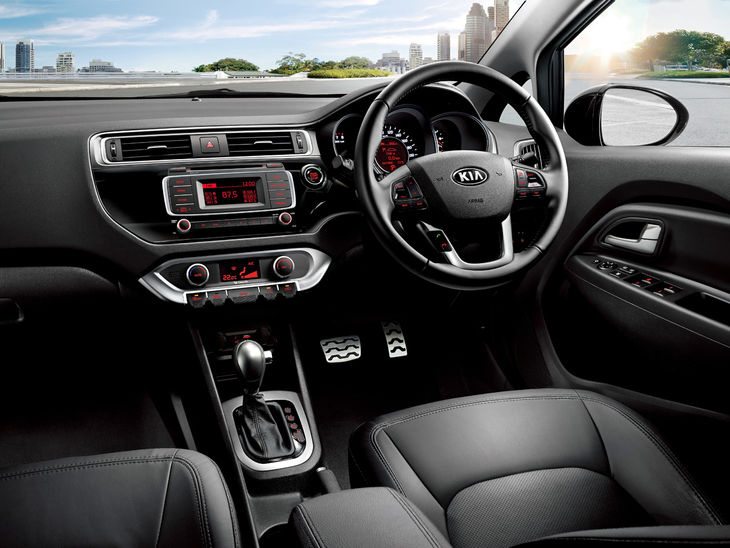 The updated Rio didn't seem to suffer from the same dashboard rattles as early versions of the pre-facelift model.
Fairly bland to drive: Though dynamic ability is likely nowhere near the top of a potential Rio buyer's list of priorities, it's worth noting the Korean hatchback wasn't the most thrilling to drive (and was far off the pace of more dynamically gifted rivals such as the Ford Fiesta). In addition, as was the case with many Korean products of the era, the electric power steering felt excessively artificial and tended to require constant small corrections around centre.
Still, the Rio made the grade in other areas likely more pertinent to the average buyer, including rolling refinement, ease of use and overall ride comfort (on 15-inch wheels, that is). That said, we should again point out the SA-spec Rio did without stability control, a safety feature offered by many rivals of the era.
What to pay for a Kia Rio?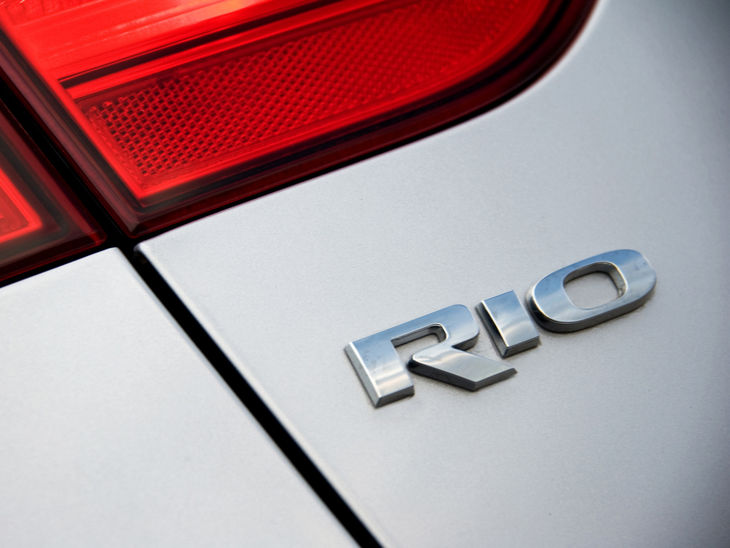 Used UB-generation Rio stock in South Africa is dominated by the 5-door hatchback body style.
Take note all 3rd-generation Rio models offered in South Africa came with a 5-year/150 000 km warranty and a 4-year/60 000 km service plan. Scrutinise the service history of any potential buy, with a particular emphasis on the recorded maintenance history from 4 years after registration.
At the time of writing, 80% of the used UB-generation Rio units listed on Cars.co.za were hatchbacks (though only 2% featured the 3-door body style), confirming the saloon version wasn't nearly as popular as its 5-door sibling. The 1.4-litre engine dominated (accounting for 79% of all listings), while only 20% were equipped with the 4-speed automatic transmission.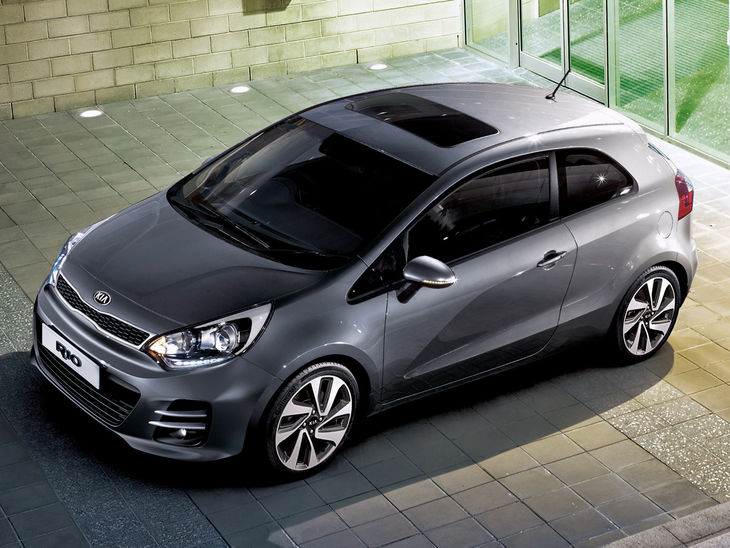 There aren't many Rio 3-Door models on the used market.
We found a pair of 1.4-litre hatchbacks with more than 200 000 km on the clock, as well as a 1.2-litre model showing in excess of 300 000 km. White was the most popular exterior paint colour, followed by silver and red.
Below R100 000: Options with 5-figure price tags were limited, as only 6 percent of all listings fell below the R100 000 mark. Predictably, a number of these units featured high mileage. Be particularly wary of too-good-to-be-true mileage claims in this ballpark.
From R100 000 to R150 000: A little more than half of all listings fell between these pricing bookends, suggesting this is where most buyers will be shopping. There were plenty of examples with well under 100 000 km on the odometer (always make sure typical wear points match the mileage claims).
From R150 000 to R200 000: We found 38% of models were listed for between R150 000 and R200 000, many of which were later model-year 1.4 and 1.4 TEC derivatives. Mileage varied from just 26 000 km through to 167 000 km.
Above R200 000: The handful of units listed above R200 000 were all facelifted models, many featuring the flagship TEC specification and an automatic transmission (with the highest asking price coming in at R230 000). Interestingly, we found only one saloon in this section.
Pick of the range?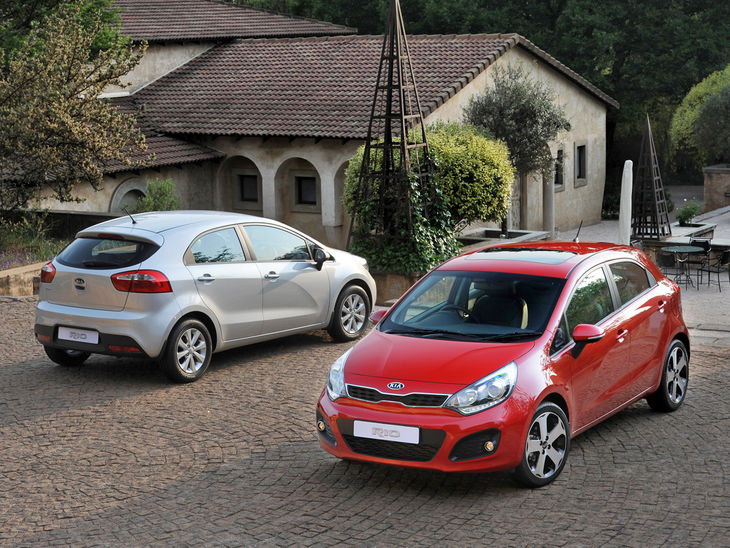 Note the large alloys on the Tec variant and the smaller wheels (with higher-profile tyres) on the cooking version. 
As illustrated by its popularity, the 5-door hatchback is the body style most buyers prefer, so we'll concentrate on that here. In terms of engines, we'd recommend the larger-capacity 1.4-litre unit over the somewhat more breathless 1.2-litre mill (which, incidentally, also did duty in the Picanto of that era), while likewise vouching for the slick-shifting 6-speed manual gearbox over the relatively lethargic 4-speed torque-converter automatic transmission. The larger-engined models furthermore come with the full complement of airbags.
Owing to its attractive list of standard features – with highlights in the form of rain-sensing wipers, rear parking sensors, full climate control, leather upholstery and extra airbags – it'd certainly be tempting to spring for the flagship 1.4 TEC derivative. However, it's important to consider how much value you place on ride comfort, as this variant's 17-inch alloys and low-profile tyres conspired to deliver a noticeably harsher ride. Should that be an issue for you, opt for the standard 1.4 model instead.
Since the differences between the pre-facelift model and the updated version were relatively minor (effectively limited to cosmetic treatments inside and out), choose whichever fits your budget best.
Verdict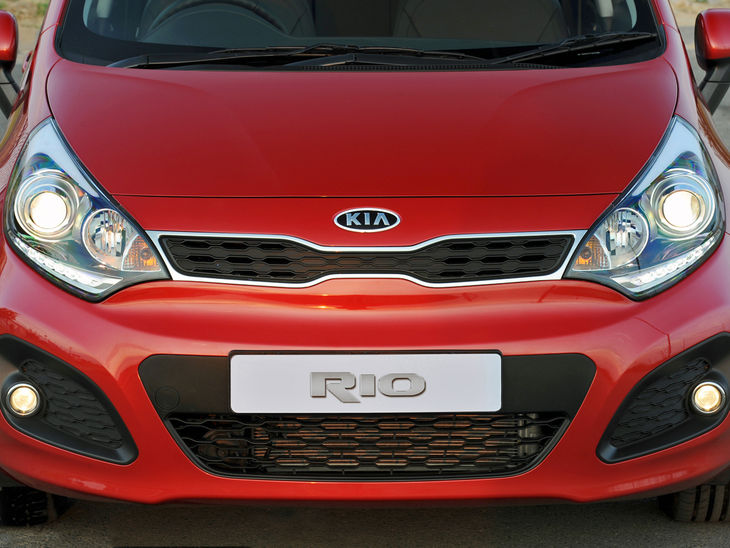 The 3rd-gen Rio's styling has aged particularly well.
Which hatchback alternatives should you consider in this segment? Well, the most obvious rival comes from within the same family in the form of the closely related PB-generation Hyundai i20. The Rio's cousin used the same 1.4-litre unit (and gained the 1.2-litre motor later in life) and was initially available with a larger 1.6-litre petrol engine, too. There was even the option of a 1.4-litre turbodiesel mill.
Of course, other competitors include B-segment heavy hitters such as the fifth-generation Volkswagen Polo, sixth-gen Ford Fiesta, third-gen Toyota Yaris, Renault Clio IV, Opel Corsa (in both fourth- and fifth-generation form) and second-gen Mazda2.
If you're shopping towards the lower end of the UB-series Rio hatchback range, also look at the original (Fiesta-based) Figo and the first Volkswagen Polo Vivo. Specific rivals for the Rio Sedan, meanwhile, include the Chevrolet Sonic Sedan, Hyundai Accent and Volkswagen Polo Sedan.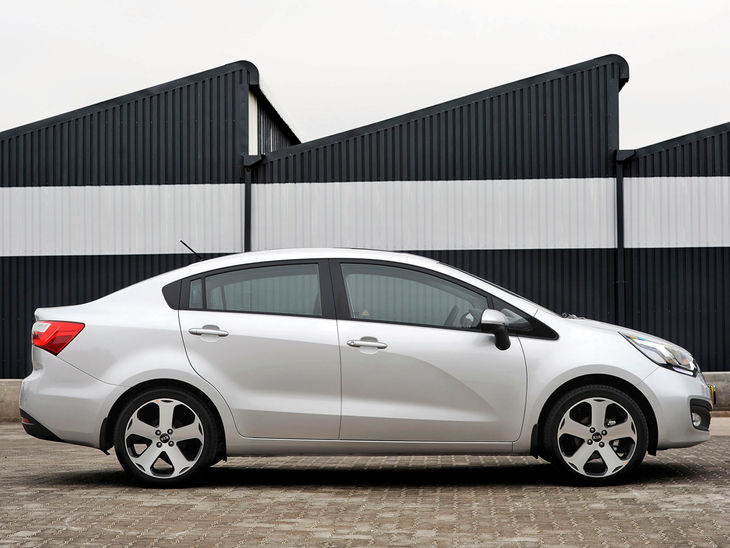 This iteration of the Rio Sedan is one of the better-proportioned B-segment saloons of the era.
The 3rd-generation Rio represented a coming of age for the nameplate. Though the engines weren't the punchiest – and the range-wide lack of stability control unfortunate – the Rio nevertheless featured solid perceived build quality plus an attractive design … which, we might add, has aged quite well.
While sales in today's B-segment have dwindled compared to years gone by, there's certainly still a market for a generally well-equipped, keenly priced used hatchback (and, to a lesser extent, sedan). And that's exactly what this iteration of the Rio still offers.
Looking for a Kia Rio to buy?
Find one on Cars.co.za here
Looking to sell your car? You can sell it to our dealer network here
Original Story by www.cars.co.za