Lamborghini is readying a hardcore, track-focused hypercar powered by the most potent naturally-aspirated V12 the St'Agata-based firm has ever produced. Unsurprisingly, the pre-production Squadra Corse V12 sounds utterly demented!
Scheduled to make its official debut at the end of June 2020, the lightweight track-day hypercar was developed by Lamborghini Squadra Corse, the Italian supercar maker's motorsport division. It's aimed at well-heeled track-day enthusiasts (Lamborghini will produce only a handful of SCV12 units and they are likely to be made available for purchase by invitation only). What's more, the arrival of the SCV12 suggests that the Italian marque is preparing to enter GT endurance rating with its newcomer.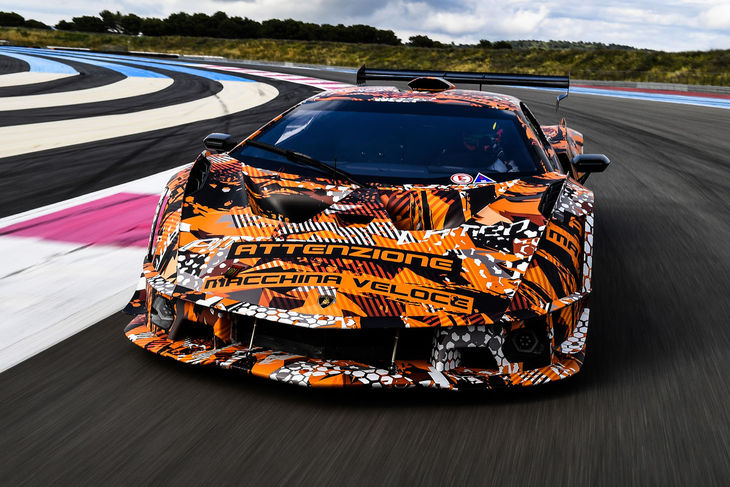 The elaborate scoops on the bonnet form part of the SCV12'sa ram-air pressure boosting configuration.
Lamborghini Squadra Corse recently completed its development programme of the SCV12, which is powered by a 6.5-litre naturally-aspirated (non-turbocharged) V12 engine. The motor is claimed to produce at least 610 kW courtesy of, inter alia, a double air intake on the hypercar's bonnet that directs airflow to the roof-mounted ram-air scoop.
Therefore, at high speeds, this configuration "directs dynamic air pressure (created by the SCV12's movement) to increase static air pressure in the engine's intake manifold, creating greater airflow through the engine and increasing power output" at high speeds, Lamborghini explains.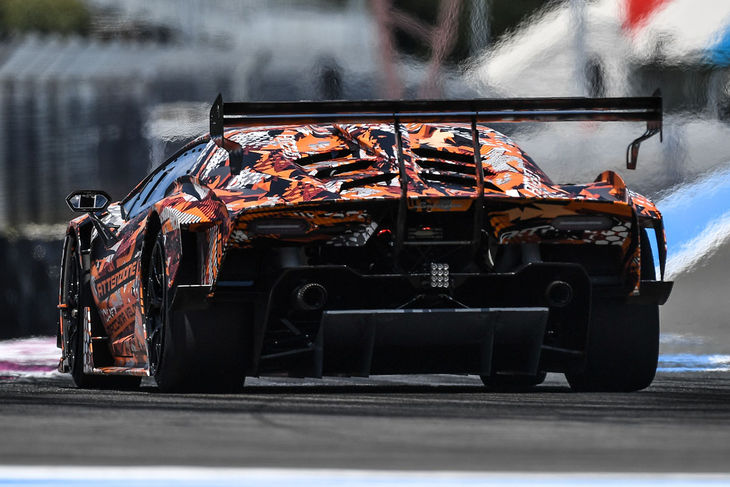 Although this is not the final version, the SCV12 features more of an elaborate back-end diffuser than a rear bumper.
Meanwhile, the SCV12 is also claimed to generate "higher downforce levels than a GT3 car"; the Lamborghini features a prominent front splitter, lateral flicks and vertical fins on the side sills, magnesium rims (19-inch fore, 20-inch aft) shod with Pirelli slick tyres, an elaborate rear diffuser, as well as a distinctive custom-built carbon-fibre rear wing. 
To achieve a greater power-to-weight ratio, the track-focused hypercar features a full carbon-fibre chassis and eschews the Aventador's standard all-wheel-drive- for a rear-wheel-drive configuration. Plus, its sequential 6-speed gearbox is installed as a structural element within the chassis, which not only reduces the SCV12's overall mass, but enhances its weight distribution. The newcomer's pushrod rear suspension is system installed directly on the gearbox.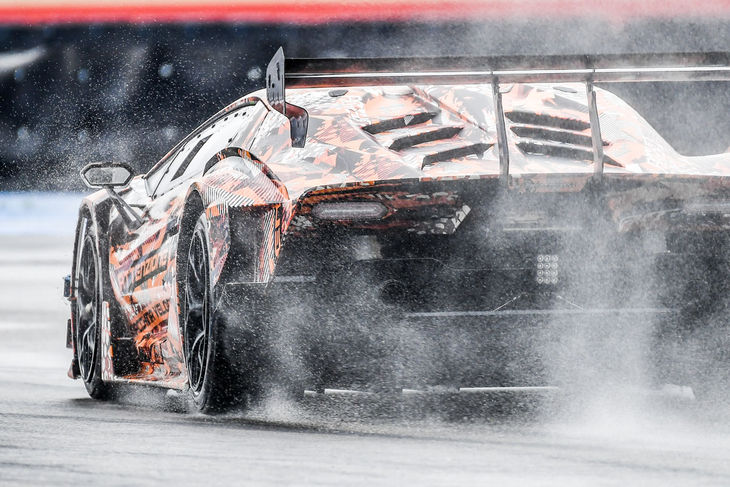 Lamborghini has conducted extended track-testing of its hardcore hypercar; it may pre-empt a full race entry in GT competition.
Lamborghini concludes by saying SCV12 buyers will be invited to participate in advanced driving programmes at some of the world's most prestigious circuits, where they will be availed with the technical assistance from Squadra Corse engineers and receive tutoring from 5-time Le Mans 24 Hours winner and Lamborghini Squadra Corse special projects consultant, Emanuele Pirro.
Search for a used Lamborghini on Cars.co.za
Related content:
Aston Martin Valkyrie hits the road
Lamborghini Huracan Evo (2020) Launch Review
10 Most Powerful Production Cars of the Last Decade (2010-2019)
10 Cool Things: Gordon Murray's T.50 hypercar
Original Story by www.cars.co.za