Italian hypercar maker Lamborghini has created a once-off insane model, built for a specific customer. Check this wild creation out!
Open-top track cars are very fashionable these days, both Aston Martin and McLaren have models about to start production. Lamborghini, being the crazy and out-there brand it is, has created the SC20, a one-off project that was engineered by its motorsport division. A wealthy customer approached Lamborghini to create the bespoke model and was involved in the project right from the first drawings. 
"Two years after the SC18 Alston, the SC20 was a new, intriguing challenge. The chief sources of inspiration were the Diablo VT Roadster, Aventador J, Veneno Roadster and Concept S, and the result is a dramatic combination of creativity and racing attitude," commented Mitja Borkert, Head of Design Lamborghini Centro Stile.
The attention to detail is staggering. The entire carbon fiber body was polished and slicked down by hand by the Lamborghini aerodynamic engineers to deliver optimal airflow for both performance and the cockpit's occupants. This ensures comfortable open-air driving even at high speeds. There's also a large carbon fiber wing that can be set in three different positions: Low, Medium and High Load.  
Powering the sensational Lamborghini SC20 is the 6.5-litre naturally-aspirated V12 motor which produces 566 kW and 720 Nm. Power goes to all 4 wheels via a 7-speed ISR transmission. Performance figures were not given, but we reckon its good for a sub-4 second run to 100 kph. The vehicle rides on 20-inch wheels at the front, while 21-inch wheels are at the rear. Both are wrapped in special Pirelli PZero Corsa tyres.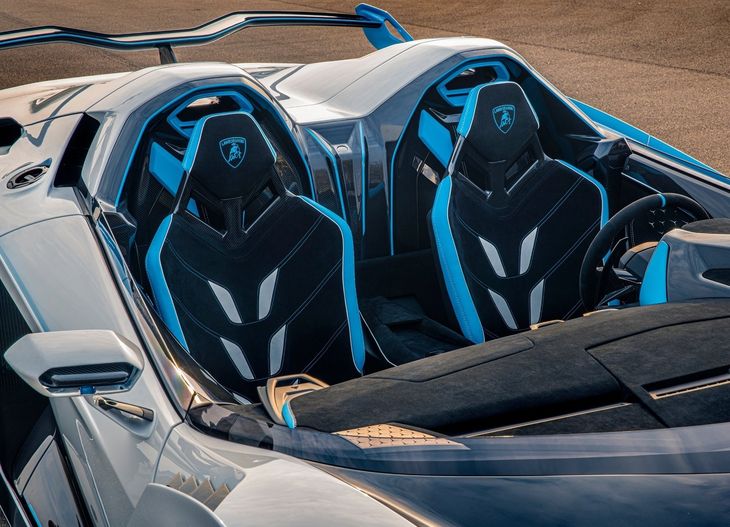 Further Reading
Lamborghini Reveals Huracan STO
Lambo Reveals Track-Only Essenza SCV12
Lamborghini Urus Hits 10k Milestone
Original Story by www.cars.co.za