The Lexus UX premium small crossover has been updated for 2023 and we've had a taste of what it brings to its segment. Is it worthy of your consideration? Read on.
We like: Efficiency, updated infotainment system, on-road refinement, excellent fit-and-finish.
We don't like: Not the most engaging driving experience, pricey, comparatively small load bay.
FAST FACTS
Model: Lexus UX 250h EX
Price: R808 600 (March 2023)
Engine: 2.0-litre 4-cylinder petrol hybrid
Power/Torque: 135 kW/188 Nm
Transmission: automatic CVT
Fuel consumption: 4.5 L/100 km (claimed)
Luggage/Utility space: 268 litres
Serious about buying/selling?
Browse the latest Lexus UX specs and prices.
Some dealerships regularly offer great deals. See our New Car Specials!
Looking to sell your car? Sell it on Cars.co.za for free
Where does the 2023 Lexus UX fit in?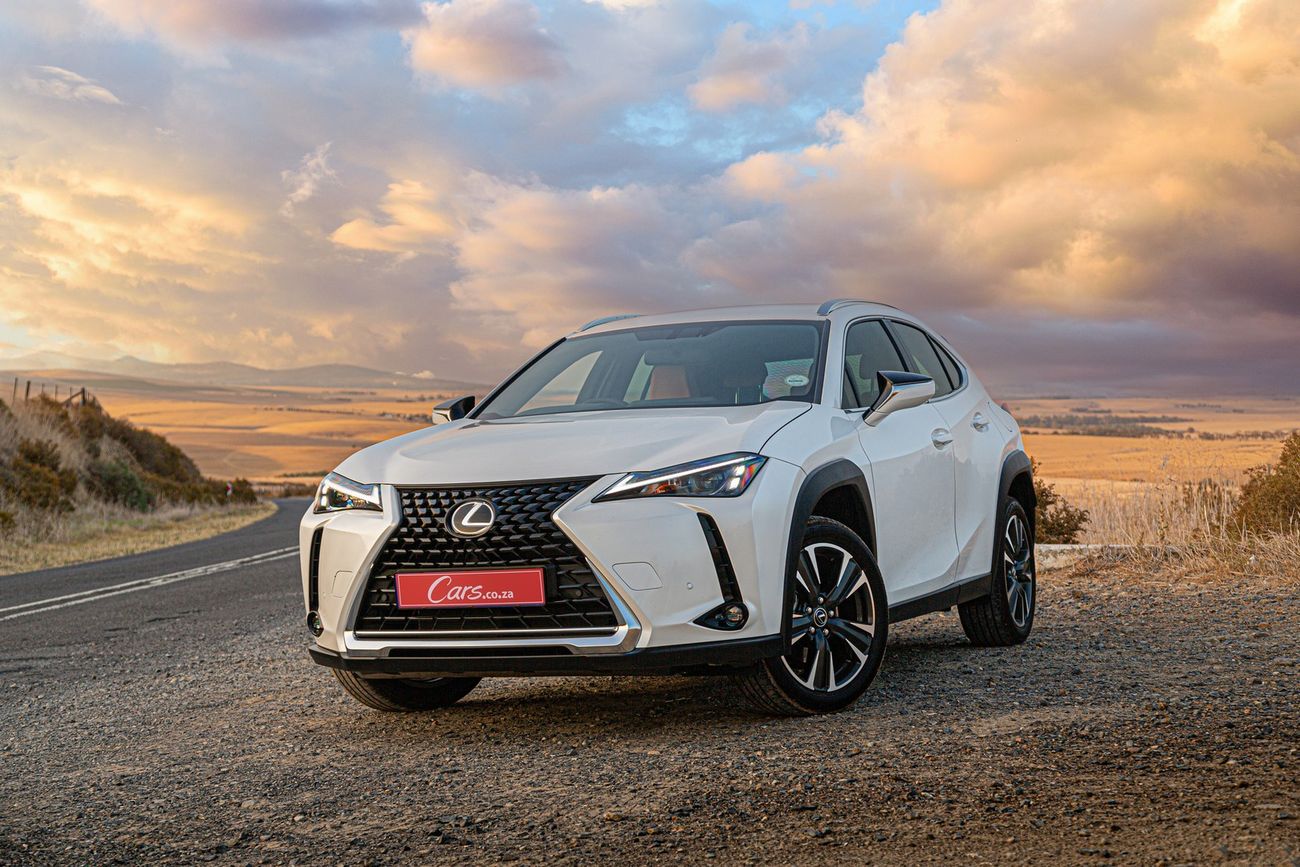 The UX is the entry point to the Lexus crossover/SUV family. It's not the most affordable model in the premium brand's line-up – that honour belongs to the ES, which is essentially a Toyota Camry that attended private school. That's not meant to be an insult: the ES is a very underrated executive sedan.
But back to the 2023-spec UX 250h. It's tricky to distinguish the revised model from its predecessor, but eagle-eyed consumers will notice some slight tweaks to the car's headlamps and daytime running lights. The most notable changes feature in the cabin, with the introduction of an all-new infotainment system.
Previous-spec UX derivatives had a laptop touchpad-style controller that was fussy and clumsy to use. Heaven knows why Lexus persisted with a setup that required so much familiarisation – we're relieved it has finally been retired. In its place is a brand-new 12.3-inch touchscreen, but more on that a bit later.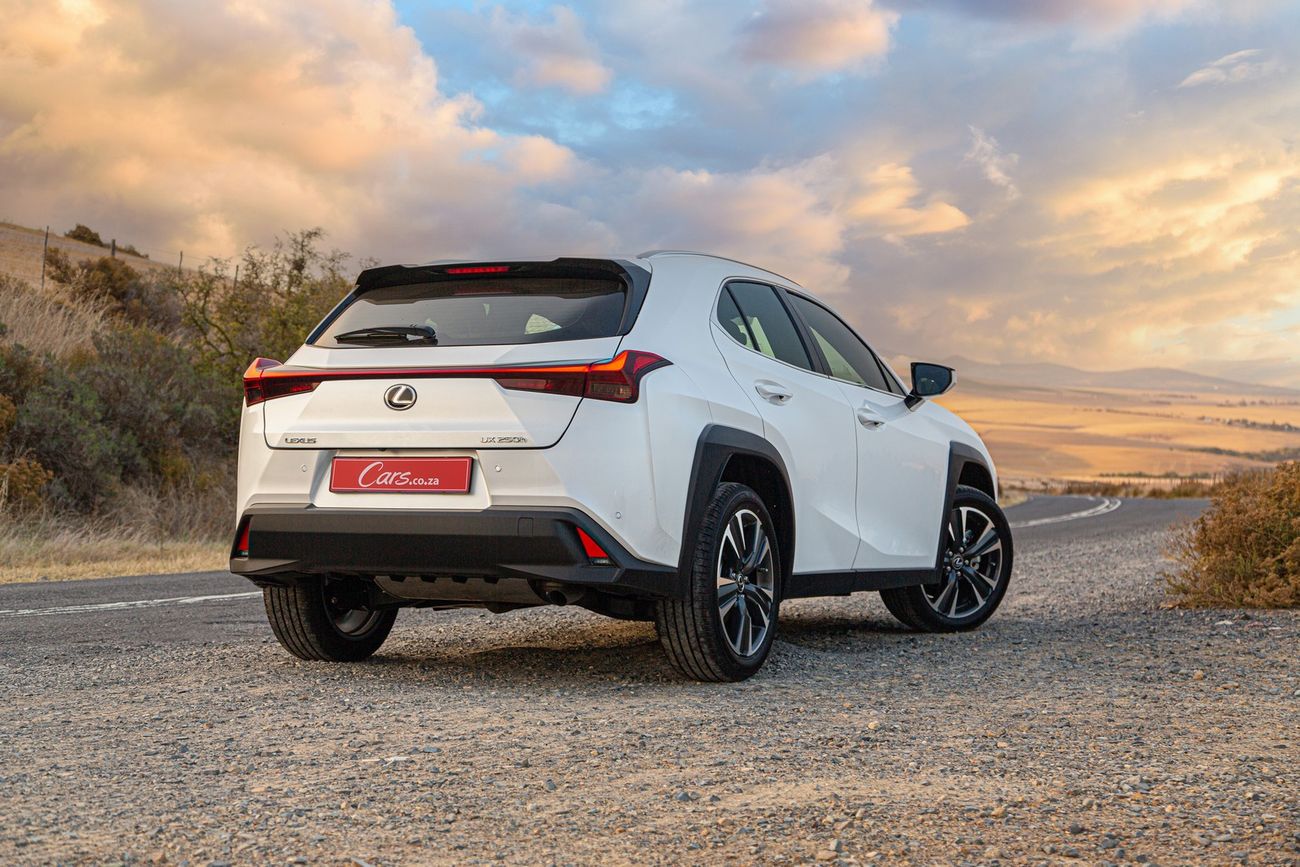 There are also some enhancements to the semi-autonomous safety tech, but they only feature on the higher trim levels – not the entry-level derivative tested here. See also: Lexus UX (2023) Launch Review
Thanks to the comprehensive Cars.co.za comparison tool, we can examine the Lexus UX's rivals in detail. At this price point, you can get into luxury compact crossover models, such as the Mercedes-Benz GLA, the new BMW X1, Audi Q3 and Volvo XC40. You could also consider the quirky BMW X2 and Audi Q2.
Compare the Lexus UX to the Mercedes-Benz GLA and Volvo XC40 here.
Compare the Lexus UX to the BMW X1 and Audi Q3 here.
How the Lexus UX fares in terms of…
Design and Packaging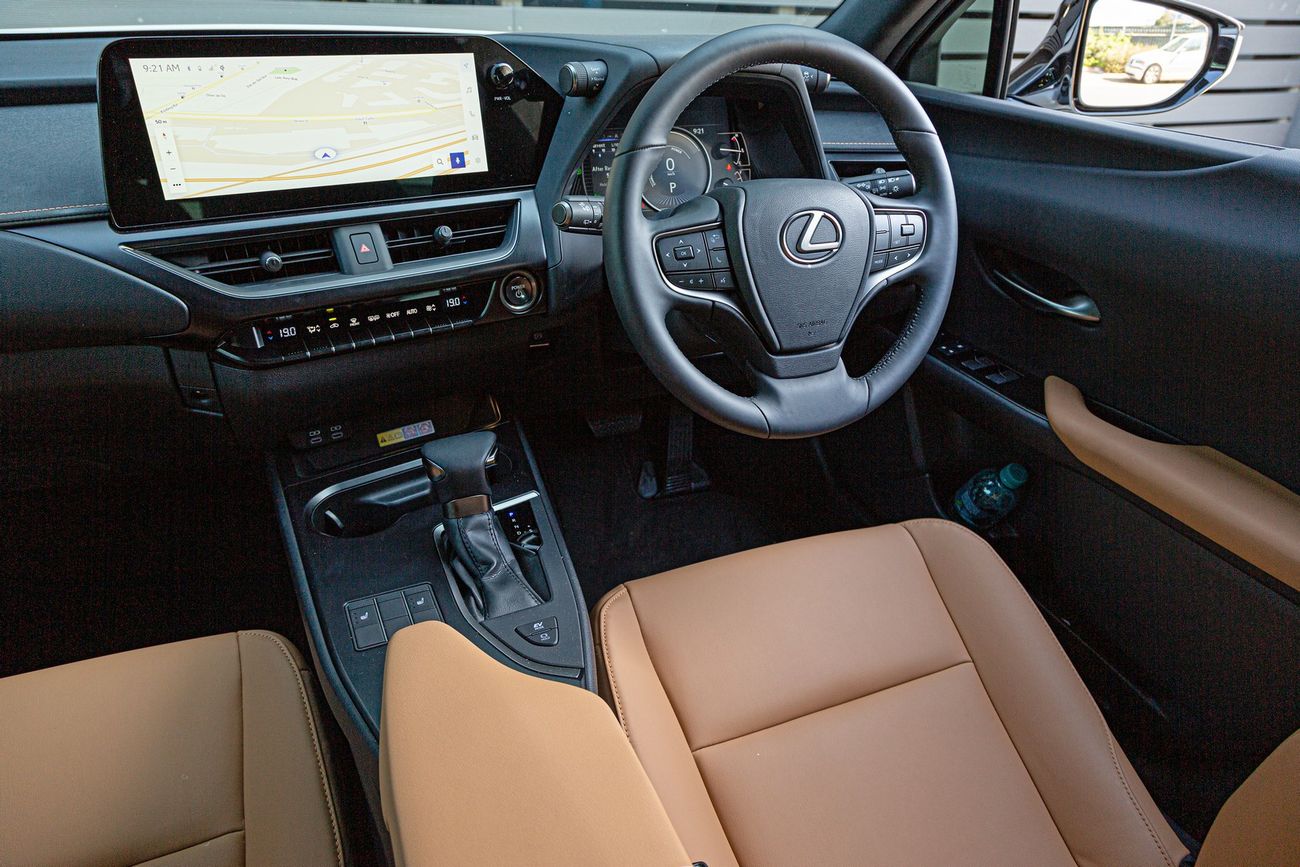 Step inside, and it's business as usual for Lexus. You're greeted by a superbly finished interior that exudes class and craftsmanship. There are high-quality materials in abundance in the upmarket cabin.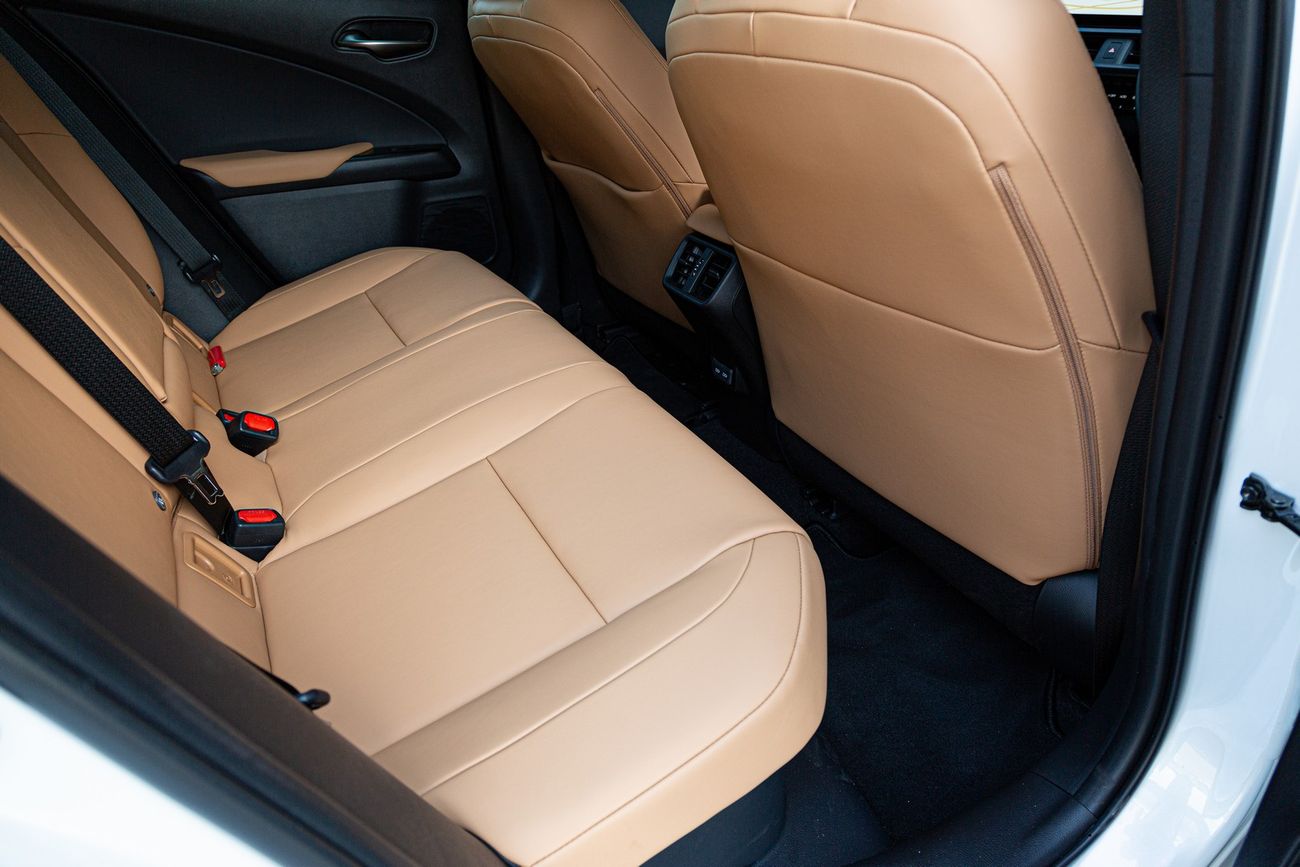 Downsides? Well, the UX is literally a small crossover; despite its SUV-inspired proportions, it is neither a large nor spacious vehicle. Instead, it is a "compact hatchback on stilts" – one that cannot accommodate average-sized adults on the rear bench in comfort, because there's barely sufficient leg- and headroom.
What's more, the Lexus' luggage capacity is on the low side for the class (268 litres), which is almost half that of its rivals, such as the new BMW X1. Not to be too unkind, but if you're an "outdoor type" with a mountain bike or golf clubs to cart around at the weekend, this car is not for you. It has other strengths.
Ride and Handling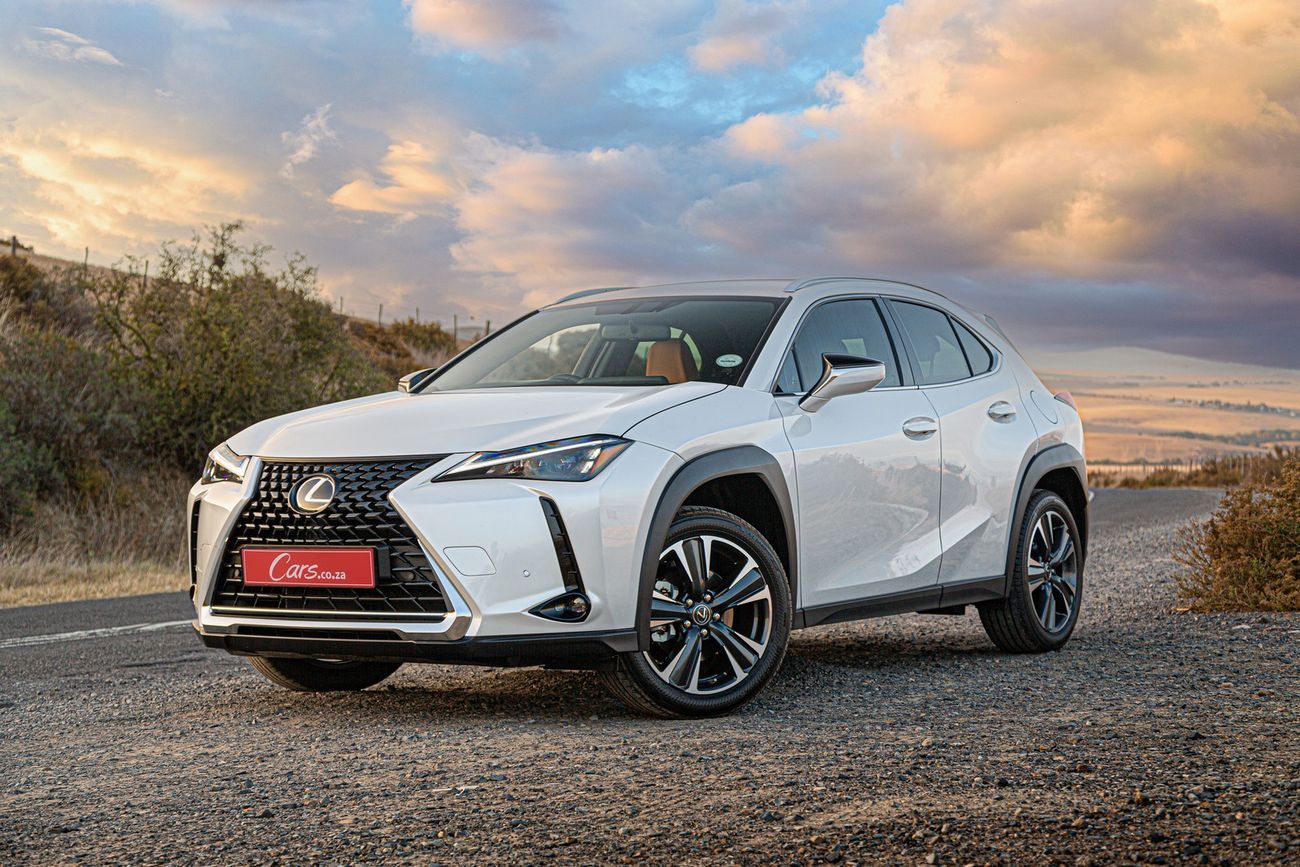 Considering the UX's underpinnings – the TNGA-C (GA-C) platform, on which the Toyota C-HR and Corolla/Corolla Cross are also based – it won't surprise many to learn that the Lexus' driving experience is more akin to that of a hatchback than an SUV… The most impressive aspect of the package (in terms of refinement) is the quiet cabin, which seems admirably insulated from road- and wind noise. Virtually every Lexus is engineered to be smooth and comfortable to drive – and the UX is no exception. 
Most of the Japanese premium brand's models (with the notable exceptions of the IS business-class sedan, as well as the sporty RC and LC coupes) have even-tempered/neutral handling characteristics, but we were pleasantly surprised by the UX's lively steering setup. Despite being a hybrid vehicle, the UX is not "allergic to having fun"… the 250h EX can provide hints of driver engagement when you make it corner at brisk speeds. With its 160 mm of ground clearance, it should be at ease on gravel roads too.
Performance and Efficiency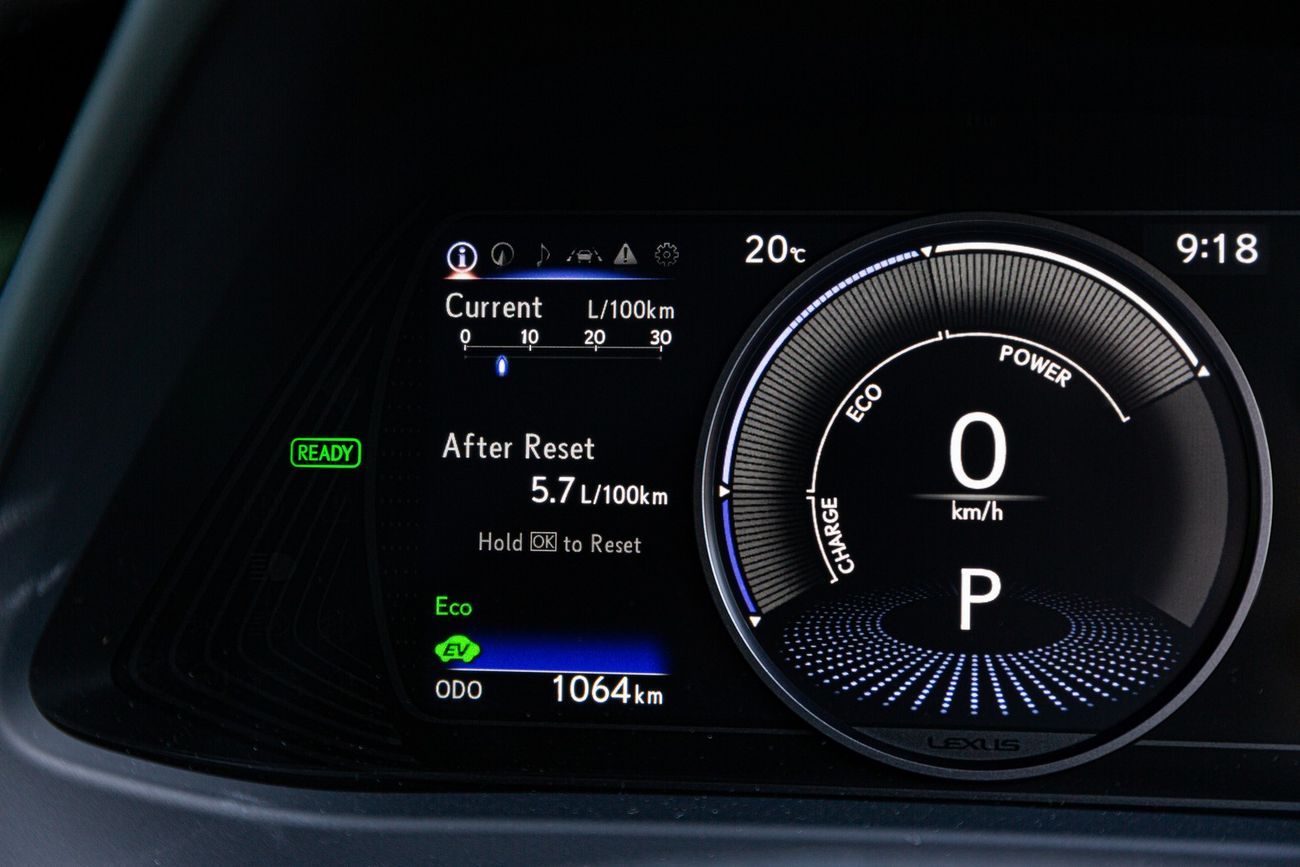 Under the bonnet of the Lexus UX 250h EX sits a naturally-aspirated 2.0-litre 4-cylinder petrol engine, which is augmented with a hybrid battery and an electric motor. Outputs of 135 kW and 188 Nm are on tap, with drive directed to the vehicle's front wheels via a continuously variable transmission (CVT).
While petrolheads abhor CVTs, such transmissions are very effective at optimising efficiency, even if that comes at the expense of dynamism and engaging performance. Lexus has championed hybrid tech (and still does) and the hybrid-only (in our market) UX is said to consume just 4.5 L/100 km. After our test period, we came away with 5.7 L/100 km, which satisfied us. You may be able to better that figure, but it will require less open-road driving, because the hybrid system is most effective in congested city traffic.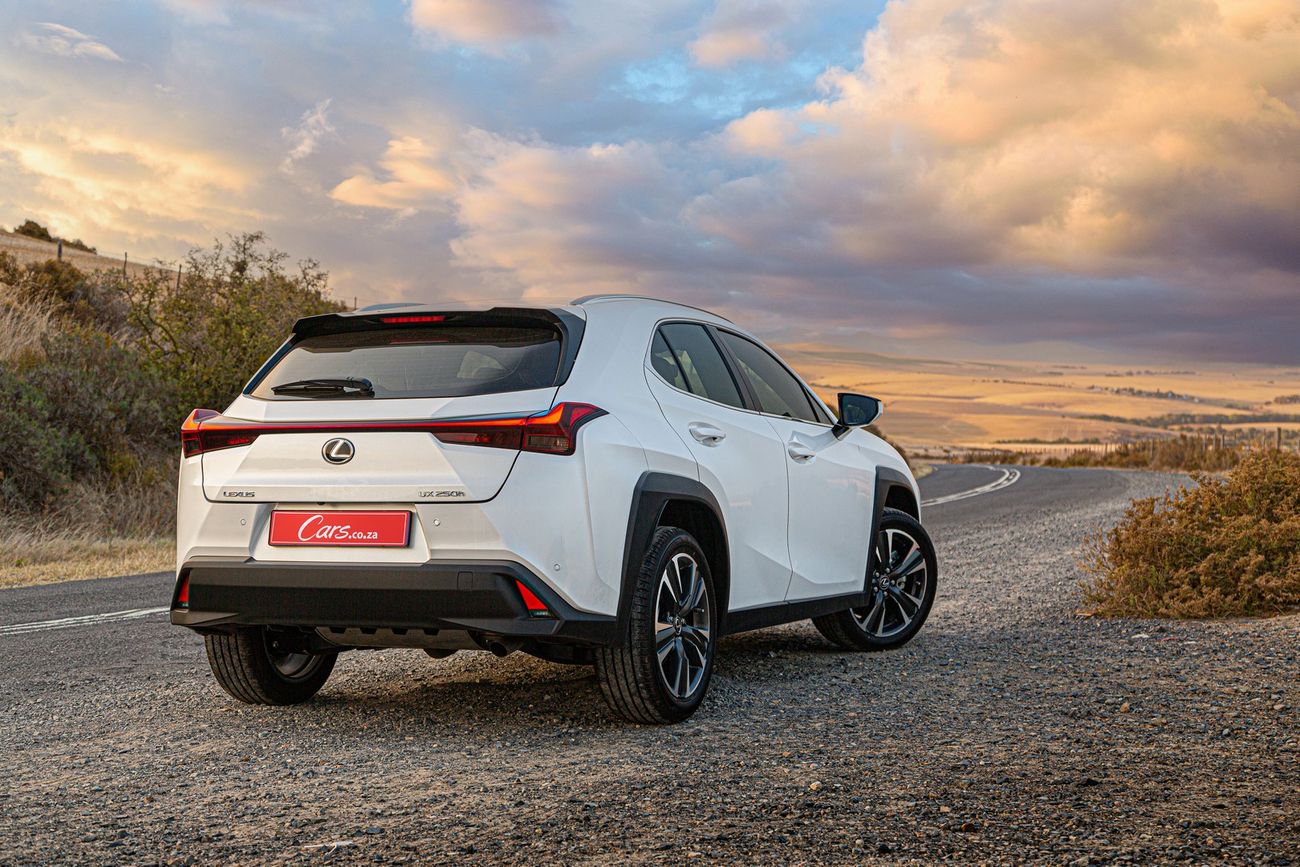 Does it perform well? Despite its efficiency-oriented powertrain, the Lexus UX can get a move on if you need it to. Our test gear confirmed a 9.17-second 0-to-100 kph time, which is quicker than we expected, but, based on its strained engine note, the 250h EX wasn't "happy" about having to accelerate that hard.
Lexus' hybrid system is in its 4th generation and, for those who don't know how it works, it can propel the UX round town at low speeds on battery power alone (depending on the latter's state of charge). The e-motor can also assist the petrol engine by delivering extra power when required, like when overtaking. To charge, the car will simply utilise brake regeneration and engine power – there's no need to plug it in.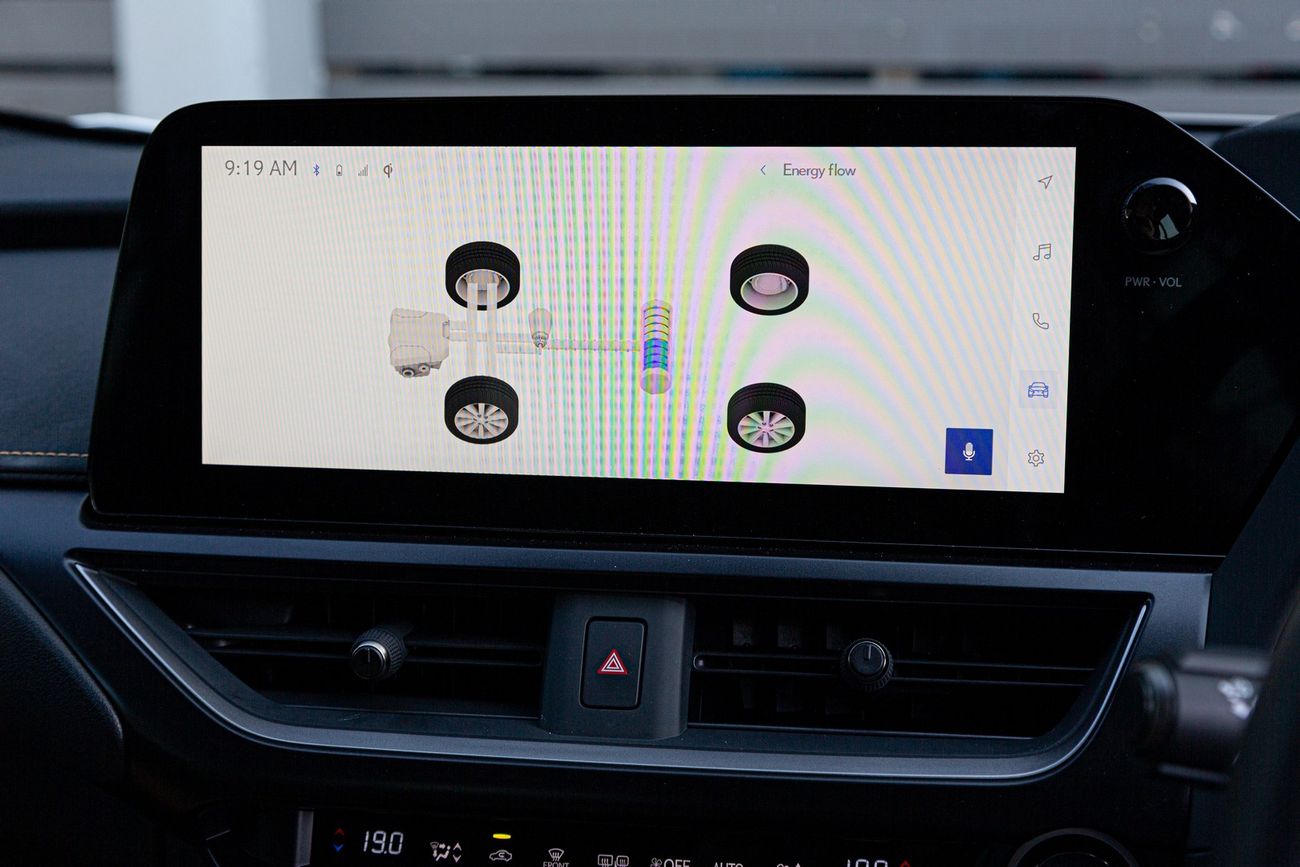 In our experience, the UX is more of a vehicle for commuting (and cruising) than anything else. If you drive the 250h EX in the manner Lexus anticipated most owners would use it (calmly driving to work – and back – in big cities), you're rewarded with an ultra-smooth, comfortable and relaxed experience, with the bonus of low fuel consumption. In the modern era of hustle and bustle, there's something to be said for sitting back and just going along with the traffic while listening to your favourite tunes or podcast.
Tech and Safety features
There's no doubt about it: the Lexus UX's new infotainment system is the star of the show. Not only is it plainly better in terms of appearance/presentation and user experience than before, but it's positioned a bit closer to the driver, so they don't need to stretch so much to access the system's various functions.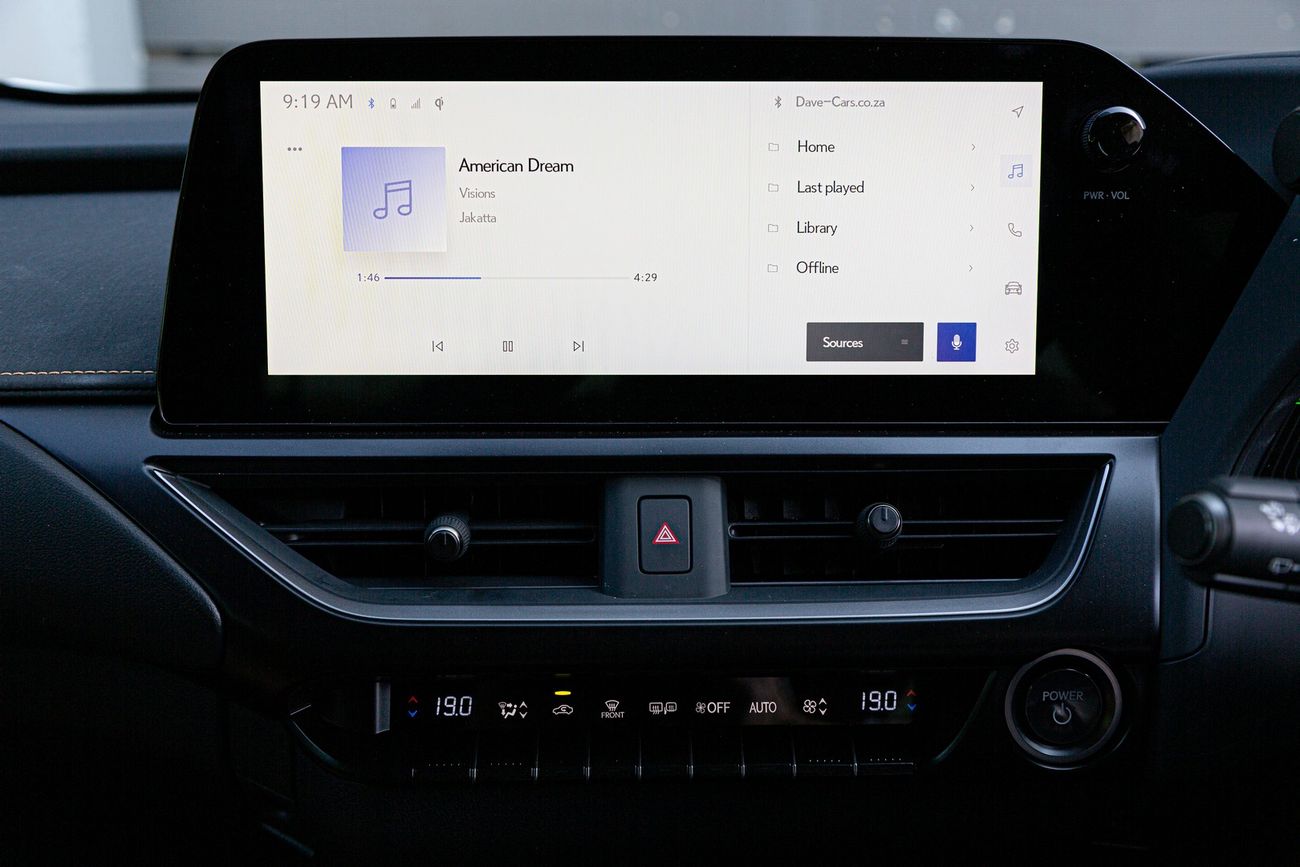 A wireless charging pad, numerous USB ports (type C at the front) and Apple CarPlay/Android Auto make for a compelling combination for the always-connected generation. This writer has an Android device, and the latest version of Android Auto works a treat on the UX's large infotainment touchscreen.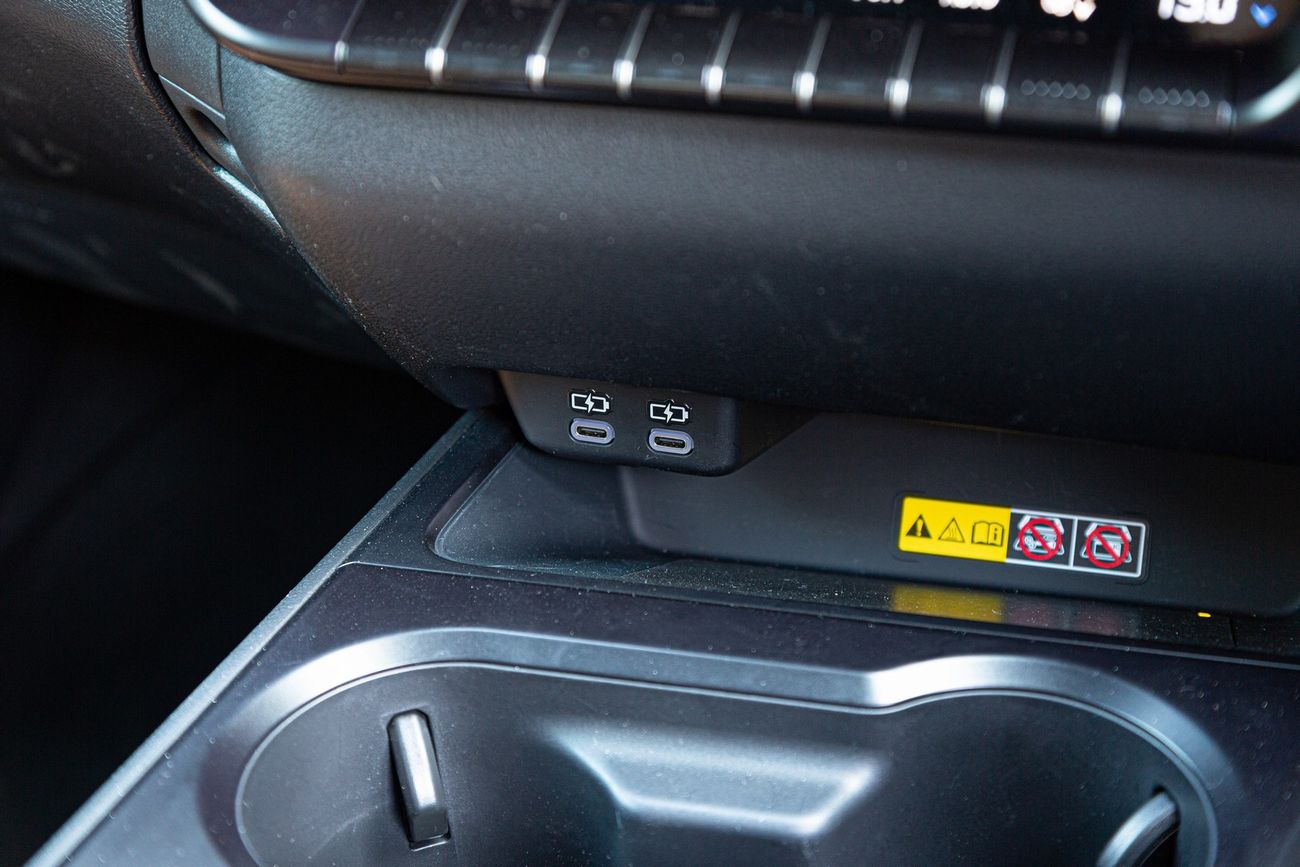 Standard features are comprehensive at this price point. Even though the 250h EX is the "entry-level" UX, it comes with 10-speaker audio (other trim levels get the fabled Mark Levinson setup), a reverse-view camera, parking sensors, cruise control, heated seats, leather trim and dual-zone climate control.
As far as safety equipment is concerned, the derivative has 8 airbags, ABS and traction/stability control.
Price & After-sales Support
The updated Lexus UX range is priced from R808 600 (March 2023) and prices go all the way up to R947 500 for the flagship F-Sport derivative. The vehicle is sold with a class-leading 7-year/105 000 km warranty and full maintenance plan, as well as an additional 8-year/195 000 km hybrid battery warranty.
Verdict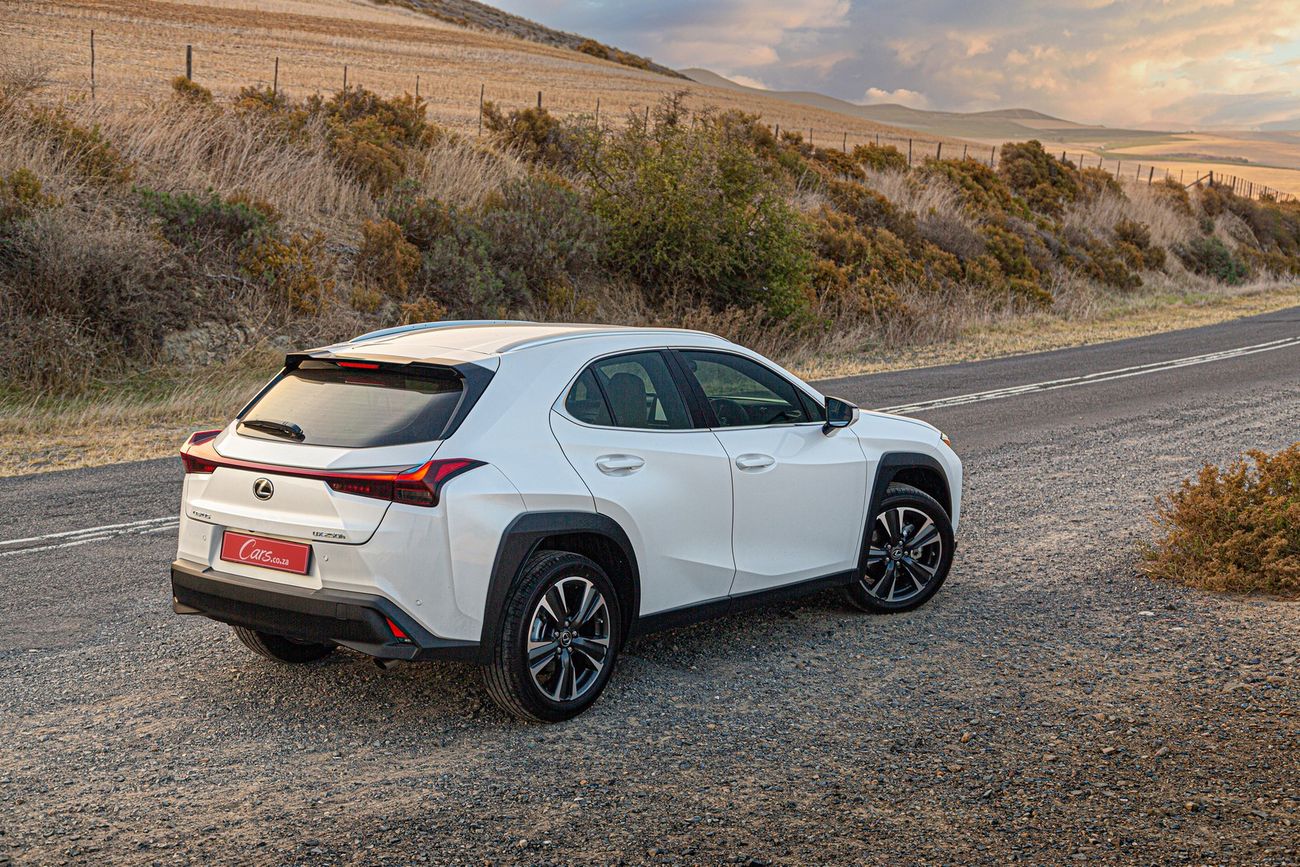 It has excellent cabin quality, an efficient hybrid engine, a brand-new infotainment system and superb overall refinement, but those aren't enough for the 2023 Lexus UX to get a double thumbs-up from us. Sadly, its packaging is too compromised (it's not roomy enough, but remember, the UX succeeded the CT 200h hatchback) and, despite an excellent after-sales plan, the 250h EX is priced well beyond what a customer with a small family may be able to afford if they're looking to venture into the luxury echelon.
Of course, that's not the end of the world for the Lexus UX – far from it. Why? Because it fits another, (albeit more niche) customer profile. If you're half of Dink (Double Income, No Kids) household and you want an efficient luxurious car for trundling to and from the office and the shops, you may want to give this revised model a try. We reckon that a "demo model" might be a lot more attainable than you think.
Related content:
Alfa Romeo Tonale (2022) Launch Review
Mercedes-Benz GLA (2021) Review
Original Story by www.cars.co.za