Mahindra has revealed its updated TUV300 and it's now on sale in South Africa. Here's detailed specification and pricing. 
The Mahindra TUV is an SUV, built on the Mahindra Scorpio platform. For 2020, Mahindra has introduced an updated version. What's new? There's an updated front end design, with a redesigned rear light cluster. The spare wheel holder on the rear has also been redesigned. 
There are also changes in the side cladding and Mahindra has also introduced a new front scuff plate as well as a rear spoiler. 
The cabin gets some updated, with new silver detailing around the air vents and main controls. The cabin is said to be a product of Mahindra's own designers and Pininfarina's, which is part of the Mahindra Group. In terms of features, you get power steering with steering mounted controls, an infotainment system with Bluetooth phone connectivity and an in-built Voice Messaging system, electric windows, air conditioning, height adjustment for the front driver seat, rear-mounted Intellipark parking assistance and electric windows. For those conscious about safety, there are dual front airbags and ABS brakes. 
This 7-seater ladder-frame chassis vehicle is powered by the 1.5-litre 4-cylinder turbodiesel motor, delivering 73.5 kW and 240 Nm to the rear wheels via a 5-speed manual gearbox.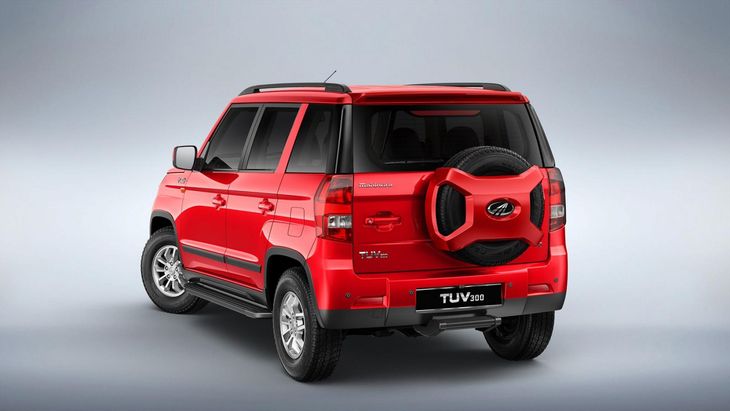 Mahindra TUV Price in South Africa (July 2020)
The updated Mahindra TUV300 comes with a 5-year / 90 000 km service plan and 3-year / 100 000 km comprehensive mechanical warranty and Roadside Assistance Service. Services, after the initial 10 000 km lubrication service, is done every 20 000 km.
Mahindra TUV300 T8   R254 999
Further Reading
Mahindra Scorpio S11 Specs & Price
Mahindra Pik Up 4×4 Automatic: Is it worth it?
Mahindra TUV300 (2017) Video Review
Original Story by www.cars.co.za