The Mercedes-Benz V-Class is a popular and versatile people-carrier. Now you can get it bulletproofed, perfect for those VIP shuttles. 
Armouring specialists Inkas has released what looks to be your run-of-the-mill Mercedes-Benz V-Class. But, what you see here is far from it. This Mercedes-Benz V-Class has been given CEN BR6 level ballistic protection, which means it can withstand more than just handgun fire. Inkas claims there's enough armouring here to see the V-Class survive grenade explosions. 
The roof, doors and floor have been reinforced, and bulletproof glass has been installed. Naturally, all of this armouring and glass adds quite a lot of extra weight and this has resulted in improved door mechanisms to cope. There are improvements to the brakes and suspension too. The vehicle also features run-flat tyres to ensure the vehicle can't be disabled. 
Interestingly, there's no mention of any engine enhancements. The South African market received the V300d in 2020, and that features the OM 654 2.0-litre turbodiesel tuned to deliver 176 kW and 500 Nm and is equipped with a 9-speed automatic transmission.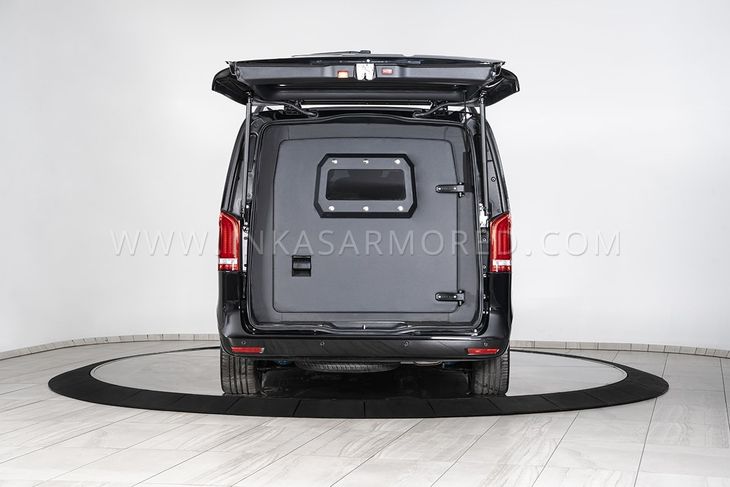 The armoured rear door in the Inkas-fettled Mercedes-Benz V-Class
Further Reading
Mercedes-Benz V-Class (2019) International Launch Review
Mercedes-Benz V300d (2020) Specs & Price
All-New Mercedes-Benz V250 Gets Brabus Treatment
V-Class by Schawe Car Design Interior is Next Level
Original Story by www.cars.co.za