The new generation of North America's top-selling new vehicle (let alone pick-up truck) has been revealed in the 'States and it provides insights as to what the upcoming Ford Ranger, which will be revealed in 2021, may look like, be powered by and feature, technology-wise.
The all-new Ford F-150 pick-up truck is produced in left-hand-drive configuration only and won't be offered in South Africa, but because the unveiling of its little brother, the next-generation Ranger, which will also be sold in North America, is about a year away, we can begin to form a picture of what the Blue Oval's "one-tonner" double-cab may look like.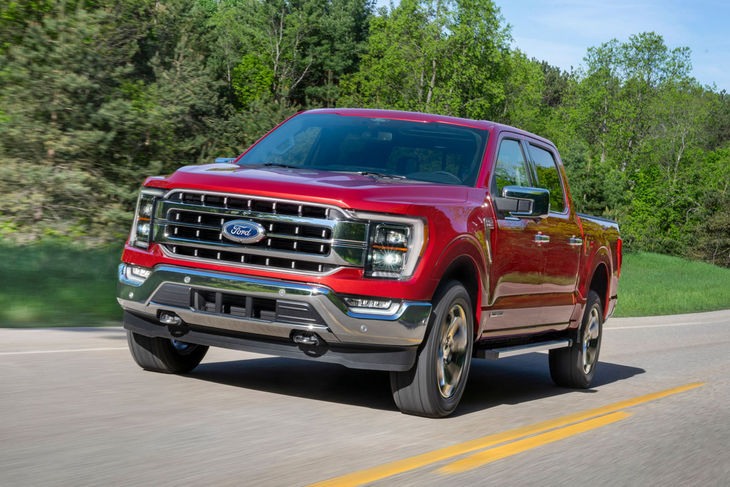 Ford says the F-150 has "a fully boxed high-strength steel frame with a high-strength, military-grade, aluminium-alloy body". 
Some sites have produced renders of the upcoming Ranger based on what the current model looks like and incorporating cues from its F-150 brother in the States, because it stands to reason that Ford would be keen to establish design familiarity between the F-Series and its sibling double-cab bakkie from a marketing/recognition point of view.
Every panel of the F-150 has been redesigned; the newcomer incorporates an updated headlamp design, a bulging bonnet and wrap-around bumpers. To aid aerodynamic efficiency, the Ford features active grille shutters, an automatically deploying active air dam, plus new cab- and tailgate geometry to reduce drag/improve fuel consumption.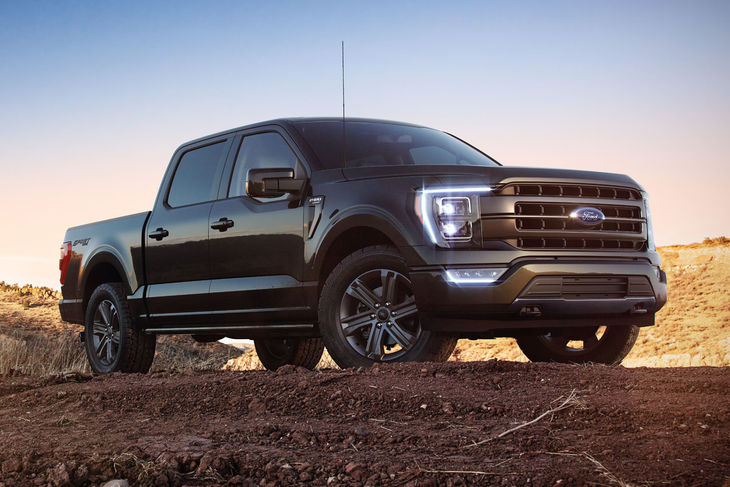 We think the daytime running lamp lighting signature will feature on the next-generation Ranger.
Apart from featuring a larger, boldly styled chrome-look grille, the new Ranger is highly likely to have similar inverted-C-shaped daytime running lamps/lighting signature.
There are up to 11 grille options available, new LED head- and tail-lamp clusters, revised tailgate appliqués, plus optional full-length boards. The F-150's tailgate comes standard with new cleats mounted to its sides that act as tie-down locations for extra-long items, as well clamp pockets, which Ford says allow customers (such as tradesmen) to secure materials to carry out "precision work". What's more, an optional flat Tailgate Work Surface includes integrated rulers, a mobile device-, cup- and pencil holder.

The hybrid-electric F-150 will have a braked towing capacity in excess of 5 tonnes.
Apart from offering more in the way of storage spaces as well as a standard dual glovebox, the Ford's redesigned cabin features, inter alia, a 12-inch touchscreen infotainment screen with SYNC 4 technology, an optional digital instrument cluster, plus the ability to download over-the-air updates and Ford Pass smartphone app functionality.
View a gallery of F-150 interior images and learn more about the newcomer's onboard features
The new F-150 range will offer a total of 6 powerplants, including a 3.3-litre naturally aspirated V6 petrol, 2.7- and 3.5-litre V6 twin-turbo motors, a 5.0-litre naturally aspirated V8 petrol and 3.0-litre V6 turbodiesel. Earlier this week, we speculated that the next-generation Ranger will offer the 3.0-litre V6 turbodiesel, potentially a 3.0-litre V6 twin-turbo petrol from the Explorer ST… and now, come to think of it, possibly even a petrol-electric hybrid. Read more here: 2022 Ford Ranger: More details emerge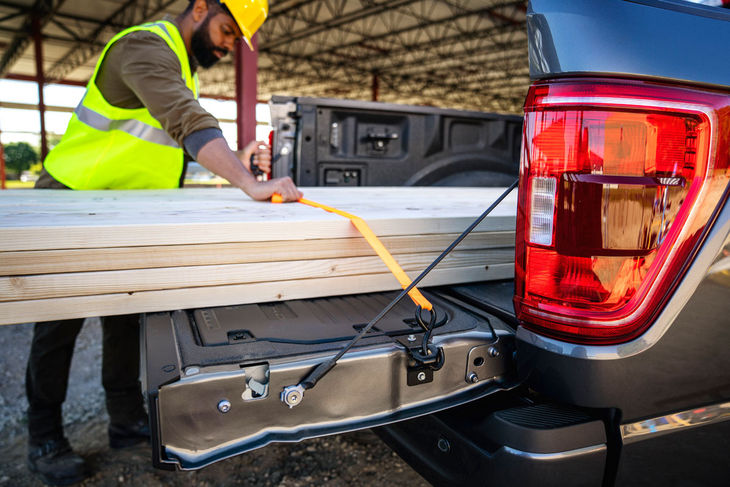 All F-150 tailgate's come with cleats, through which owners and operators can secure long objects for transport.
Hybrid? Yes, perhaps, because Ford chose to make the PowerBoost hybrid, which combines a 3.5-litre V6 twin-turbo petrol – mated with a 10-speed automatic 'box – with a 35-kW electric motor integrated with the transmission, the star of the F-150's launch. The motor, which is mounted underneath the pick-up's load bed to ensure that it does not encroach on cabin space, is powered by a liquid-cooled 1.5kWh lithium-ion battery that's recharged via regenerative braking.
Although Ford did not release peak output figures for the derivative, its claimed fuel consumption on the combined-cycle test (EPA) is about 10.3 litres/100 km, and the hybrid pick-up is reported to feature a braked towing capacity of 5 tonnes and a 7.2-kW Pro Power Onboard generator. Learn more about Pro Power Onboard here.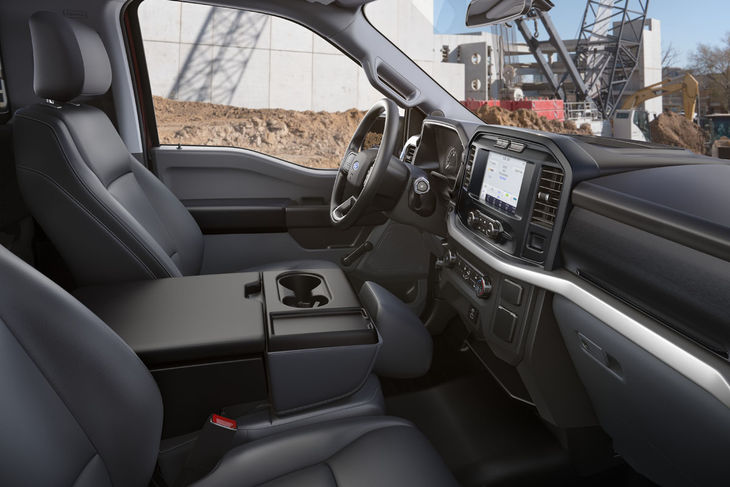 Although top-spec F-150s will feature 12-inch touchscreen infotainment systems, lower to mid-spec ones will have 8-inch units.
Meanwhile, the new F-150 features a plethora of driver-assist features, including Pre-Collision Assist with automatic emergency braking and pedestrian detection, an updated reverse-view camera with dynamic hitch assist, auto high-beam headlamps and auto on/off headlamps.
Ford claims the F-150 is the only pick-up to offer Active Drive Assist, which allows for hands-free driving on more than 100 000 miles of pre-mapped, divided highways in the US and Canada. By contrast, most contemporary drive assist systems require you to at least touch the wheel… Here's how it works: Ford's advanced driver-facing camera tracks the driver's head position and driver-eye gaze and will allow him/her to take their hands off the tiller – as long as they continue to pay attention to the road ahead.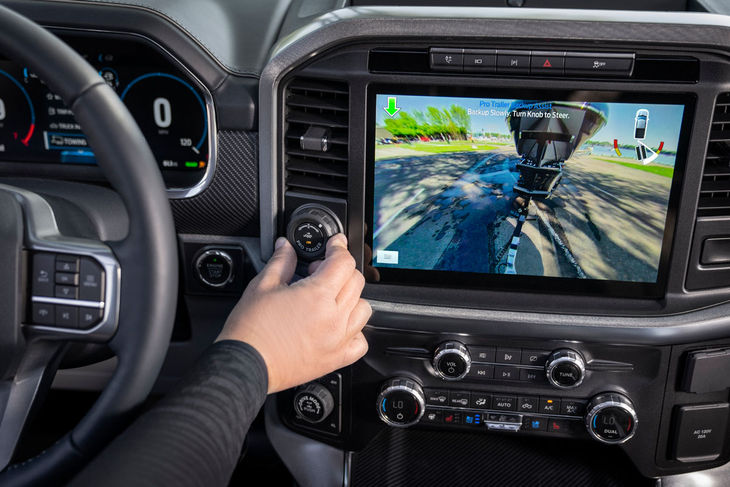 Apart from offering better resolution reverse views, the F-150 can be optioned with Pro Trailer Backup Assist.
And lastly, given the bulk of the popular full-sized truck, any help with executing reversing manoeuvres is a godsend. To that end, the F-150 offers Active Park Assist 2.0, which handles all steering, shifting, braking and accelerator controls during a parallel or alley docking manoeuvre.
In addition, Trailer Reverse Guidance uses the truck's surround cameras to provide multiple views along with helpful graphics that tell drivers which way to turn the 'wheel while reversing. With Pro Trailer Backup Assist, however, that particular exercise is as easy as turning a dial (see above).
For more, click here: Ford F-150 cabin features that could be in next Ranger
Further Reading:
2022 Ford Ranger: More details emerge
Next Volkswagen Amarok to be built in SA
How the AmaFord changes everything
2022 Volkswagen Amarok: What We Know So Far
Original Story by www.cars.co.za