Honda's "most responsive and powerful (Civic) Type R ever" has arrived in South Africa! Although not as aggressively styled as its predecessor, the next iteration of the world's most potent series-produced front-wheel-drive hot hatch is sure to make local enthusiasts salivate. Herewith specifications and pricing details for the new Civic Type R! 
The year 2022 marked the 25th anniversary of Honda's iconic high-performance hatchback, which saw the introduction of the 6th-gen model in its home market. Since the 3rd-gen (FN) model – launched in 2007 – every iteration of the Japanese hot hatch has been sold in South Africa and the new FL5 version, which rivals the Hyundai i30 N, Volkswagen Golf 8 GTI and, to a lesser extent, the Toyota GR Corolla, has now arrived on local soil. 
Earlier this month, the new Civic Type R recently set a new lap record for a front-wheel-drive car at the famed Nürburgring Nordschleife with a time of 7 minutes 44.881 seconds which is a testament to the development that's gone into this latest iteration. 
The new Civic Type R is powered by a revised K20C1 turbocharged 2.0-litre 4-cylinder engine that generates 235 kW and 420 Nm, increases of 7 kW and 20 Nm, respectively over the outgoing model.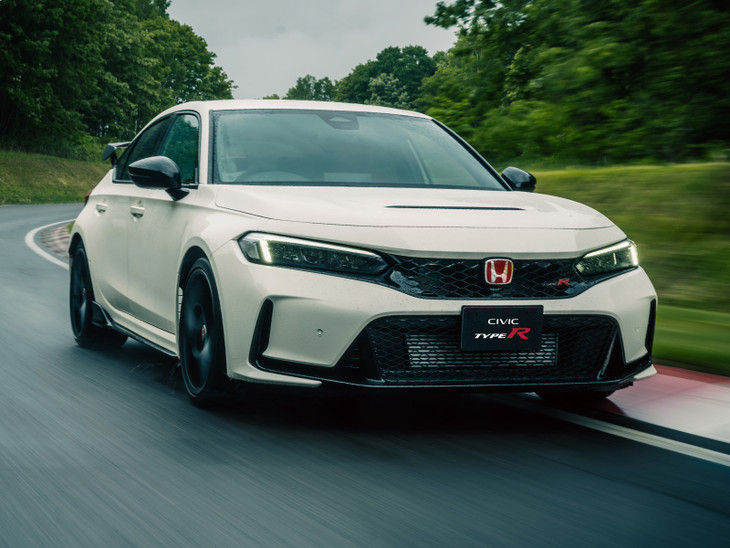 It's said that Honda engineers have refined every aspect of the 2023 Civic Type R. The new model incorporates several design enhancements that improve aerodynamic performance, lightweight components and powertrain revisions, although the powerplant remains a turbocharged 2.0-litre 4-cylinder unit.
Honda has fitted a revised turbocharger "featuring a compact housing to improve the overall unit efficiency. The turbine itself has had both its blade count and shape optimized to boost power and improve airflow."
What's more, a reworked high-efficiency exhaust system works in conjunction with the above to improve the power-to-weight ratio, torque and top speed of the previous-gen Type R and make the 2023 Civic Type R "one of the most powerful per litre cars in its class," Honda claims.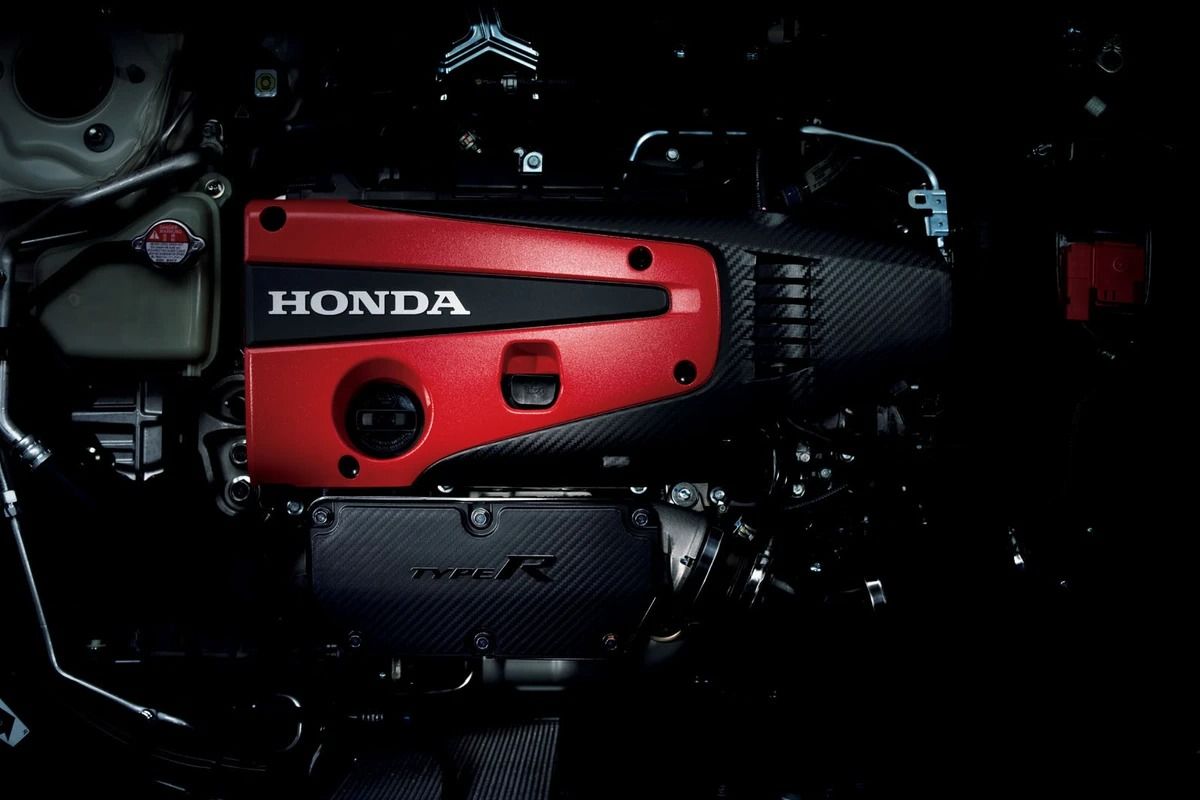 Meanwhile, the beefed-up 6-speed manual gearbox gains a high-rigidity lever, an optimised shift-gate pattern and a revised rev-match system (again with an auto-blip function).
The upgraded Brembo braking system retains the two-piece discs from the previous-generation model, the radiator has been upgraded to "ensuring sustained, optimal performance during heavy use" and hot-hatch aficionados will be pleased to learn that the newcomer's triple-exhaust design offers "enhanced sound modulation".
"With the all-new Civic Type R, Honda engineers have again delivered on our goal to create the most rewarding driving experience in the performance hatchback segment," said Tom Gardner, Honda Motor Europe's senior vice president.
"Through exceptional advancements and the application of motorsport-derived technologies, we have exceeded the capabilities of even the stripped-out, lightweight version of the previous model. It is this dedication to performance excellence that has made the Civic Type R so popular with driving purists for 25 years," he added.
The 2023 Civic Type R is noticeably lower and wider than the hatchback on which it is based, and its rear doors and arches are unique to the variant, Honda says.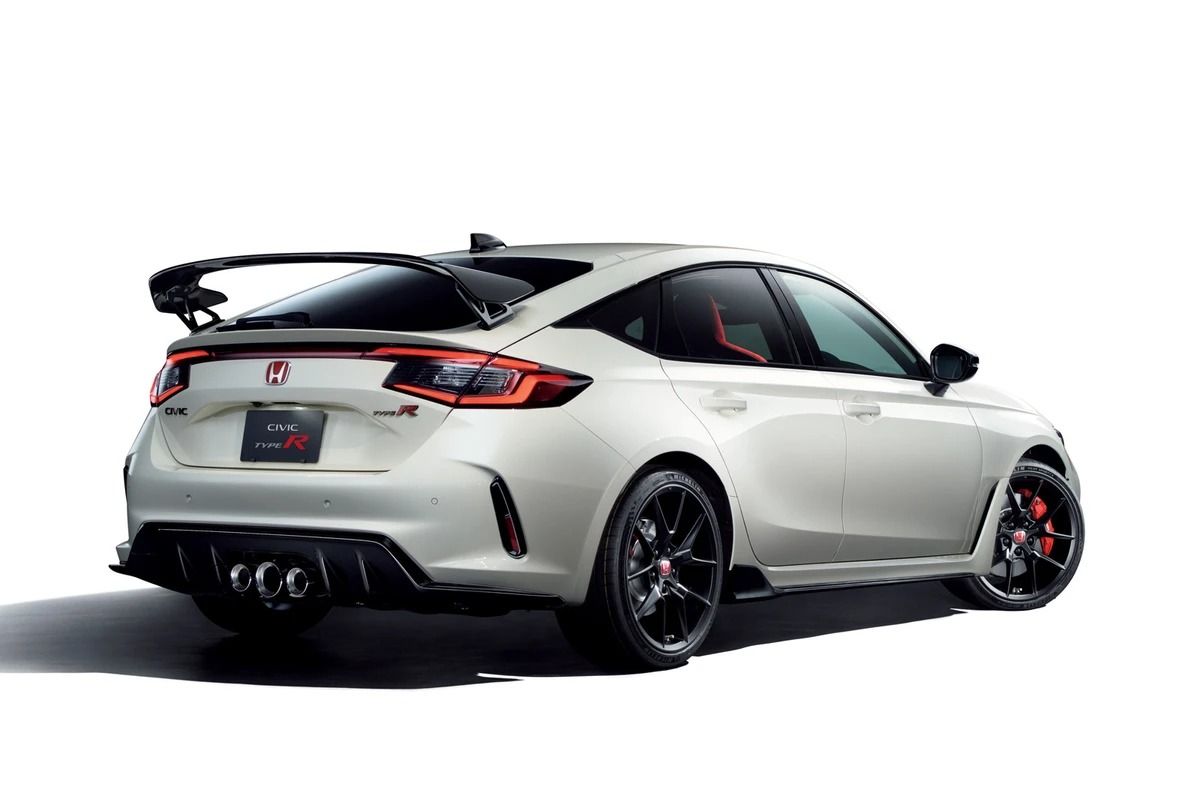 As expected, the latest iteration of Honda's hot hatch has all the usual go-faster addenda, including sporty bumpers, a reprofiled ­– and vented – bonnet, a large, meshed lower airdam, flared wheel arches, lightweight 19-inch matte black alloy wheels (shod with Michelin Pilot Sport 4S tyres), but its exterior detailing is much less fussy than that of the outgoing car.
The rear spoiler sits lower, but is broader than that of the previous model; it has been angled rearward to suppress air resistance and is supported by aluminium die-cast mounts.
The 2023 Civic Type R is available in Championship White, Rallye Red, Racing Blue, Crystal Black and Sonic Grey Pearl(s) exterior finishes, but choose carefully, because the interior seems to be available exclusively with classic Type R red trim…
Inside, Honda has lowered the Type R's driving position further (for greater visibility over the lower bonnet and to minimise blind spots and reflections), while front occupants are ensconced in figure-hugging lightweight seats trimmed with suede-like upholstery, which is complemented with matching door inserts and stitching on leather surfaces. Brightwork includes the egg-shaped gear knob and sporty metallic pedals.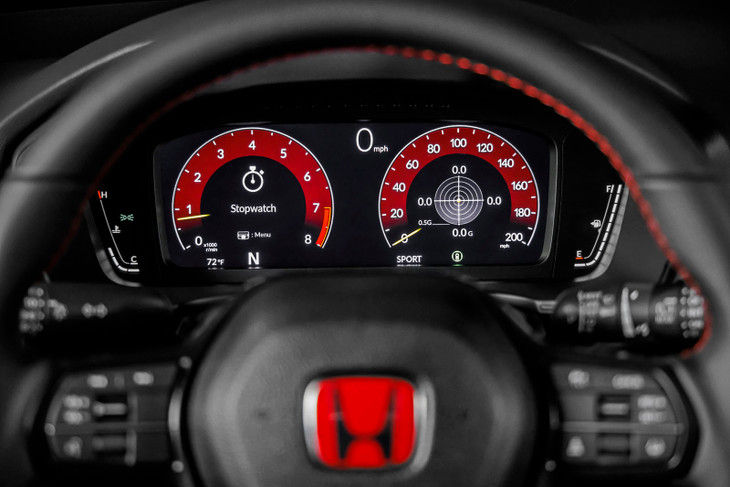 Drivers can "seamlessly switch between performance settings", Honda says, with pre-set modes for the engine, steering, suspension and engine sound. In addition to Comfort, Sport and +R drive modes, each of which come with specific display themes for the digital instrument cluster, the Japanese marque has introduced an "Individual Mode" in the new model.
The Honda LogR data logger returns in a heavily updated format and now combines performance data collected by in-car sensors with a smartphone app to help drivers monitor and record a variety of metrics in real-time. Key features include a stopwatch to record lap times, tyre-friction circles that displays the maximum tyre force the vehicle can achieve, 3D vehicle motion display, and a scoring function that helps drivers improve their skills on the track.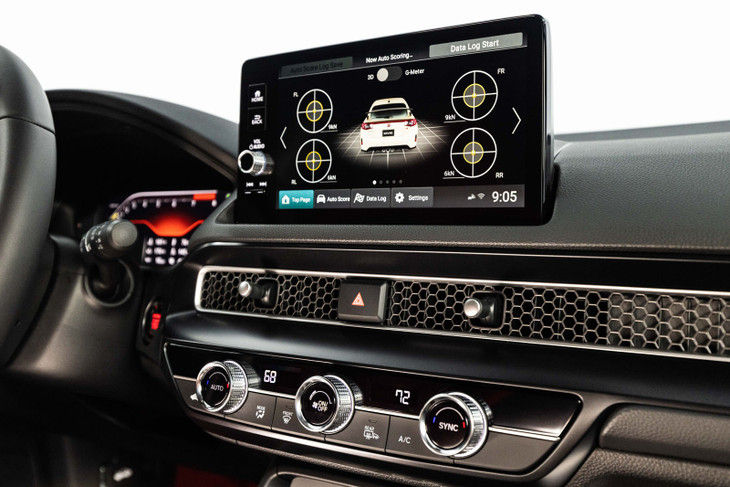 Some notable standard features include a 9-inch touchscreen infotainment system, 10.2-inch digital instrument cluster, 12-speaker Bose Centerpoint Premium Audio system, wireless charging and Honda's Sensing safety suite. 
How much does the Honda Civic Type R Cost in South Africa? 
Pricing for the new Honda Civic Type R has been confirmed at R979 000. Note that the outgoing Type R was priced from R857 500.
A total of 60 units have been allocated to the South African market and Honda SA has reportedly secured 25 pre-orders for the new Type R, all of which have been sold. If you're interested in buying the new Type R, we suggest you reach out to your local Honda dealer to make your intentions known!
Related content:
Hyundai i30 N & Kona N (2022) Launch Review
Toyota GR Corolla Morizo Edition Loses Weight, Gains Torque
Original Story by www.cars.co.za