An all-new Nissan Qashqai is in development and will be revealed early in 2021 but Nissan has taken the opportunity to drop a few teaser images of the Qashqai's interior. Check it out!
The Qashqai has been around for two generations and the model has proven to be hugely popular for Nissan worldwide. The current Qashqai is a dated product when compared against its much newer rivals. But not for long! The all-new Qashqai is in the making and Nissan is preparing its official reveal for Q1/Q2 of 2021 and an electric Qashqai with what Nissan calls e-Power, will be introduced for the first time. We have yet to see the new Qashqai without camouflage but Nissan has shared a few images of the interior and it looks promising (see more details below). 
"The new Qashqai is going to change what customers can expect from a family car. Comfort, refinement and technology will be from higher categories of car, while the driving experience will satisfy drivers and passengers alike. With Nissan's bold e-POWER technology, we feel that customers will fall in love with the feeling of an electric powertrain, without the range concerns," said Gianluca de Ficchy, Chairman, Nissan Africa, Middle East, India, Europe and Oceania (AMIEO) Region.
Modernised Interior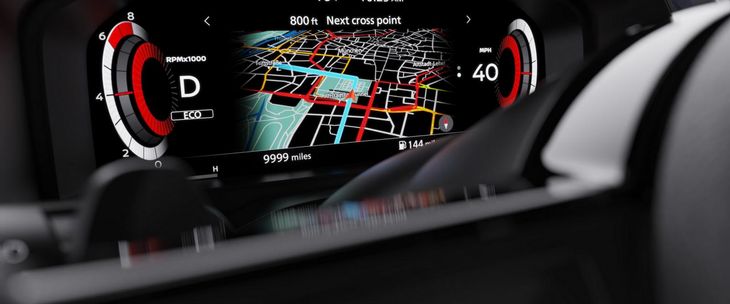 The new Qashqai will be equipped with a 12.3-inch digital instrument cluster and a large head-up display. 
The teaser images you see here show a modern cabin for the new Qashqai with an upright 9-inch infotainment touchscreen mounted on the central dashboard with quick-access buttons neatly placed below the screen. The 12.3-inch TFT instrument cluster is all-digital too with a 3-dimensional speedometer and tachometer with the navigation system between them. A 10.8-inch head-up display is also fitted. We suspect that the digital instrument cluster and head-up display are configurable using the mounted controls on the steering wheel but is likely to feature only on top-spec Qashqai derivatives. An analogue instrument cluster is likely to feature on entry-level derivatives. Other cool features include a 15W wireless charging pad, heated front seats with massage function, Nappa leather upholstery, a Bose sound system and Wifi for up to 7 devices. The images also reveal a neat, upmarket drive lever as well as a drive mode dial in the centre console.  
Lighter and more nimble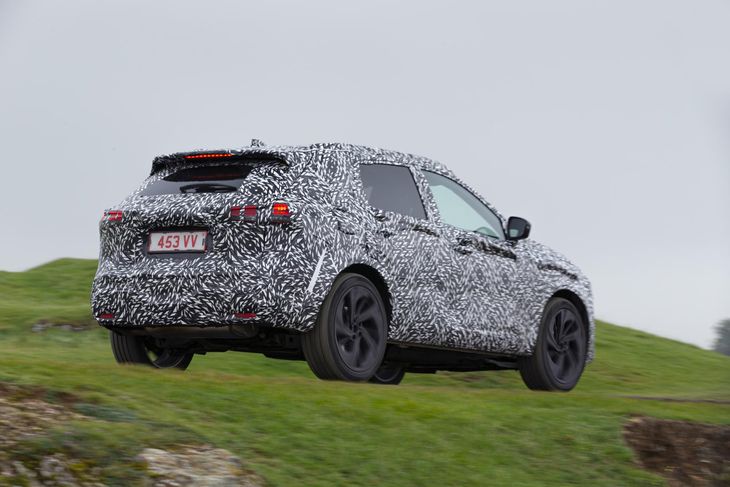 The Qashqai will retain its practicality, but it's expected to deliver a better ride and drive experience. 
The new Qashqai will be designed by Nissan Design Europe and will be built on a new Alliance CMF-C platform. While retaining its key dimensions to ensure optimum interior space and usability on the road, the new Qashqai will adopt more lightweight materials (the tailgate will be 2.6 kg lighter and the aluminium front/rear doors, hood and fenders shave off 21kg) while up to 50% more ultra high strength steel will be used in the new Qashqai's structure. Overall, the new Qashqai will be 60kg lighter and 41% stiffer than the outgoing model. 
The new Qashqai ride quality will be improved with an updated front and rear Macpherson strut suspension with front-wheel-drive derivatives riding on 19-inch wheels adopting a rear torsion beam configuration and the all-wheel-drive versions with 20-inch wheels adopting a rear multi-link setup. More so, Nissan is also updating the power steering system to provide better feel and responsiveness. 
Electric Qashqai for the first time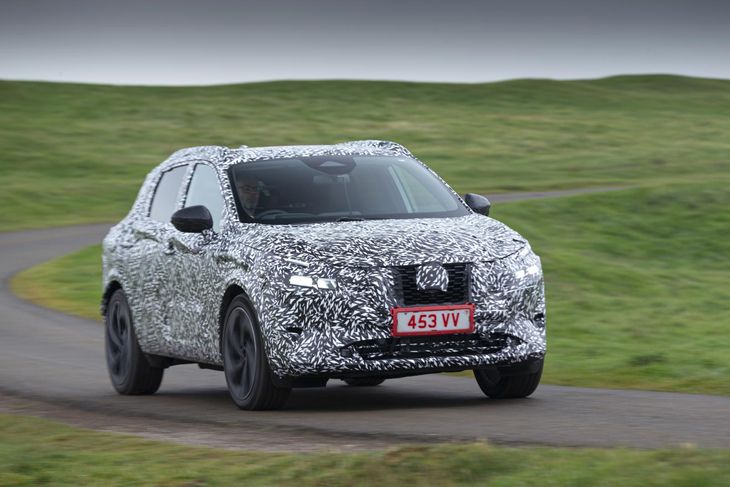 The new Qashqai will be electrified for the first time. 
The new Qashqai will come to market with 2 powertrain options in line with Nissan's wider electrification strategy. 
The first is a 1.3-litre petrol engine featuring mild hybrid technology and the second will be an e-Power electric motor driven system. The mild-hybrid Qashqai will be offered in 2 outputs (official outputs have yet to be revealed) with a focus on efficiency with flat floor underbody and an active grille shutter to aid cooling when needed. The 12 V electrical system includes a lithium-ion battery installed in the floor as well as a belt-driven generator to harvest braking energy that would otherwise be lost and can now be used for coasting and torque support while cutting emissions. 
As for the all-electric Qashqai, it will bring Nissan's e-Power drive system to Europe for the first time. All 4 wheels will be driven by an electric motor and the system will comprise a high-output battery, power generator, inverter and a petrol engine. The engine, however, is not connected to the wheels (as is the case in a typical hybrid), instead, the engine exists to charge the battery and unlike a full EV, power is sourced from the engine and not solely from the battery. Nissan will reveal further details for this powertrain closer to the reveal of the new Qashqai. 
In terms of driver assistance, the new Qashqai will feature the next-generation ProPilot system with Navi-Link. The system will be able to accelerate and brake as the traffic situation dictates while also keeping the vehicle in its lane and adjust to prevailing speed zones. The system can also intervene with steering input if the blind-spot radars detect an object in your blind spot. More so, the system also includes 'flank protection' which is useful in tighter parking spaces as well as rear cross-traffic alert (moving object detection).
Nissan is expected to fully reveal the new Qashqai early in the new year. 
Buy a Nissan Qashqai on Cars.co.za
Related Content 
First look: Facelifted Nissan Navara
SA-bound Nissan Magnite: More details
5 things Nissan got right with the 400Z
Original Story by www.cars.co.za