Before you moan that the next AMG C63 will forego its sledgehammer V8 for a 4-cylinder hybrid powertrain, expected outputs are far better than you ever imagined…
Mercedes-Benz is currently developing the new C-Class which is expected to be fully revealed this year. The C-Class will go to battle with the new BMW 3 Series and updated Audi A4 but the real performance showdown will take place at the pinnacle of the C-Class range where the AMG C63 and the more potent C63 S will take on the like of BMW's M3 and Audi's RS5. 
When news broke that the next AMG C63's mighty V8 would be replaced with a 4-cylinder, 2.0-litre hybrid powertrain, AMG fans were, and probably still are, well and truly disappointed. 
Now, a report from Australia's CarAdvice cites UK's Car magazine reporting deeply impressive outputs for the new AMG C63. 
The Numbers Game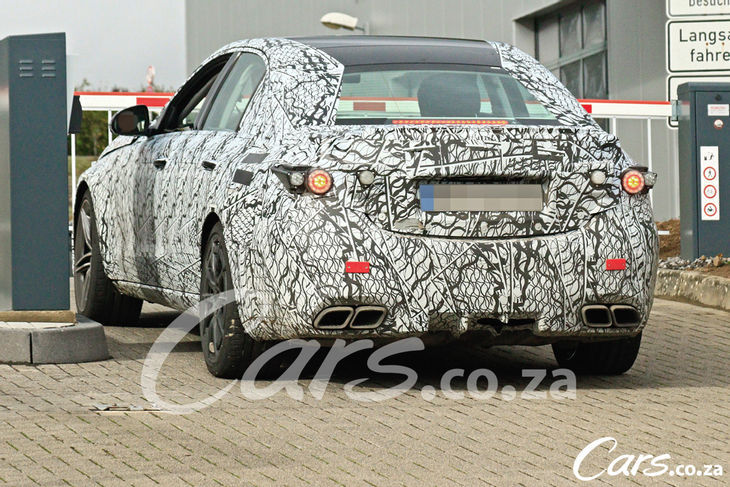 With a new hybrid powertrain, the next-generation C63 will pack impressive outputs!
Let's dig into the numbers then, shall we? For the record, the current AMG C63 S produces an unruly 375 kW and 700 Nm from its formidable bi-turbocharged 4.0-litre V8 engine. The new BMW M3 Competition, which is due in South Africa soon, produces 375 kW and 650 Nm from its twin-turbocharged 3.0-litre inline-6 engine. Audi's updated RS5 Coupe and Sportback will arrive locally in April 2021 and pack 331 kW and 600 Nm from its twin-turbocharged 2.9-litre V6 engine. 
With that in mind, let's turn our attention back to the subject of this article, the new AMG C63. How does 410 kW and 800 Nm sound to you? Yes, that's right, not too shabby afterall. Using the same 2.0-litre turbocharged engine found in the AMG A45 S with 310 kW and 500 Nm, but coupled with a 150 kW rear electric motor, a starter-generator mild-hybrid system and an electrically-driven turbocharger, the new C63 is expected to be a real performer. It does, however, remain to be seen if these outputs will be gifted to the C63 or C63 S. 
Those numbers are 35 kW and 200 Nm more than the new BMW M3! The C63 will feature Merc's latest 4Matic variable all-wheel-drive system and using a 9-speed automatic transmission, acceleration from zero to 100 kph is expected to take just 3.5 seconds which is 0.5 seconds faster than the outgoing model. Top speed is pegged at 291 kph.
While those numbers are certainly impressive, the downside is that the hybrid system has added some 250 kg, taking the vehicles kerb weight to around 2-tonnes, even though the 4-cylinder engine is some 60 kg lighter than the outgoing V8 block. 
A 63 km electric-only range is also expected and fuel consumption is reportedly claimed at 3.0 L/100km which is a notable improvement from the previous 9.9 L/100km. The C63 will also feature wider rear tyres as well as a drift mode which will direct power to the rear wheels on command, much like the system offered on the larger Mercedes-AMG E63 S. 
It's also worth knowing that the next C63 will be called the Mercedes-AMG C63 4Matic+ EQ Power Sport and is expected to be fully revealed before the end of 2021. The new C-Class range will be revealed earlier in the year with the C53 expected to offer in the region of 300 kW. 
As far as interior technology goes, you can expect to see Merc's latest tech trickle down from the new S-Class which means that higher levels of overall luxury and interior execution can be expected. 
We will keep you updated as more details come to the fore. 
Does the new Mercedes-AMG C63 excite you now? 
Buy a Mercedes-Benz C-Class on Cars.co.za
Related Content
Modern Classic: Mercedes-Benz C55 AMG
News Cars from Mercedes-Benz in 2021
Mercedes-Benz debuts MBUX Hyperscreen
Original Story by www.cars.co.za