In the market for an original Nissan Qashqai? Let's take a look at this popular small crossover's history in South Africa, as well as its strengths and weaknesses as a used vehicle, plus which variant you should consider buying.
Automakers often make bold – sometimes even wildly mistaken – claims, usually all in the name of marketing. Nissan, for instance, has declared on more than one occasion it "created the crossover segment" with the unveiling of the original Qashqai back in 2006.
History would suggest otherwise, since the J10-generation Nissan Qashqai was preceded by a number of contenders that straddled more than one vehicle class (though perhaps not with quite such an urban edge). Still, the Qashqai certainly was a pioneer for the modern crossover, sparking the development of similar vehicles from virtually every other mainstream brand, playing the role of segment benchmark and ultimately popularising what has since become the fastest-growing sector in the industry. Yes, it rewrote the playbook, at the very least.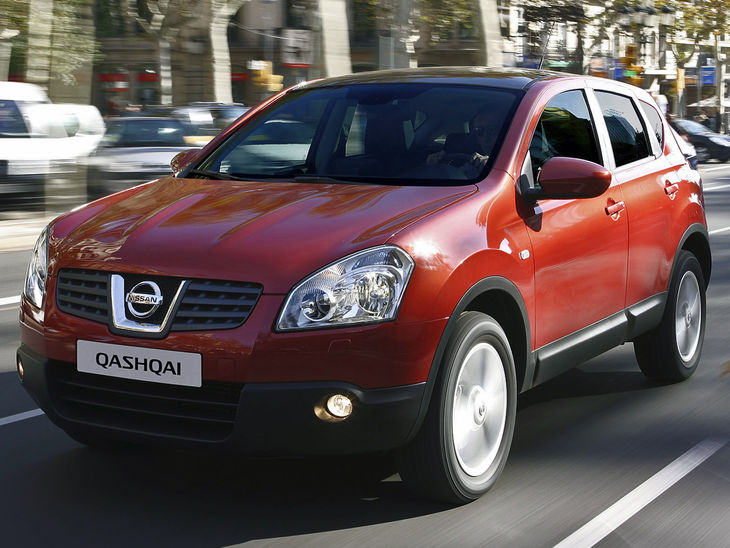 The Qashqai was created to take on C-segment hatchbacks like the VW Golf.
Pronounced "Kash-Kai", Nissan's prototypical crossover was named after a semi-nomadic tribe in southern Iran but interestingly wore the Dualis badge in its domestic market of Japan, as well as in Australia (the latter seemingly over concerns it would be dubbed – not entirely inaccurately, it must be said – Nissan's "cash cow").
Fascinatingly, the Qashqai was conceived as an indirect replacement to the N16-generation Almera C-segment hatchback that was never offered here in South Africa (but was struggling against the likes of the Volkswagen Golf and Ford Focus in Europe). Styled by Nissan's design office on the Old Continent, the Qashqai was positioned as a "robust alternative to the more generic hatchbacks in the segment". It was a brave move from Nissan but one that paid dividends remarkably quickly, with the model going on to sell up an absolute storm all over the world.
Nissan Qashqai model line-up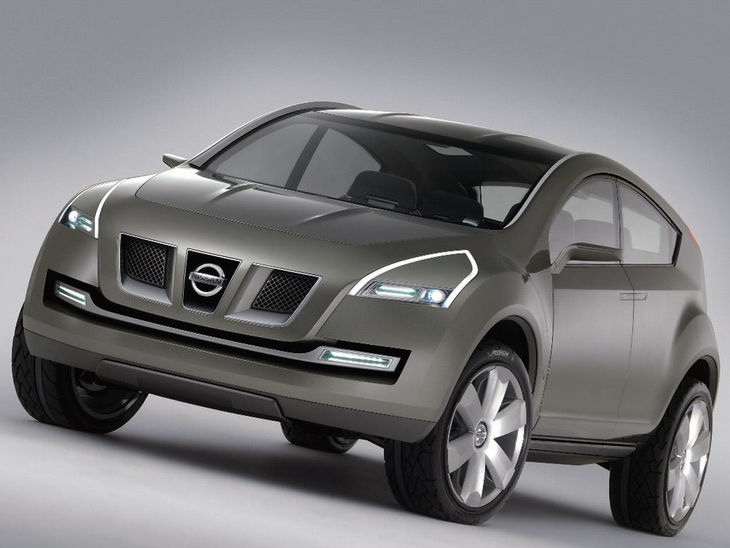 The production version of the original Qashqai was previewed by this concept.
Codenamed P32L, the Mk1 Qashqai was previewed in concept form at the 2004 running of the Geneva International Motor Show. The reveal of the production version followed in September 2006 in Paris, shortly before the first units began rolling off the assembly line at Nissan's Sunderland factory in the United Kingdom.
Just a month after its global unveiling, the Qashqai was displayed at Auto Africa 2006 in Johannesburg. The local launch, meanwhile, took place around a year later (in September 2007), when the newcomer slotted neatly into Nissan's line-up below the X-Trail.
At the time, Nissan SA declared it had mere "solid expectations" of the Qashqai in terms of local sales. Hindsight suggests the Japanese firm's local division could have been far more bullish (it later admitted the vehicle had "exceeded all expectations"), as South Africans took a swift liking to the newcomer. When all was said and done, well in excess of 20 000 units had been registered across the country over a period of six years.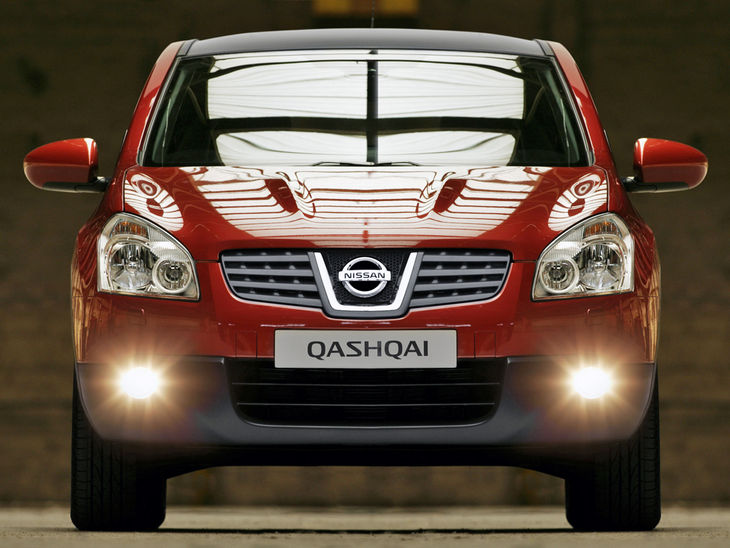 Nissan's bold move to launch the Qashqai quickly paid off, including in South Africa.
At launch, the Nissan Qashqai was available in three flavours, with a mix of two naturally aspirated, 4-cylinder petrol engine choices, two gearbox options and a pair of trim levels (Visia and Acenta). The following variants – each front-wheel-driven – were offered at market launch:
1.6 Visia (81 kW/154 Nm) 5-speed manual
1.6 Acenta (81 kW/154 Nm) 5-speed manual
2.0 Acenta (102 kW/198 Nm) 6-speed manual
In July 2008, the local Qashqai range expanded with the arrival of a turbodiesel engine and the option of 4×4. Developed by Renault and Nissan, the 2.0-litre dCi unit generated 110 kW and 320 Nm, and was linked to a 6-speed manual gearbox. In Acenta guise (with either cloth or leather upholstery), the oil-burner drove the front wheels, while the Tekna flagship gained Nissan's so-called "All Mode 4×4" system.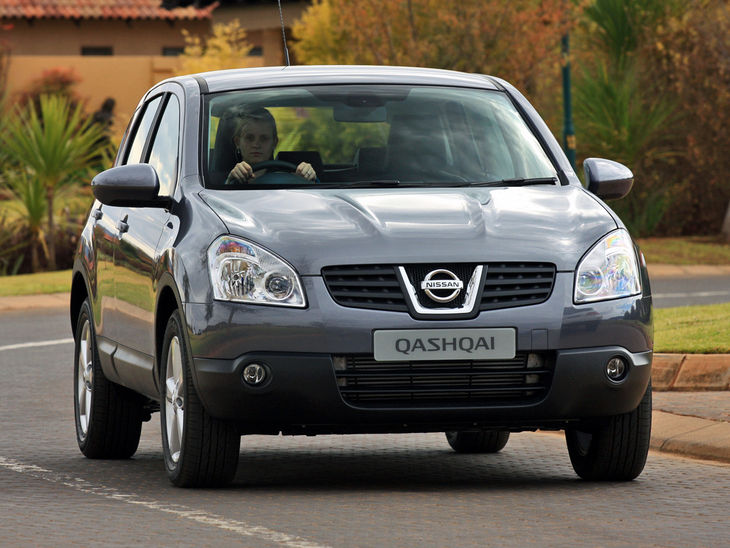 A diesel engine (plus the option of 4×4) was added to the local range towards the middle of 2008.
The limited-edition N-Tec derivative arrived in October 2009, employing the familiar 2.0-litre petrol powertrain. Just 200 units were set aside for South Africa, each boasting extra items such as 18-inch alloy wheels, tinted rear windows and chrome trim for the grille, roof rails and exterior door handles.
By April 2010, with more than 5 500 units having been sold locally, Nissan introduced the facelifted Qashqai. The most significant styling changes came up front, where the crossover gained a new bonnet, front bumper, wings, grille and headlamp arrangement. A continuously variable transmission (CVT) was also added to the range, available exclusively in conjunction with the 2.0-litre petrol motor.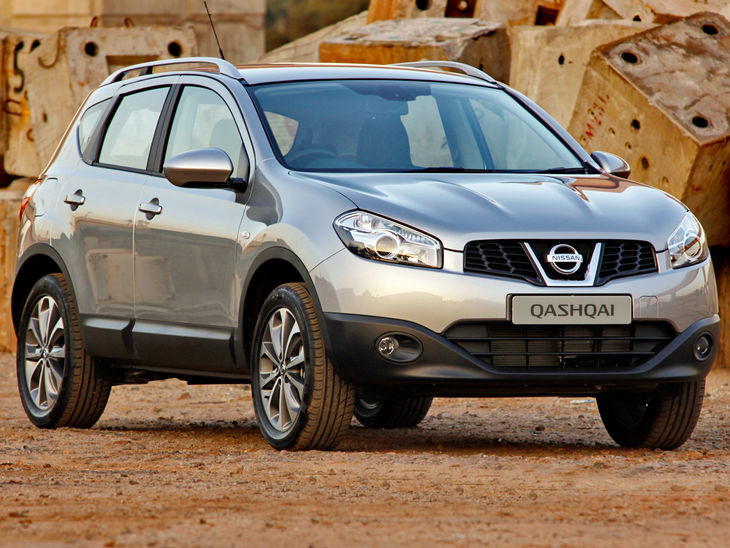 The somewhat more modern front end of the facelifted Qashqai.
Just a month later, the Qashqai+2 body style arrived, offered in 1.6 Visia and 2.0 Acenta form, and growing the line-up to eight derivatives. Exactly as its name suggested, the NJ10 model added a third row of two chairs, transforming the crossover into a 7-seater (Nissan's official specification sheet actually listed it as an "MPV"). Compared with the 5-seater, the Qashqai+2 scored an extra 135 mm between its axles and measured 211 mm longer from nose to tail. The roofline was furthermore re-profiled, improving headroom all round.
In July 2011, the N-Tec special-edition nameplate made a return to the local market, this time limited to 648 units and available in both 1.6 Acenta and 2.0 Acenta guise (the latter with or without a new glass roof option). Perhaps more significant, though, was the arrival of a new, more affordable oil-burning engine later that year. The 1.5 dCi was available only in Acenta trim, sending 78 kW and 240 Nm to the front axle through a 6-speed manual gearbox. Claimed combined fuel economy came in at 5.1 L/100 km.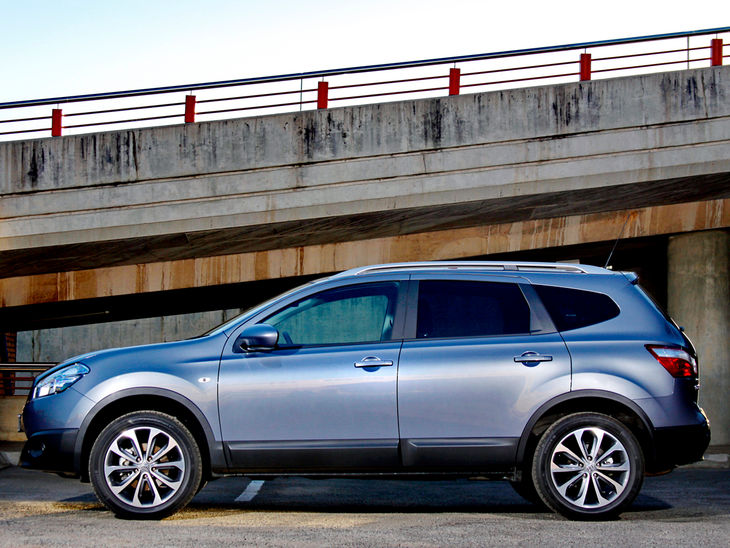 The Qashqai+2 boasted a longer wheelbase, longer body and a pair of extra seats.
With more than 16 000 units sold in South Africa, a quartet of fresh Nissan Qashqai variants wearing the unimaginative "Limited Edition" badge touched down in April 2013. Production was limited to 12 months, with the models available in Limited Edition form being the 1.6 Acenta, 1.5 dCi Acenta, 1.5 dCi Acenta (with glass roof) and 2.0 Acenta.
The Limited Edition package included 18-inch diamond-cut black alloy wheels, gloss-black roof rails, gloss-black side-mirror caps and privacy glass. Inside, these models boasted cloth-and-leather combination seats with white stitching, a treatment that was also extended to the interior door panels and gear lever trim.
Finally, the second-generation Qashqai hit the global stage late in 2013, before arriving in South Africa in mid-2014 and bringing to an end local sales of the J10-generation model.
Product strengths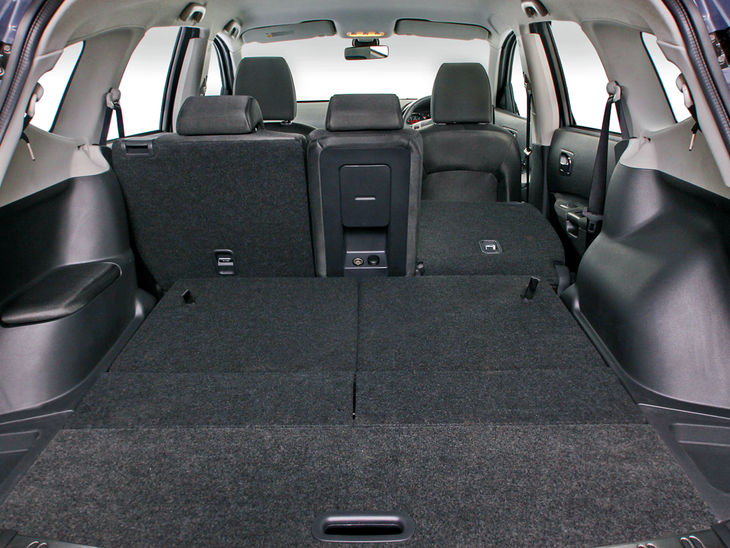 The Qashqai+2 was the more versatile body style of the two.
Practicality: One of the Mk1 Qashqai's key selling points was its practicality. In 5-seater form, the luggage compartment could swallow 410 litres, a figure expandable to 1 104 litres with the rear bench folded down. Though the third row of perches in the Qashqai+2 was better suited to children than adults, the 7-seater model offered even more versatility. Its luggage compartment could be varied from 130 to 450 to 1 520 litres, depending on the configuration of the pews, while the second row could handily slide fore and aft. The facelifted Qashqai also gained various added oddments storage areas in its cabin.
Comfort: In terms of comfort, the driver benefited from a steering column that adjusted for both rake and reach, while the ride quality was close to plush (particularly on 16-inch wheels with plump tyres), thanks in part to the adoption of a relatively sophisticated multilink rear suspension. Ground clearance came in at 200 mm, allowing for some light gravel-road travel. However, be warned that derivatives fitted with the larger (18-inch) alloy wheels suffer from a hard ride quality owing to their low-profile rubber.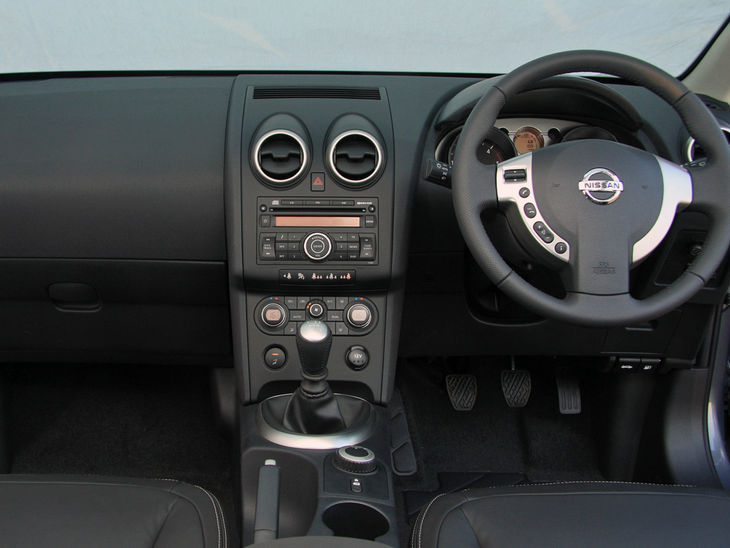 Even the pre-facelift Qashqai came with tilt-and-telescopic adjustment for the steering column. 
Safety: Though local specifications may have differed slightly, it's worth noting the Nissan Qashqai scored the maximum 5-star safety rating from Euro NCAP back in 2007. In fact, the crossover was awarded 36.83 points out of 37, the highest rating ever dished out by the safety organisation at that time.
Locally, all Qashqai derivatives shipped standard with driver, passenger, side and curtain airbags (for a total of six), along with ABS with EBD and brake assist, plus Isofix child-seat anchors. Still, be aware only the 2.0-litre petrol and 2.0-litre dCi models came standard with stability control, meaning the 1.6-litre petrol and 1.5-litre dCi derivatives did without this safety feature.
Product weaknesses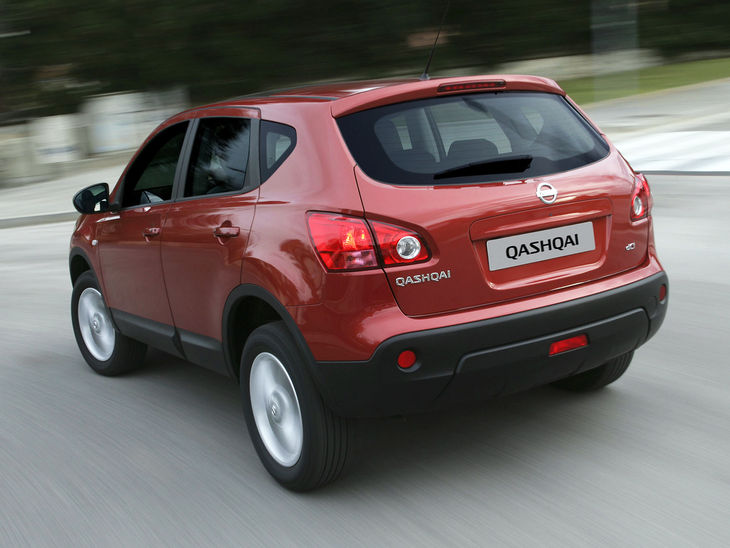 Early models may suffer from fast-wearing dampers at the rear.
Flimsy tailgate handle: The tiny plastic clips moulded on the inside of the Qashqai's broad tailgate handle are unfortunately prone to snapping. Once this happens, it becomes tricky to open the tailgate.
The solution? Either attempt to repair the clips (a fiddly exercise) or purchase a replacement handle and have it colour coded to the vehicle's paint (an expensive exercise). Make sure to closely examine this area on any potential buy.
Fast-wearing rear shocks: Some early versions of the J10-generation Qashqai suffered from fast-wearing rear shock absorbers. During your test drive, make sure to listen closely for any rattles or knocks coming from the rear of the vehicle. Also take note of the vehicle's damping behaviour, particularly over less-than-perfect tarmac.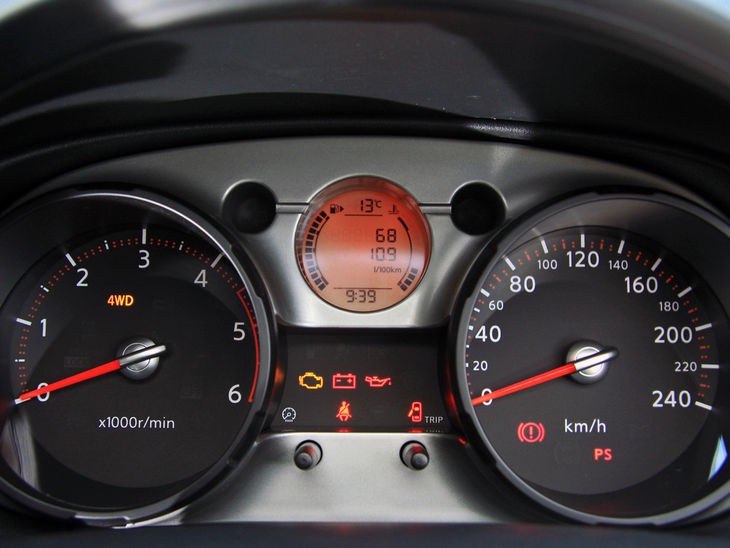 The 2.0 dCi engine has been known to suffer from the occasional clogged DPF. 
Defective steering wheels: Back in September 2012, Nissan South Africa issued a recall for around 500 examples of the Qashqai (both 5- and 7-seater variants) after a defective batch of steering wheels was used at the Sunderland factory. The remedial action was sparked by a (no doubt shocked) Finnish driver's experience of the steering wheel coming off in his hands during a routine parking manoeuvre. At the time, Nissan SA contacted affected customers directly, but it's still worth closely examining the tiller.
Miscellaneous issues: Another thing to look out for when shopping for a used oil-burning Mk1 Qashqai is a clogged diesel particulate filter (DPF). Locally, this seems to be specific to the 2.0 dCi engine; as we understand it, the early SA-spec 1.5 dCi units did without a DPF (though the next-gen version certainly gained one). The latter engine, however, does require a timing belt change every five years. Though less common, we have also heard complaints of ignition-barrel failures and water leaks around the windscreen due to failed seals (check under the front carpets for dampness).
What to pay?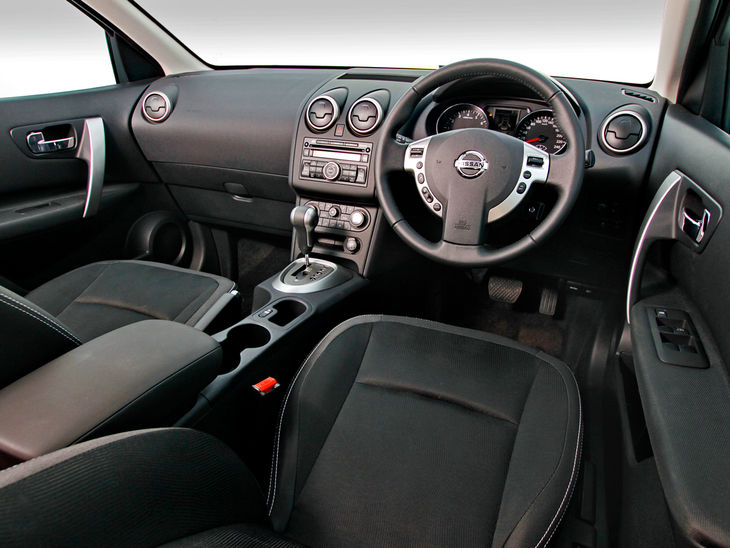 The cabin of the facelifted Qashqai, here featuring the CVT option.
As always, give preference to vehicles that come with a full (preferably verifiable) service history. Since all J10-generation Qashqai models sold in South Africa shipped with a 3-year/90 000 km service plan (as well as a 3-year/100 000 km warranty), pay particularly close attention to the recorded maintenance history from three years after registration.
Of the used first-generation Qashqai models listed on Cars.co.za at the time of writing, nearly 75% were petrol-powered examples, with the 2.0-litre unit being the most common. Illustrating the buying public's apparent aversion to CVTs (back in the early 2010s, at least), a whopping 99% of all listed models employed a manual gearbox, while not even 2% featured the 4×4 option. We found one example with more than 300 000 km on the clock and a further 16 showing north of 200 000 km (a group interesting containing all four engine options). 
Below R100 000: We discovered just 10% of all stock was priced below this mark. Unsurprisingly, the majority of models here featured high mileage and early model years. Unless you're looking for a project car (and we're not sure such a description would often apply to a Qashqai), we'd steer clear.
From R100 000 to R125 000: This price bracket contained a little more variety, from high-mileage 2014 1.6 Acenta (so, base-spec) models through to lower-mileage, earlier model-year turbodiesel variants and even a handful of Qashqai+2 examples. Search wisely here and you might just unearth a bargain.
From R125 000 to R150 000: Still plenty of powertrain variety in this section, with all four engine options represented. Most units listed here had more than 150 000 km on the odometer, though there was one particularly low mileage example.
From R150 000 to R200 000: More than half of all first-gen Qashqai listings were nestled between these final pricing bookends, including a fair few units of the 1.5 dCi (though both petrol engines were again more plentiful). We also found a handful of limited-edition models here, plus a couple more 7-seater derivatives, CVT-equipped models and the only 4×4 models on offer. No first-gen Qashqai units were priced above R200 000.
Pick of the range?
It pays to narrow your search to the refreshed version of the J10-generation Qashqai.
So, which derivative should you consider? Well, we'd recommend focusing your search on a facelifted model, which benefits from somewhat more modern styling up front as well as additional in-cabin storage space, improved refinement levels (thanks largely to extra insulation and the fitment of an acoustic windscreen) and the option of a 7-seater body style. This approach makes even more sense once you consider around three-quarters of all local J10-generation sales were post-facelift models.
When it comes to engine choices, the 2.0-litre petrol is obviously the thirstiest, but is also the only mill available with a self-shifting transmission (in the form of a CVT, since no conventional torque-converter automatic was offered in this generation) and the most common on the used market. There's certainly an argument to be made for the likewise naturally aspirated 1.6-litre petrol unit as a long-term ownership prospect, as it's generally cheaper to purchase than the other engine derivatives and will furthermore appeal to owners who've experienced expensive turbo headaches with other cars. However, take note it does without stability control.
The far-less-common 2.0 dCi offers the highest torque figure of the bunch, but like the petrol model of the same capacity, shipped standard in facelift form on large 18-inch alloy wheels (detracting somewhat from the ride quality). That leaves diesel lovers with the 1.5 dCi, which is arguably the best all-rounder in the range, offering a pleasing mix of low-down punch and wallet-friendly fuel consumption. As with the 1.6-litre petrol model, the only real fly in the ointment with the 1.5 dCi is its lack of stability control.
Verdict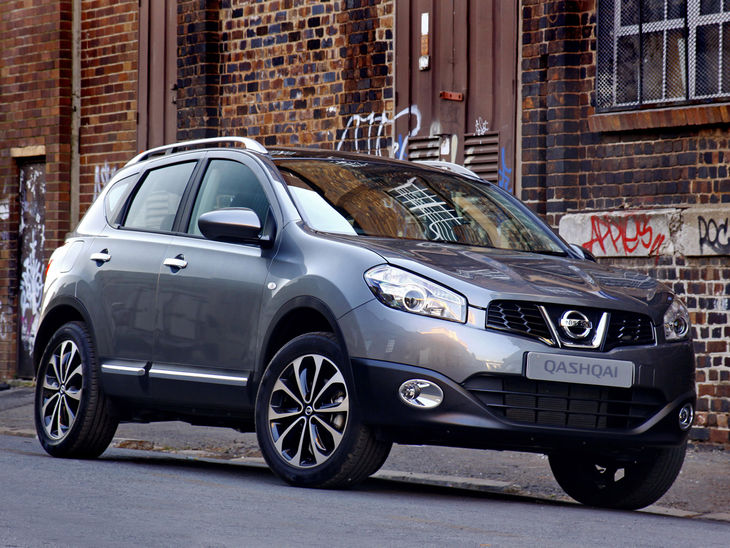 The N-Tec badge returned to the local Qashqai range in mid-2011.
Though the first-generation Qashqai was largely responsible for popularising a slightly raised driving position (something that resonates even more strongly with modern buyers), alternatives nevertheless include traditional C-segment hatchbacks such as the VW Golf 6 and Ford Focus (Mk2 and Mk3). More conventional higher-riding rivals come in the form of crossovers such as the Hyundai ix35 and 3rd-gen Kia Sportage, while an early model-year 4th-gen Toyota RAV4 would make for a compelling substitute.
While the original Qashqai paved the way for the modern crossover all those years ago, it remains an attractive option today for buyers searching for a relatively inexpensive middle ground between a compact hatchback and a full-size SUV. Since many shoppers would likely instead spring for the fresher J11-generation model, there's plenty of value to be found in the older subject of this buyer's guide.
Looking for a Nissan Qashqai to buy?
Find one on Cars.co.za here.
Or sell your car here, for free.
Original Story by www.cars.co.za