The 2nd-gen Renault Captur took a few years to make its way to South Africa, but now that it's here, how does it stack up against the raft of new models in the Compact SUV segment?
We like: Modern design, interior touch and feel, drivetrain efficiency.
We don't like: A few build-quality irregularities remain.
FAST FACTS
Price: R499 999 (May 2023)
Engine: 1.3-litre 4-cylinder turbopetrol
Power/Torque: 113 kW/270 Nm
Transmission: 7-speed dual-clutch automatic
0-100 kph: 9.6 sec (claimed)
Fuel consumption: 6.6 L/100 km (claimed)
Luggage space: 536 or 404 litres (depending on rear-seat position)
Serious about buying/selling?
Some dealerships regularly offer great deals. See our New Car Specials!
Looking to sell your car? Sell it on Cars.co.za for free
Where does the 2023 Renault Captur fit in?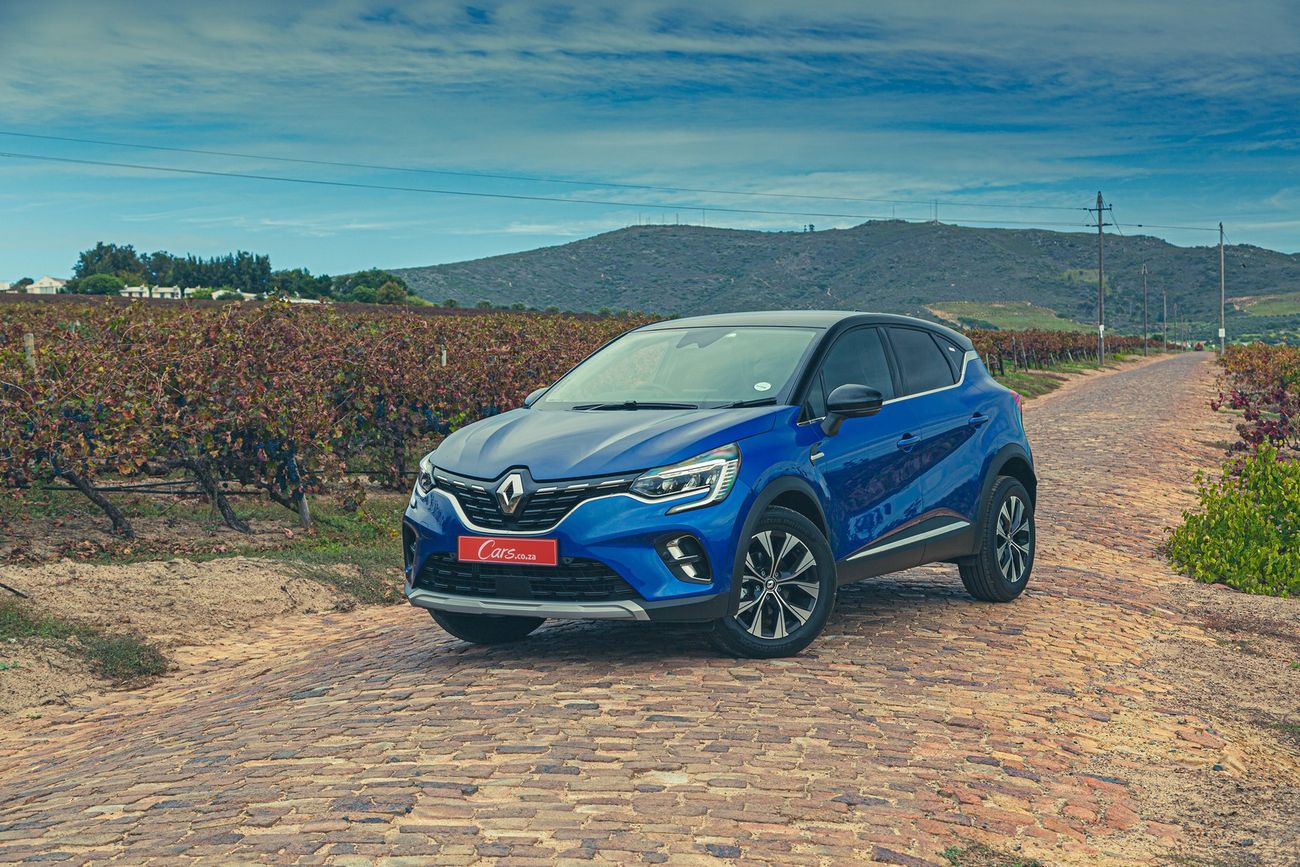 This is the 2nd-gen Renault Captur; its predecessor was somewhat of a success story for the brand – in fact, it became Renault's top-selling model in Europe. This new small crossover/compact SUV is based on the latest Clio – inside and underneath – but is still notably larger than the model it replaces.
Compared with its predecessor, it's 105 mm longer and 19 mm wider, the wheelbase has been extended by 33 mm and its ground clearance (174 mm) is reasonable. Seeing as models tend to grow larger with the passage of time, an average crossover may one day be the same length as an old BMW 7 Series! 
Throughout the development programme of the new Renault Captur, the French brand focused much of its attention on improving the quality and feel of the touchpoints in the cabin, but that has resulted in an increased retail price, which sees the model move into a slightly more expensive segment than before.
We would compare the Capture 1.3 turbo Intens with examples of the Opel Mokka, Honda HR-V, Peugeot 2008 and Volkswagen Taigo. Having said that, there are so many small SUVs in this segment that there are probably another 20 or so fringe competitors that could easily be considered rivals to the Renault.
Compare Captur 1.3 turbo Intens with the Opel Mokka 1.2T Elegance and Honda HR-V 1.5 Comfort
Compare Captur 1.3 turbo Intens with the Peugeot 2008 1.2T Allure and VW Taigo 1.0TSI Style
How the Renault Captur fares in terms of…
Interior tech and refinement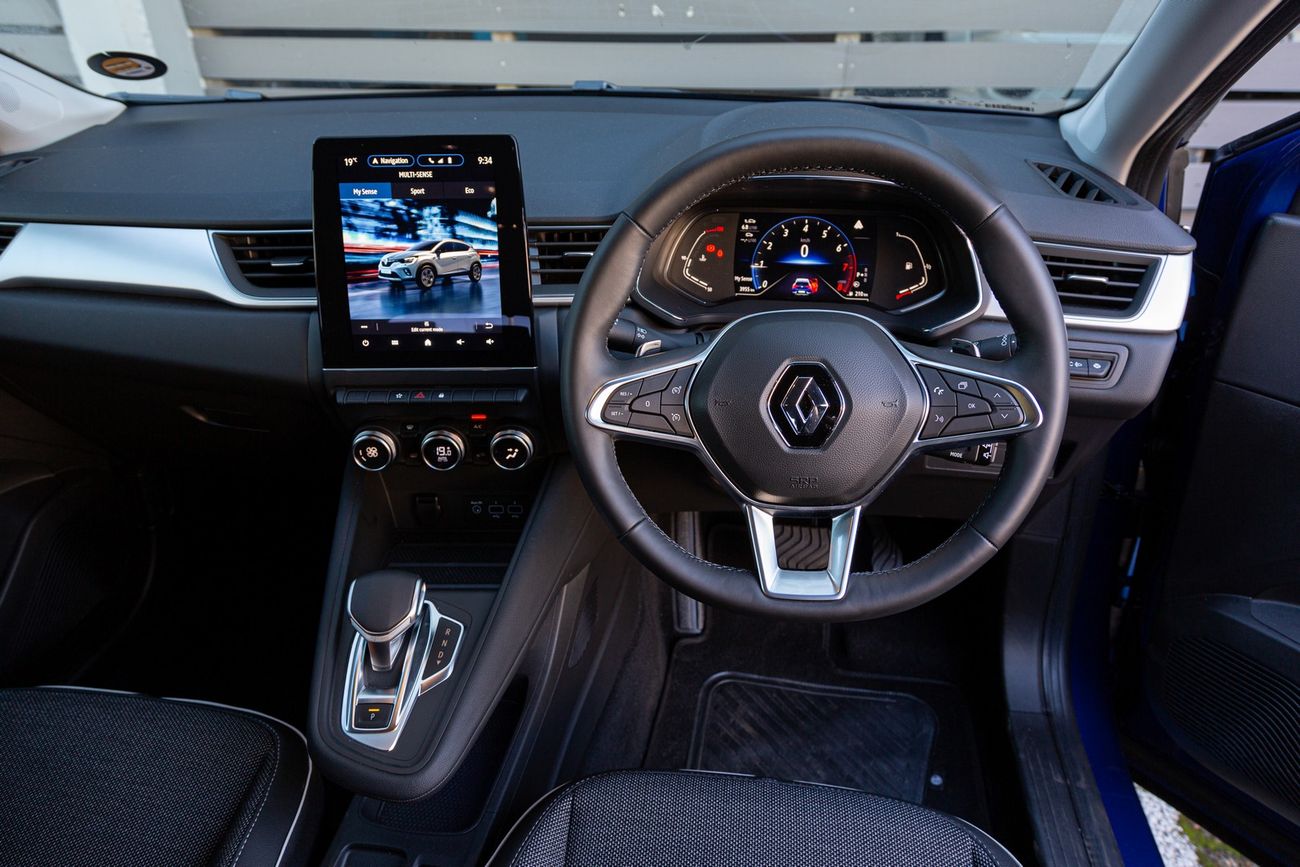 The Renault Captur's interior has improved greatly in terms of quality and sophistication. Whereas the previous model's interior was overly plasticky and seemed to be no more than – not to be too unkind – functional, the new car feels more upmarket at every touchpoint: from the leather-wrapped steering wheel (replete with soft-touch buttons) to the snazzy transmission lever and floating centre console. 
It features numerous silver finishes, which create a pleasing contrast with the black trim and add a bit of diversity to what would otherwise be a dark, sombre cabin. The accents on the multifunction steering wheel and transmission lever have a metallic (as opposed to plastic) feel to them, which gives the cabin an upmarket ambience. The only notable downsides we could pick out were the partial cloth seats, which could have had full-leather trim, and the floating console, which flexed a little more than we expected.
The 9.3-inch touchscreen (standard on this 1.3 turbo Intens) connects easily with Apple Carplay and Android Auto via a USB cable. There is a wireless charging bay as well as a secondary charging option.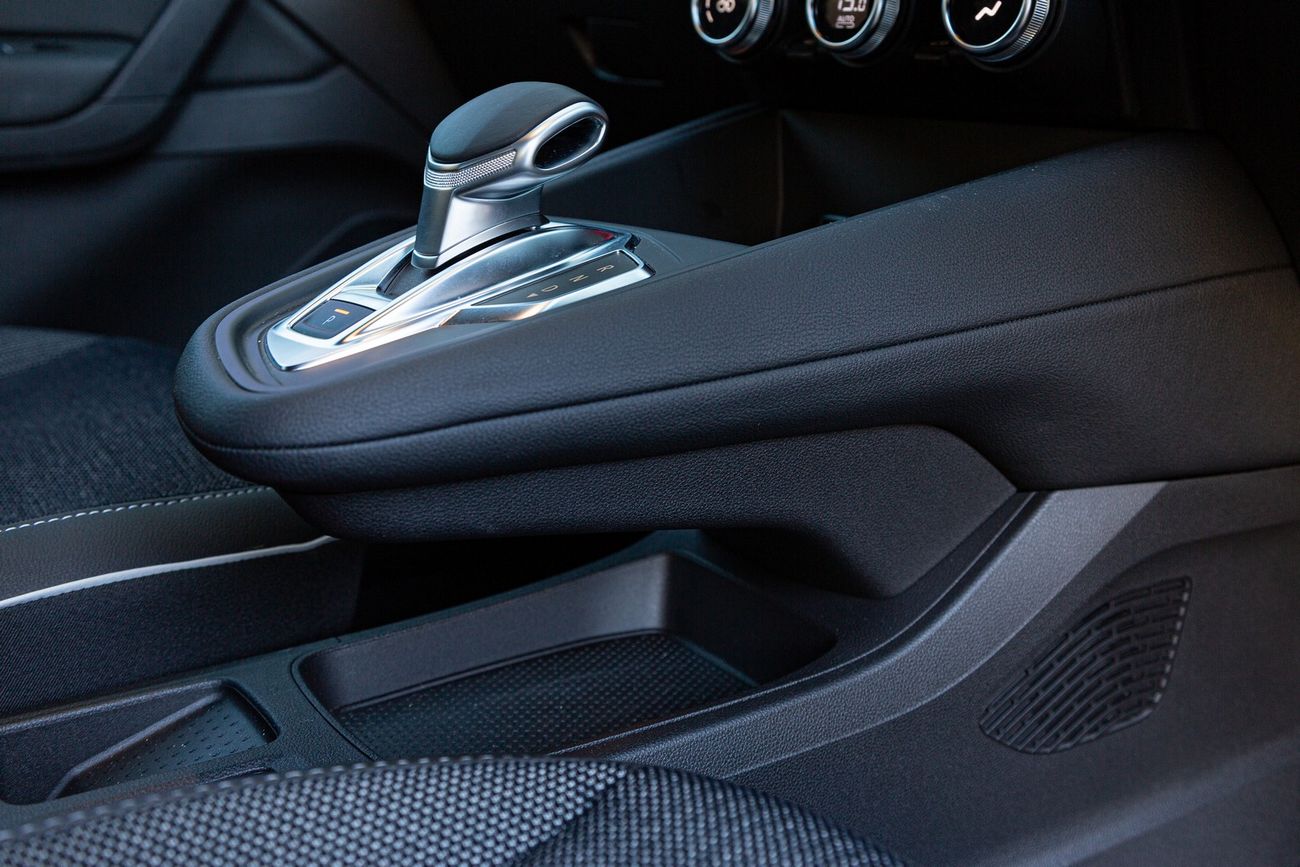 The touchscreen menu is relatively simple to navigate, plus there are shortcut buttons to the MultiSense system, which allows you to toggle the drive modes between Comfort, Sport or Eco. The single-zone auto aircon settings are accessible via physical buttons rather than the touchscreen, which is a departure from the norm, but one that makes it much easier to make temperature adjustments while you're driving.
In the back, you can slide the bench to either create more loading space or legroom for occupants. It aids practicality because the 404-litre load bay capacity can be increased to 536 litres with the bench at its foremost position. The seatback also folds down in a 60:40 split to free up 1 275 litres of utility space.
Ride and handling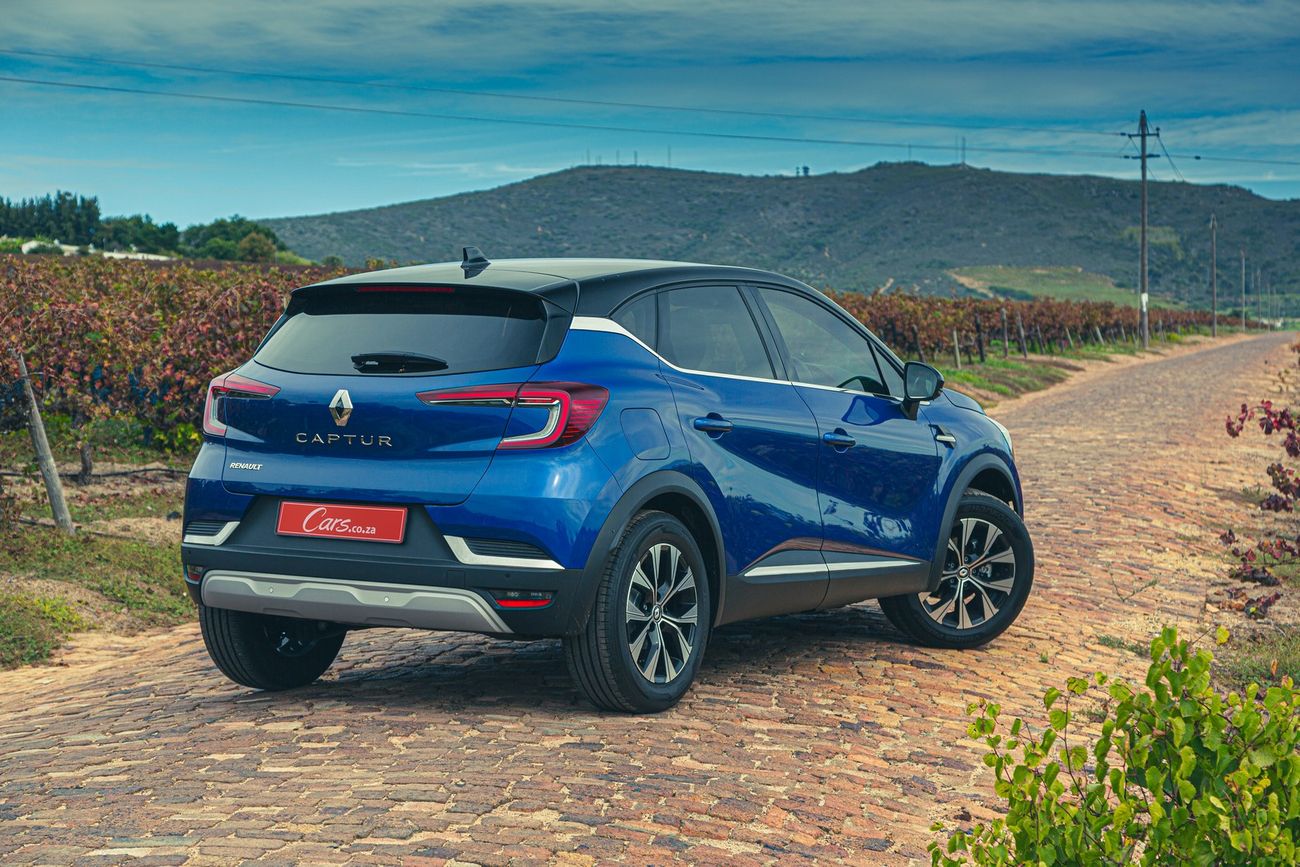 There really is a lot to like about the new Captur's driving experience. Compared with its predecessor, the Renault's handling is notably more composed, thanks to a stiffer bodyshell. Plus, not only does the new Captur feel more planted on the road, its ride quality is more resolved (the suspension seems less prone to be unsettled by road imperfections, or worse – potholes, speed bumps or manhole covers).
The improved refinement extends to the cabin, which is quieter at urban and freeway speeds (you don't discern as much wind noise or buffeting as before). The steering is nicely weighted, which has been a boon of European-made Renaults for quite some time. So, in terms of ride and handling, the Captur ranks among the best in its segment. In other words, it's one of the nicest cars to drive in its class.
The Captur's 1.3-litre 4-cylinder turbopetrol produces 113 kW and 270 Nm of torque, which are perfectly acceptable outputs for a car that it's meant to trundle through the city during the week and escape to the countryside at the weekend. Considering the Renault's more powerful than the rivals we mentioned earlier, its claimed 0-100 kph time (9.6 sec) looked a bit slow, so we loaded up our test equipment and conducted a few tests. While flat-out acceleration may be of little concern to would-be Captur buyers, the time we achieved with the test unit (8.4 sec) seems more in line with our performance expectations.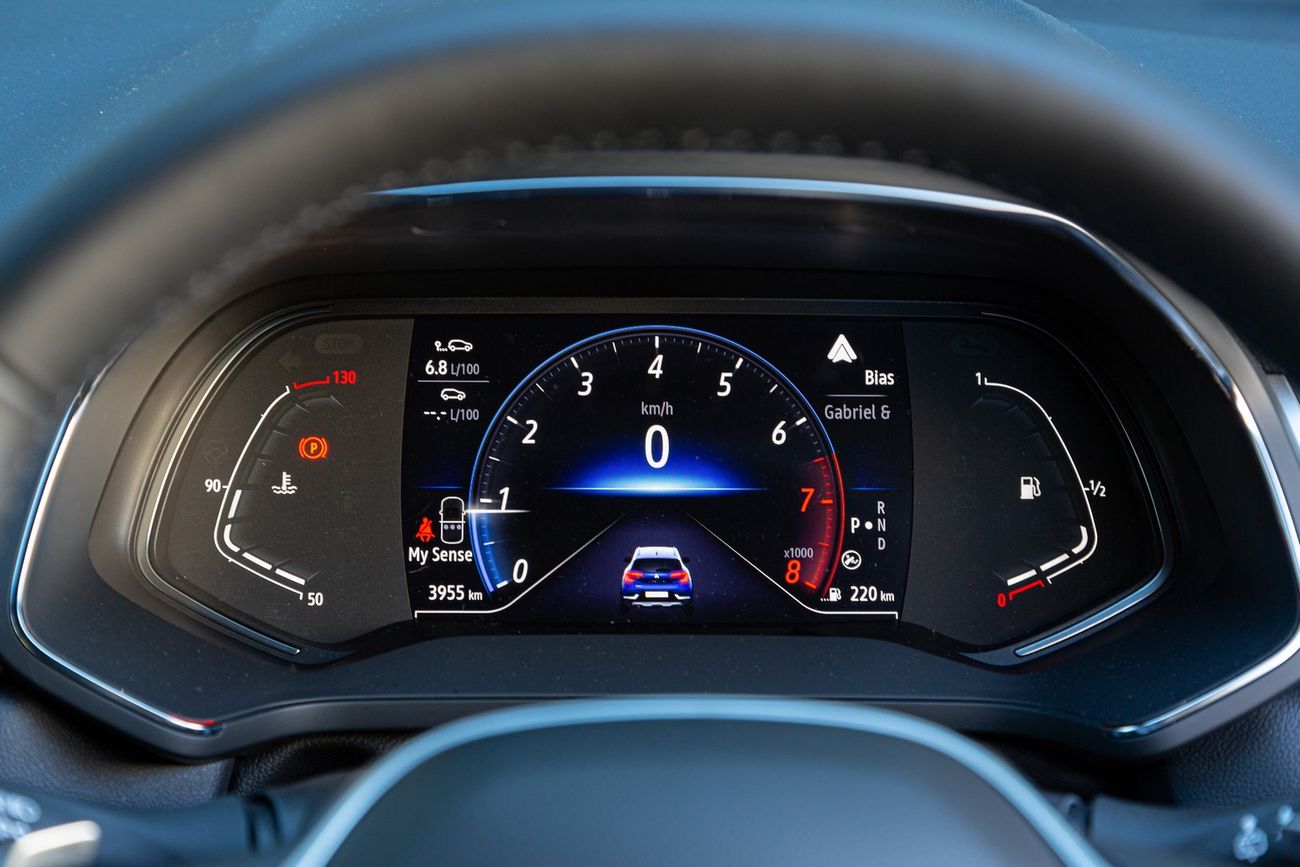 The engine and transmission are much improved compared with those of the previous Captur, which could annoy its driver with laggy performance and unintuitive shifts. The new combination of a 1.3-litre turbopetrol engine and a 7-speed dual-clutch automatic transmission performs much more smoothly at lower speeds. Modern autos should change gears almost imperceptibly and the Renault's 'box is a good example… until you want to get a move on, at which point it gets a fright and fumbles for the right gear.
As for the Captur's fuel economy, we found it to be excellent – considering just how much inner-city driving we did with Renault's test unit. We returned it after 2 weeks of testing with an indicated figure of 6.8 L/100 km on the digital readout. That very nearly matched Renault's claimed figure (6.6 L/100 km). 
Safety equipment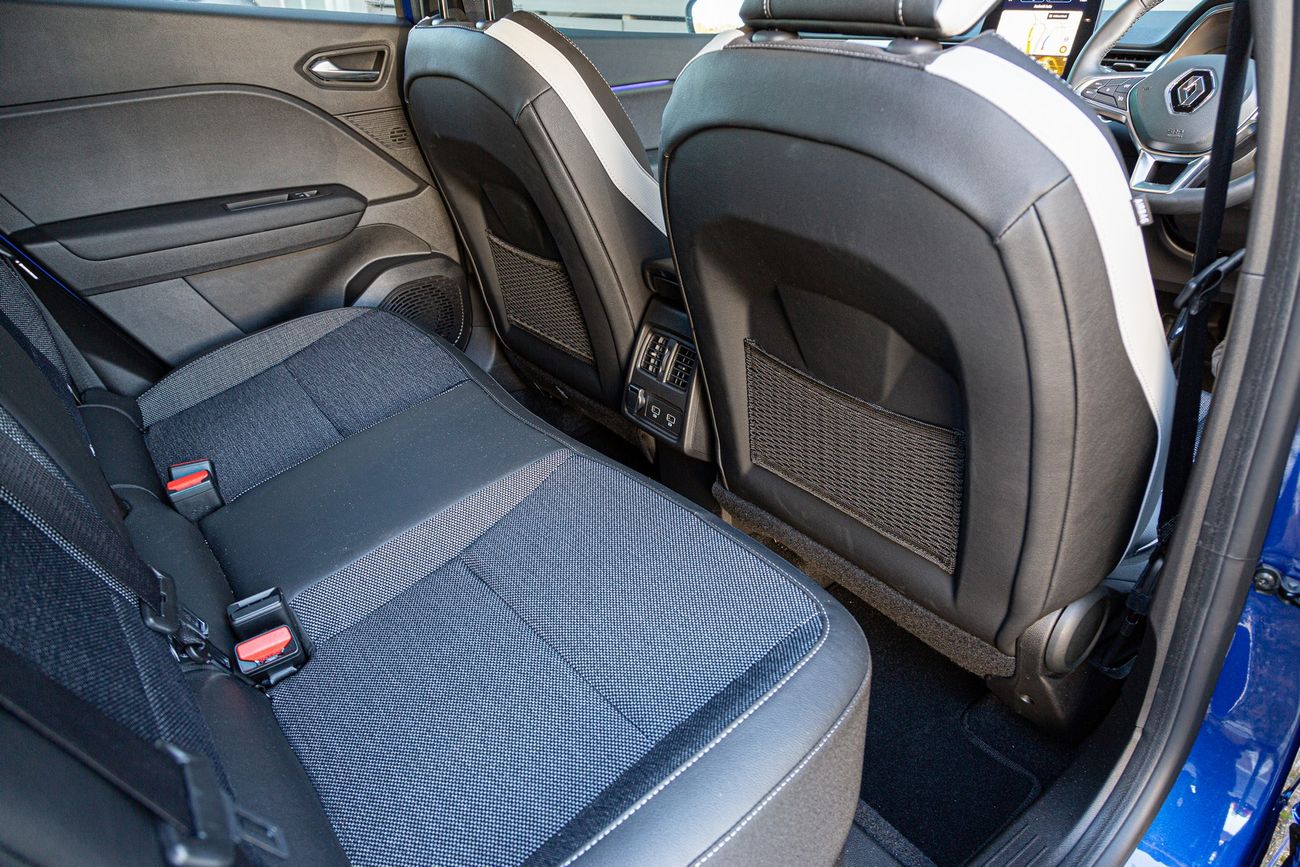 The new Renault Captur achieved a 5-star rating in the Euro NCAP crash test programme and is fitted with a wide array of safety features, including ABS with EBD, emergency brake assist and hill-start assist.
Front and rear parking sensors, plus a reverse-view camera are standard across the range, while the top-of-the-range 1.3 turbo Intens additionally features lane-departure warning and blind-spot monitoring. All in all, it offers a good combination of safety features that aren't overwhelmingly nannying to the driver.
Cruise control is also standard, although adaptive cruise control is not available.
Price and after-sales support
The 2023 Renault Captur Intens retails for R499 999 (May 2023) and comes with a 5-year/150 000 km mechanical warranty and a 3-year/45 000 km service plan with intervals every 12 months/15 000 km.
The length of the Captur's warranty (5 years) is longer than those of most of its competitors. The duration of the service plan (3 years) is on par with rivals, but some brands do offer 60 000 km service plans at this price point. Take that into account if you tend to clock up higher-than-average mileage.
Verdict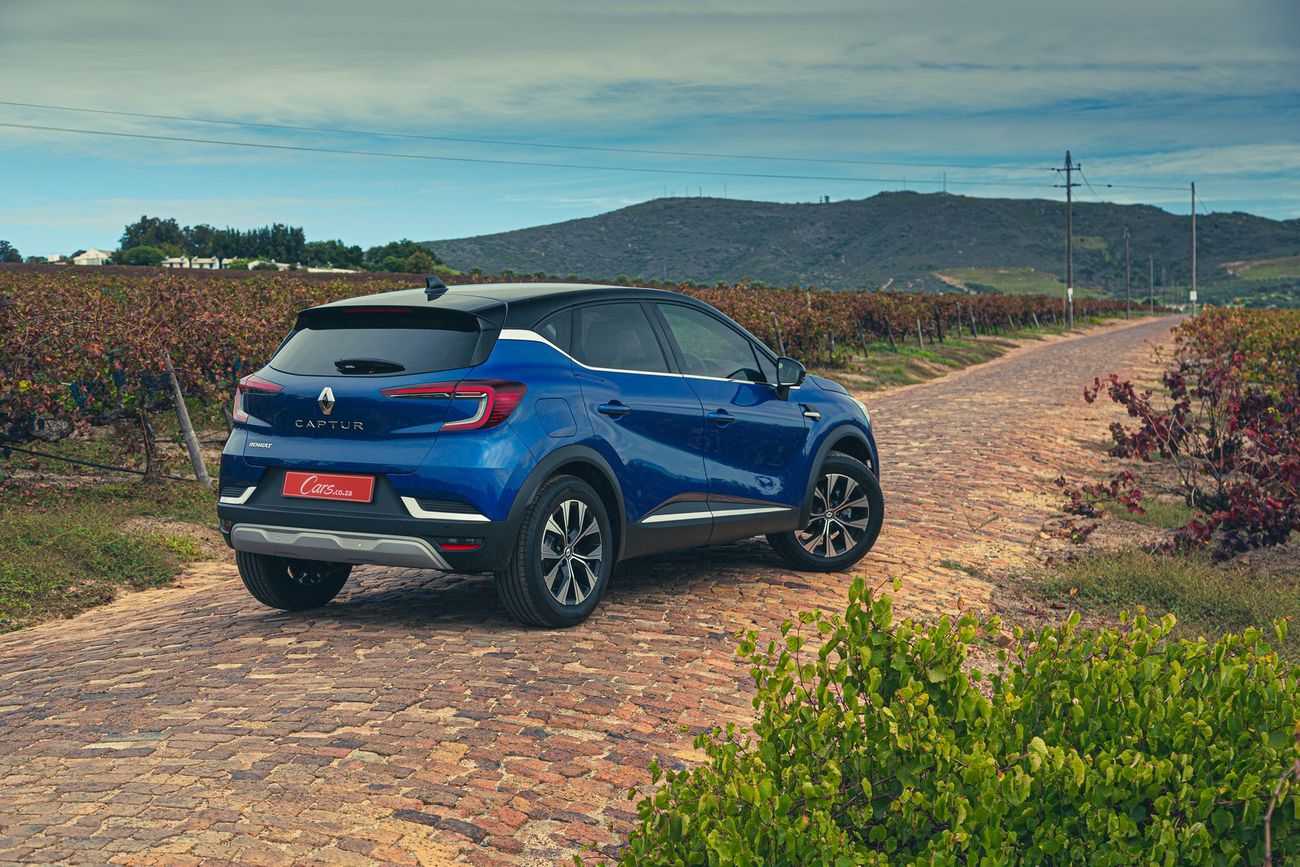 While the 2nd-gen Captur is a newcomer to our new-vehicle market, the model has been on sale in Europe since 2021. That means that an updated version may be on the cards in the next 2 (or so) years. Nonetheless, Renault's compact SUV is much-improved – it has evolved from a budget crossover to something more premium that's distinctive enough to compete with boutique compact SUVs. 
The interior quality has been stepped up and the interface with the tech (aided by shortcut buttons) is intuitive/easy to acclimatise to. The bigger dimensions facilitate a more spacious cabin for occupants, while the sliding rear bench allows for a choice between a larger load space or additional rear legroom.
What's more, the drivetrain pairing is smoother (or, to put it another way, better calibrated) than before, which makes the Captur's driving experience quite pleasant, with very few drawbacks. Whether it's operating unladen or with a few passengers aboard, the Renault performs ably and in a refined manner.
The major issue in this segment is the wide array of vehicles available to new-car buyers. It's easy to get fixated on models' specification sheets in your attempts to get the absolute most car for your money. That's not really the Captur's schtick – it's more a car that you want because you like its design or driving experience; it's not trying to be the most practical package or offer the most driving assistance features. What you do get, is a well-specced, good-looking crossover that's likely to stand out in the parking lot.
Original Story by www.cars.co.za