BMW is preparing a convertible version of its M4. Take a look.
Picture credit: S. Baldauf/SB-Medien. We have paid for these photos and at the photographer's request, have watermarked them.​
BMW's M division is not holding back when it comes to the new M. Not only will there be a sedan (M3) and coupe (M4), but the news that a Touring station wagon model has really underlined the Munich-based brand's aspirations to offer an M for all occasions.  Now we're told there'll be a convertible version, complete with a fabric folding roof. 
Our spy photographers spotted the new convertible undergoing dynamic testing on the Nurburgring recently. Clad in matte-blue paint, with some strategic camouflage hiding the topless elements, there's no mistaking this for anything other than the M4 convertible. In terms of engines, expect a similar lineup to that of the hard-topped versions. A 3.0-litre twin-turbo inline-6 engines is in 2 states of tune, 353 kW / 550 Nm and 375 kW / 650 Nm in the standard and Competition versions respectively. When it comes to performance, we suspect the new convertible versions will be fractionally slower, but still capable of blitzing to 100 kph in under 4.5 seconds.
Expect a production reveal before the end of 2020. Despite the shrinking of the convertible market, BMW hopes its new M4 will be able to tempt people away from the Mercedes-AMG C63 and the Audi S5 convertibles. If your budget can't quite stretch to the BMW M range, there's an M440i convertible which should offer fractionally slower performance.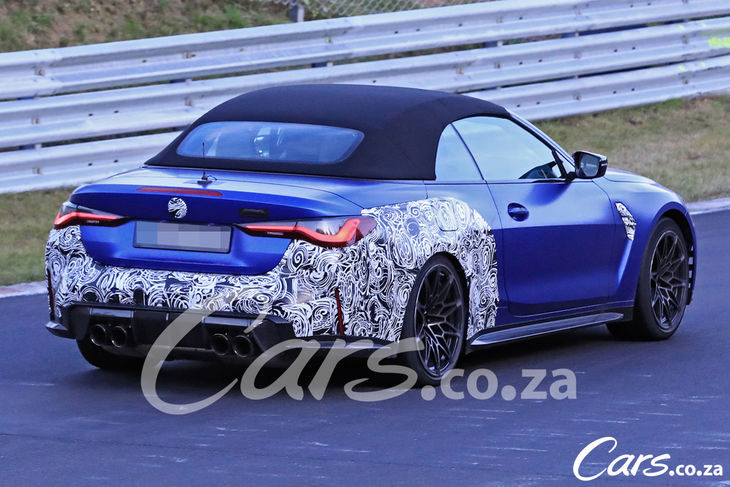 Further Reading
BMW M3 Touring: Will it succeed?
BMW M3 & M4 revealed, but no manuals for SA!
M Performance parts for BMW M3 & M4
BMW 4 Series (2020) Specs & Price
Original Story by www.cars.co.za