Toyota's crazy Gazoo Racing is at it again. While the Yaris GR has not yet reached showrooms, a hardcore GRMN version has been spotted testing on the Nurburgring. 
Picture credit: S. Baldauf/SB-Medien. We have paid for these photos and at the photographer's request, have watermarked them.​
When the Toyota Yaris GR was revealed earlier in 2020, petrolheads were blown away. Here was a performance hatchback that had been developed from the ground up. Featuring all-wheel drive, trick suspension and a manual gearbox mated to all-new 1.6-litre 3-cylinder motor, the Yaris GR appears determined to brush aside the competition. 
The specs are impressive. Available in two states of tune: 192 kW and 360 Nm, or 200 kW and 370 Nm, the GR Yaris is said to hit 100 kph in just 5.5 seconds. The secret here is its relatively low kerb weight of just 1 280 kg. What's even crazier is the power can be dialled between axles, so with up to 70% going to the rear, some wild rally-style drifts could be possible. Very few vehicles can come close to this level of track-focused performance, but we're sure the Renault Megane RS300 Trophy and Honda Civic Type R will be keen to chase.
Is it possible for the Yaris GR to get even more wild? Well, if these spy photographs are anything to go by, it looks like Toyota's Gazoo Racing division is preparing its GRMN derivative, complete with wild aerodynamic aids such as the massive wing on the rear. We suspect this Yaris prototype is sitting a little lower to the ground, which indicates some form of suspension improvement. The roof is black and potentially could be carbon fibre, meaning a few kilograms could be shaved. The 1.6-litre 3-cylinder motor probably can't give much more power than its already producing, so Toyota is likely focusing on the handling elements. 
The good news? Toyota South Africa is still insisting its new hot hatch is on the cards for our market, subject to the exchange rate.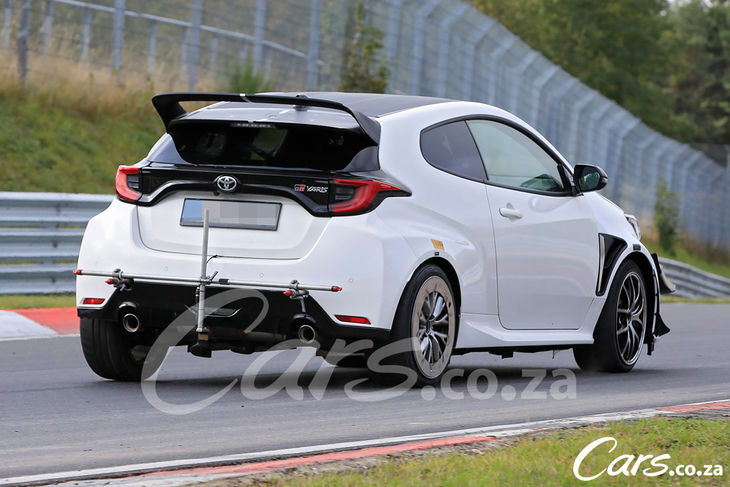 Further Reading
GR-parts make GR Yaris look fiercer
Toyota GR Corolla to use GR Yaris Engine
Yaris GR Still on the Cards for SA – Toyota SA
Original Story by www.cars.co.za