Suzuki UK has introduced a version of its Jimny that will focus on light-commercial applications. Check it out. 
The Suzuki Jimny is a charming yet capable compact SUV. One of its biggest faults is its tiny boot – there's precious little space back there. 
Suzuki UK has introduced a version of the Jimny that will address this major shortcoming and it's being marketed as a commercial vehicle. The removal of the second row of seats has opened up considerable space and we suspect the loss of the rear bench is massively offset by the gains in practicality. Suzuki claims this version of the Jimny has a luggage capacity of 863 litres. The Japanese brand says that's 33 litres more than the 4-door version with its rear seats folded.
Suzuki is offering the newcomer with a flat floor as well as a safety cargo partition, so your belongings don't come flying into the front cabin under heavy braking.
Under the bonnet is the same 1.5-litre petrol engine with 75 kW and 130 Nm. In this commercial application, the Suzuki Jimny is offered with a 5-speed manual gearbox.
Has it lost any of its appeal or capability? Not at all, as Suzuki says its 2-seater commercial Jimny retains its ladder frame setup, 3-link axle suspension and its AllGrip Pro 4-wheel drive system with low range. 
As an interesting proposition this is, we're more interested in a bakkie version of the Suzuki Jimny. There are already companies doing conversions, with one, aptly named Suzuki Jimny PickUp, offering suspension lifts as well as dedicated offroad tyres. Despite its small size and small engine, the Suzuki Jimny will continue to endear itself to many, us included.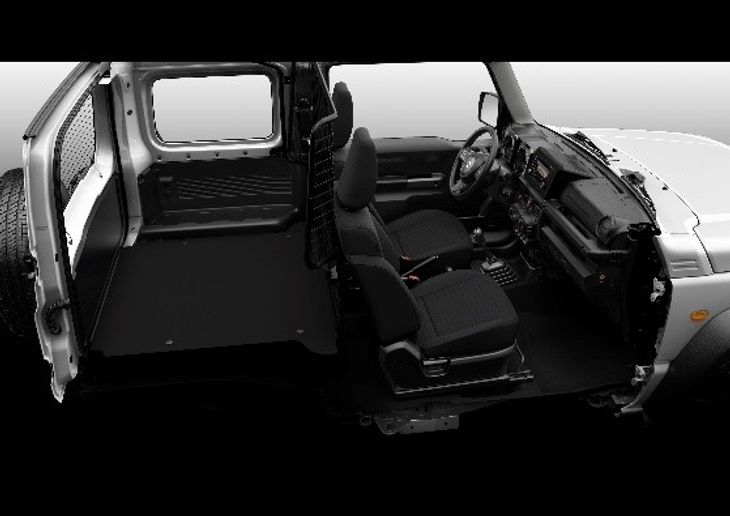 With the removal of the rear bench, the luggage capacity and space has increased dramatically.
Further Reading
Jimny Bakkie is like a mini-tractor
Suzuki New Zealand Makes Jimny Bakkie
Forget a Jimny bakkie, a 5-door's coming!
Original Story by www.cars.co.za