We've driven the new Volkswagen Amarok and Ford Ranger on local soil! This article takes a closer look at the major differences and similarities between these new bakkies so that you can make an informed buying decision!
Back in 2019, Ford and Volkswagen announced an alliance that will see the two automotive giants collaborate on new products including new commercial vehicles (bakkies and vans) as well as new electric models and further development of autonomous driving technology. 
The new Volkswagen Amarok shares its underpinnings (latest T6.2 platform) with the new Ford Ranger and both will be manufactured in South Africa at Ford's significantly upgraded production facility in Silverton, Gauteng.
So, how do these closely-related bakkies differ from each other? Let's take a look at some of the key differences! 
Volkswagen Amarok vs Ford Ranger: What's the difference?
Exterior Styling Execution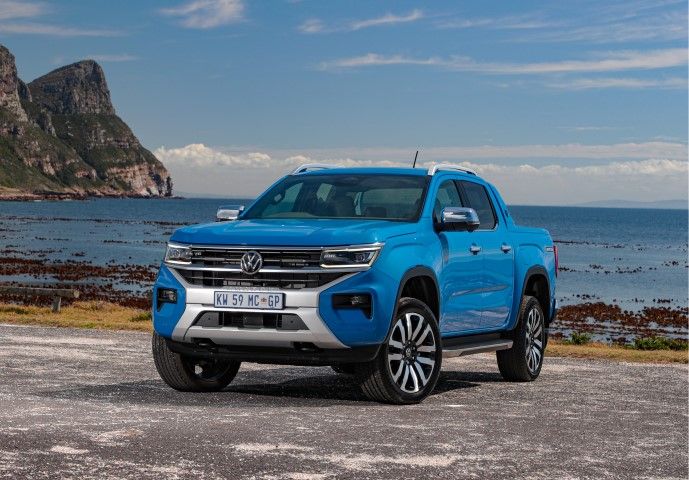 While the new Volkswagen Amarok and Ford Ranger share the same underpinnings, the most obvious differences can be seen in the design execution. Only the roof rails, side mirrors and door handles are visually similar and each brand has applied its own design language for distinction. 
The new Amarok is defined by a straight and upright front end with horizontal bar elements that lead into the slim standard integrated LED headlight units. Volkswagen's IQ.Light LED matrix headlights are fitted to range-topping derivatives and these derivatives (Aventura and Pan-Americana) are further distinguished with a X-shape design seen on the mid-to-lower bumper section. Amarok is also embossed on the section above the numberplate holder. 
The half-round wheel arches with plastic cladding, housing alloy wheel sizes up to 21-inches, further add to the rugged look of the new Amarok. At the rear, large AMAROK lettering is seen across the tailgate and is bracketed with new C-shaped LED tail lights. Volkswagen will also offer a selection of accessories to enhance the visual and functional appeal of the new Amarok.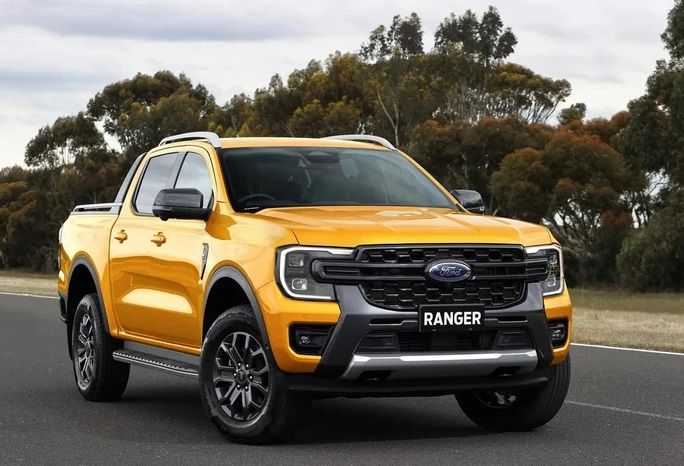 As for the new Ford Ranger, it adopts a boldly-chiselled face that incorporates a sculpted bonnet and large grille surface flanked by new, larger C-shaped headlights (LED matrix headlights are fitted for the first time) and the C-shaped daytime running light signature is a defining feature for the new Ranger. The Ranger's rear end also gains new LED tail lights and a nifty feature is the new rear side step which allows for easier access to the load bin. Much like the Amarok, the new Ranger is offered with a wide range of optional accessories that will enhance both the Ranger's appearance and functionality.   
Note that both single and extended cab Ford Ranger derivatives are now available in South Africa.
Do you think the new Volkswagen Amarok looks better than the new Ford Ranger? 
Interior Styling Execution  
Use the above slider to see the interior differences between Amarok and Ranger.
Moving inside, the similarities (and differences) between the new Amarok and new Ranger's interior execution are evident.
While the cabin architecture is similar, both Volkswagen and Ford have designed their respective cabins to reflect their own brand identity.   
Both models share the same portrait-style infotainment system which will be between 10.1- to 12-inches in size depending on the derivative.
The Ford Ranger features the firm's latest SYNC 4A operating system and the Amarok will inherit the same system, which is a good thing since this is a highly-praised system, but the menu layout and look and feel is familiar from Volkswagen's current MIB operating system . 
The design of the surrounding air vents do differ somewhat and as expected, the multi-function steering wheel designs remain true to each respective brand's model lines. Both models are also equipped with a digital instrument cluster, yet they differ slightly in terms of design and visual execution.
Use the above slider to see how the instrument clusters differ. 
The seat designs and upholstery will also differ in line with each brand's identity. 
Nice-to-have features in both products include wireless charging, 360-degree camera, wireless Apple CarPlay and Android Auto and a wide range of driver assistance systems.
The Volkswagen Amarok is offered with 5 trim levels starting from the base Amarok, followed by the Amarok Life and Amarok Style trim grades (urban trim) and then finally moving up to the Amarok Panamericana (with offroad character) and the range-topping Amarok Aventura (with on-road character).
Similarly, the Ford Ranger is offered in various trims such as Base, XL, XLT, Wildtrak and is headlined by the Ford Ranger Raptor.
Engine Choices
Use the above slider to see how the rear-end designs differ.
The Volkswagen Amarok's engine range mirror what's offered for the Ford Ranger.  Five engines power the new Amarok but not all engine derivatives are offered in the South African market.   
Internationally, the Amarok is headlined by a 2.3-litre EcoBoost engine with 222 kW and 452 Nm and is paired with a 10-speed automatic transmission only, which is also the case for the Ranger. This engine is not initially confirmed for South Africa but it's "under consideration" and might potentially be introduced at a later stage.
On the diesel front, a 3.0-litre V6 turbodiesel engine makes 184 kW and 600 Nm in Ranger guise and this engine also powers the range-topping Amarok. It too is paired with a 10-speed automatic transmission and is only be offered in 4Motion permanent all-wheel drive guise. 
In addition, the Amarok can be had with Ford's revised single-turbocharged 2.0-litre turbodiesel in 2 states of tune (110 kW and 350 Nm/125 kW and 405 Nm) and comes mated with either a 5- or 6-speed manual transmission respectively or with a 6-speed automatic transmission in the case of the 125 kW Amarok (selectable all-wheel-drive).
Ford's 2.0-litre bi-turbo oil-burner is also found in the Amarok Life and Amarok Style derivatives and offers 155 kW and 500 Nm in South Africa, while a 150 kW version will be offered in other markets. This engine is paired with a 10-speed automatic transmission as well as in 4Motion permanent 4-wheel-drive guise only. Up to 6 drive modes are offered and just like the Ranger, an e-shifter or drive-by-wire transmission is fitted for derivatives with 154 kW or more.  
As for the range-topping Ranger Raptor, it's powered by Ford's specially-tuned twin-turbocharged 3.0-litre V6 EcoBoost petrol engine that offers 292 kW and 583 Nm and is paired with a specially-calibrated 10-speed automatic transmission.
It remains to be seen if Volkswagen will introduce a high-performance Amarok to take on the Ranger Raptor, but we hope it happens!
Practicality & Offroad Ability 

Volkswagen Amarok
Ford Ranger
Length 
5 350 mm
(+96 mm) 
5 370 mm
(+16 mm)
Width (excluding)
2 204 mm
(-24 mm)
1 918 mm 
(+58 mm)
Height 
1 888 mm
(+54 mm) 
1 884  mm 
(+33 mm)
Wheelbase
3 270 mm
(+173 mm)
3 270 mm 
(+50mm)
Wading depth 
800 mm (+300 mm) 
800 mm
Ground Clearance 
234 mm
237 mm
Approach angle 
29 degrees (+1)
30 degrees (+4.5)
Departure angle 
21 degrees (-2.6)
25.6 degrees (+3.8)
Breakover angle
21 degrees (-0.4)
TBC
Payload Capacity 
Up to 1 160kg
Up to 1 160 kg
Maximum Towing Capacity 
3 500 kg 
3 500 kg 
*bracketed items are for outgoing models.
Use the above slider to see the differences in front-end design.
The new Amarok and Ranger, depending on engine and specification, deliver diverse offroad capability to suit various requirements including both mild and hardcore offroad ability, with the Ford Ranger Raptor offering the ultimate in high-performance offroad ability. 
Both the Volkswagen Amarok and Ford Ranger are designed to tackle challenging terrain and both are offered in either rear-wheel-drive guise or with either a part-time shift-on-the fly 4×4 system (2H, 4H and 4L) or permanent all-wheel-drive. 
In the case of the Amarok, an advanced all-wheel-drive 4Motion system is available as standard on all derivatives with 154 kW or more. Depending on the engine, both the Amarok and Ranger offer the choice between two all-wheel drive systems including permanent all-wheel drive and selectable all-wheel-drive. The new Ranger is available with permanent four-wheel-drive in range-topping V6 guise.
The permanent four-wheel-drive system gains an on-demand, electromechanical 2-speed transfer case with 4 modes and the driver can alternate as needed from permanent all-wheel-drive to 4H (50/50 distribution for low traction surfaces such as snow or gravel), 4Lo (low speed, high torque) and 2H (to maximise efficiency). The Ranger also features a 4A mode which can send power to the front and rear axles continuously as required and thus adds a level of convenience when driving over varied terrain. 
The selectable all-wheel-drive system uses an electronic transfer box with rear-wheel-drive 2H being the default while the driver can also switch to 4H (on-road) and 4L (off-road). An electronic rear differential lock is also fitted which will be useful on those tougher off-road obstacles.  
Use the above slider to see the difference between the off-road dials in the new Amarok and Ranger. 
Take a look at the table above for key off-road specifications for both the Amarok and Ranger.
In terms of practicality, the new Ford Ranger features enhanced practicality over the new Amarok with the addition of a new integrated side step which makes it much easier to access the load bay.
Also, the load bin of both the Amarok and Ranger can accommodate a euro pallet and the load bin itself features a rugged plastic bedliner and tie-down points make it easy to tie your cargo down. Both Ford and Volkswagen offer cargo management systems that allow you to easily create compartments to store items neatly and safely and both electronic and manual roller shutters are also available. 
For the outdoor enthusiasts, the Amarok's roof rails have a 350 kg maximum load capacity which means they can accommodate a 4-man roof tent.
The Ranger, however, differentiates itself from the Amarok with the aforementioned rear side-step as well as a tailgate that has been designed to be a mobile workbench with an integrated ruler and clamp pockets which is useful if you need to measure, grip and cut building materials
Use the above slider to see load bin practicality for the new Amarok and Ranger. 
Drive and Handling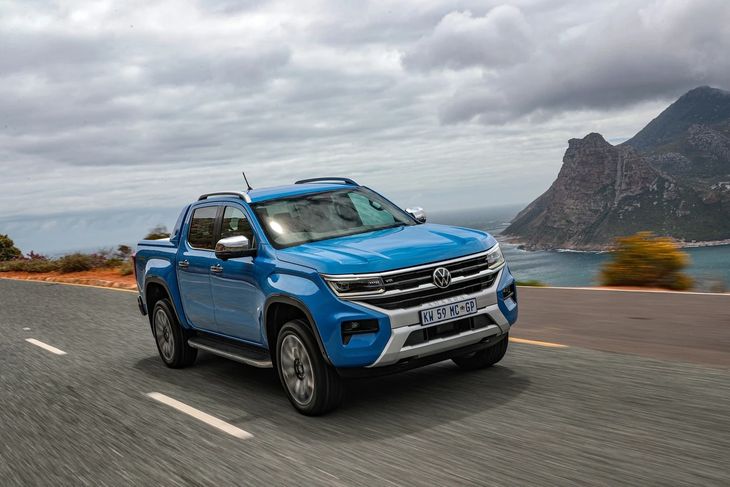 It's immediately noticeable that massive improvements have been made to the Amarok's chassis to make it more car-like to drive, especially in terms of ride refinement. The ladder-frame chassis' stiffness is on another level compared to the other bakkies currently on sale. There is far less body roll when cornering and way less shaking from the chassis when traversing bumps or dirt roads. The chassis is taut to a point where it is almost indistinguishable from a monocoque body you get on modern SUVs, such as the Touareg and Tiguan. The other characteristic that is immediately apparent is the quietness of the cabin. The cab seems well insulated from wind and road noise, even with huge side mirrors that can't be doing wonders for the fuel economy.
How does the new Amarok V6 perform? To be honest, the initial shove (in-gear acceleration) provided by the new motor feels a little underwhelming (compared with the Amarok's outgoing 190 kW V6), at least considering the claimed outputs of the Gqeberha-produced powerplant. It certainly appears to be gentler than the old V6, but its power/torque delivery feels quite linear. It's definitely fit for purpose – after all, the Amarok's not meant to be a sports bakkie. The 10-speed 'box does a good job of keeping the V6 within its peak torque band (1 750 to 2 250 rpm). Fuel consumption doesn't appear to have improved with the new engine and gearbox combo, however. We saw indicated consumption figures in the mid-11 L/100 km range.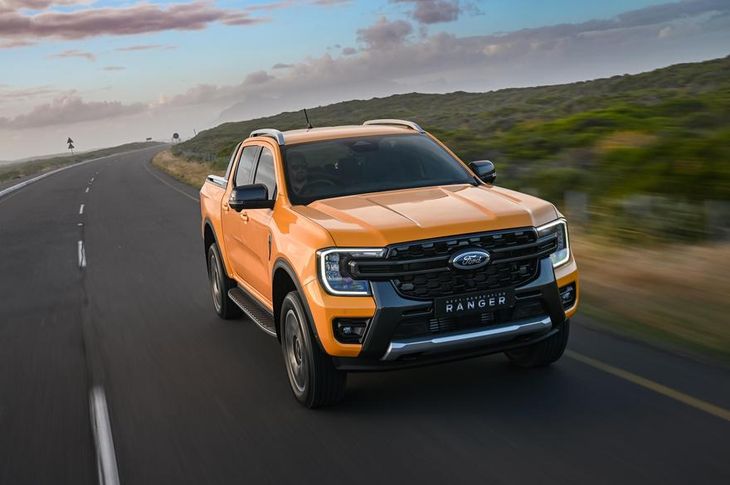 We had the chance to drive 2.0-litre biturbo XLT and 3.0-litre V6 Wildtrak examples of the newcomer on public roads, as well as some technical off-road sections. Our initial impression is that the new Ranger's suspension setup is slightly firmer than that of the outgoing model, but the characteristic skittishness and body jiggles that affect these types of vehicles when they're travelling on poorly maintained/uneven asphalt- or gravel roads (especially when they're not heavily laden with cargo) is remarkably low.
The 2.0-litre biturbo is admirably responsive, with predictable shifts from the transmission; it pulls strongly. Wind- and road noise levels were indeed lower than expected and, at brisk- to cruising speeds, the Ranger felt surefooted and steady. The 3.0-litre V6 "Power Stroke" turbodiesel is a revelation – for the Ranger… and the entire bakkie segment. Customers who intend to tow large trailers regularly are likely to appreciate the Ford V6's sheer tractability – it's brilliantly aided by the smartly-calibrated 10-speed automatic 'box.
Moreover, the V6 motor seems notably smoother- and quieter running than its 4-cylinder biturbo counterpart, which speaks volumes, seeing as the latter is already pretty good by bakkie standards, especially in terms of its low idling noise. You don't need to apply the accelerator pedal liberally to get the best out of the V6 either; it delivers significant urge from low down in the rev range and just feels like the more "SUV-like" powerplant of the two. Both derivatives featured a pleasantly light steering setup, which helps to make the sizeable bakkie manoeuvrable in tight spaces – and on narrow 4×4 tracks. 
Pricing and Warranty
Note that the pricing below is accurate as of June 2023.
See Ford Ranger specification and pricing details
See Volkswagen Amarok specification and pricing details
| | | | |
| --- | --- | --- | --- |
| Volkswagen Amarok  | Price | Ford Ranger | Price |
| Single Cab | | Single Cab | |
| Volkswagen Amarok 2.0TDI 110kW single cab 4×2 | R499 000 | Ford Ranger 2.0 SiT single cab XL manual 4×2 | R464 200 |
| Volkswagen Amarok 2.0TDI 125kW single cab | R575 000 | Ford Ranger 2.0 SiT single cab XL auto 4×2 | R477 800 |
| Volkswagen Amarok 2.0TDI 125kW single cab 4Motion | R646 000 | Ford Ranger 2.0 SiT single cab XL 4×4 manual | R531 300 |
| | | Ford Ranger 2.0 SiT single cab XL 4×4 auto | R545 000 |
| No Amarok Super Cabs | | Super Cab | |
| | | Ford Ranger 2.0 SiT Super Cab XL manualR485 400Ford Ranger 2.0 SiT Super Cab XL 4×2 manual | R485 400 |
| | | Ford Ranger 2.0 SiT Super Cab XL manualR485 400Ford Ranger 2.0 SiT Super Cab XL 4×2 auto | R499 900 |
| | | Ford Ranger 2.0 SiT SuperCab XL 4×4 auto | R542 900 |
| | | Ford Ranger 2.0 SiT SuperCab XLT 4×2 Auto | R547 100 |
| | | Ford Ranger 2.0 Bi-Turbo SuperCab XLT 4×4 Auto | R688 900 |
| | | Ford Ranger 2.0 BiTurbo SuperCab Wildtrak 4×4 | R772 800 |
| Double Cab | | Double Cab  | |
| Volkswagen Amarok 2.0TDI 110kW double cab | R599 000 | Ford Ranger 2.0 SiT double cab 4×2 | R495 800 |
| Volkswagen Amarok 2.0TDI 125kW double cab | R650 500 | Ford Ranger 2.0 SiT double cab 4×4 | R539 200 |
| Volkswagen Amarok 2.0TDI 125kW double cab Life | R683 500 | Ford Ranger 2.0 SiT double cab XL 4×2 manual | R540 500 |
| Volkswagen Amarok 2.0TDI 125kW double cab 4Motion | R721 500  | Ford Ranger 2.0 SiT double cab XL 4×2 auto | R563 500 |
| Volkswagen Amarok 2.0TDI 125kW double cab Life 4Motion manual | R783 000 | Ford Ranger 2.0 SiT double cab XL 4×4 manual | R619 500 |
| Volkswagen Amarok 2.0TDI 125kW double cab Life 4Motion auto | R760 000 | Ford Ranger 2.0 SiT double cab XL 4×4 auto | R643 700 |
| Volkswagen Amarok 2.0BiTDI double cab Life 4Motion | R825 500 | Ford Ranger 2.0 SiT double cab XLT 4×4 auto | R693 300 |
| Volkswagen Amarok 2.0BiTDI double cab Style 4Motion | R909 000 | Ford Ranger 2.0 BiTurbo double cab XLT 4×2 auto | R726 900 |
| Volkswagen Amarok 3.0TDI V6 double cab Style 4Motion | R995 000 | Ford Ranger 2.0 BiTurbo double cab Wildtrak | R805 600 |
| Volkswagen Amarok 2.0BiTDI double cab PanAmericana 4Motion | R1 006 700 | Ford Ranger 2.0 BiTurbo double cab XLT 4×4 auto | R809 500 |
| Volkswagen Amarok 3.0TDI V6 double cab PanAmericana 4Motion | R1 084 600  | Ford Ranger 2.0 BiTurbo double cab Wildtrak 4×4 | R898 100  |
| Volkswagen Amarok 3.0TDI V6 double cab Aventura 4Motion | R1 138 200 | Ford Ranger 3.0 V6 double cab Wildtrak 4WD | R996 500 |
| | | Ford Ranger 3.0 V6 EcoBoost double cab Raptor 4WD | R1 149 700  |
| Warranty  | 4-year / 120 000 km  | 4-year / 120 000 km  | |
| Service Plan  | 5-year / 100 000 km | Optional | |
Original Story by www.cars.co.za