Volkswagen has revealed that a new halo electric car will come to market in 2026 and it will be called Trinity!
*pictured is the 2018 Volkswagen ID Vizzion Concept 
Volkswagen's electric vehicle (EV) offensive is rapidly gathering momentum and the brand is currently experiencing notable success in Europe with its recently introduced ID.3 leading the charge, becoming Europe's top-selling electric vehicle in December with 68 800 units ordered in 2020. Volkswagen delivered more than 212 000 electric cars in 2020, some 158% more than it did in 2019. 
According to Volkswagen Passenger Cars CEO, Ralf Brandstätter, "2020 was a turning point for Volkswagen and marked a breakthrough in electric mobility. We are well on track to achieve our aim of becoming the market leader in battery electric vehicles, more than any other company, we stand for attractive and affordable e-mobility."
Trinity EV for 2026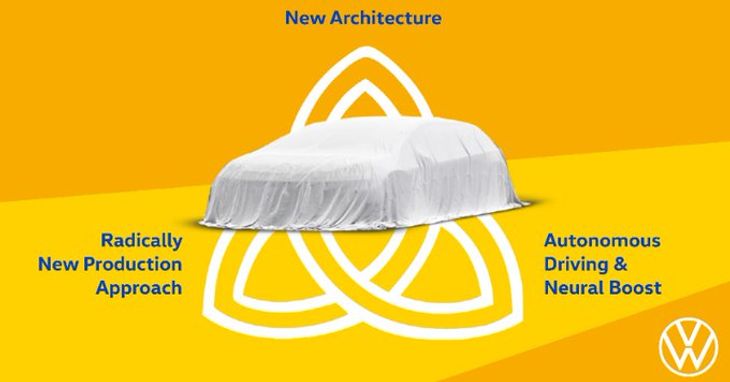 Brandstätter has also revealed Volkswagen's intention to produce a new halo EV which will reportedly arrive in 2026. Details of what is known internally as 'Project Trinity' has emerged on motoring journalist and regular Cars.co.za contributor, Greg Kable's Twitter account where Brandstätter describes the new EV as a "highly efficient flat seat concept with an iconic design". 
It's also revealed that Project Trinity will be built on a "new architecture" and feature a "radically new production approach" as well as "autonomous driving and neural boost". 
Brandstätter further comments that, "This car stands for 3 things. We are taking the lead for a flat-panel electrical platform, helping to shape the new group backbone; Level 2+ (level 4 ready) autonomous driving and neural network; Fully networked production processes."
Based on the image above, it appears Trinity will indeed have a unique design, particularly if you consider that the A-pillar is right over the front wheel arch. Details regarding Trinity remain thin at this stage but as always, we will keep you informed as soon as more information becomes available. 
In related news, Volkswagen Group CEO, Herbert Diess has joined Twitter! In his latest tweet, Diess comments "Trinity comes after NEO (ID.-Project) and will revolutionize Volkswagen – and especially Wolfsburg even more! A huge challenge for our most traditional and historic site to compete against a greenfield in Grünheide. But we take on the challenge!" Tesla's CEO, Elon Musk, in November 2019, announced the intention to build what is known as Giga Berlin, Tesla's new Gigafactory in Grünheide which is due to start operation by mid-2021. Tesla is a major EV player in Europe and Volkswagen is fast becoming its fiercest rival.
Herbet Diess joined Twitter in December 2020 and he wasted no time in making his intentions clear in his opening tweet on 20 January 2021 by provoking Elon Musk. His tweet read, "Hello @Twitter! I'm here to make an impact with @VWGroup, especially on political issues. And, of course, to get some of your market shares, @elonmusk – after all, our ID.3 and e-tron have won the first markets in Europe. Looking forward to productive discussions!
Buy a Volkswagen on Cars.co.za
Watch Ciro De Siena test the Volkswagen e-Golf!
Related Content 
Volkswagen tests new ID electric car in SA
Original Story by www.cars.co.za