Having optimised the F8 Tributo's performance by upping its twin-turbo 3.9-litre V8's peak outputs to 590 kW and 898 Nm, German tuning firm Novitec has produced a bespoke aerodynamic kit to ensure the Ferrari has the show to match the go!
Last year, Cars.co.za reported that Novitec had developed a range of engine, suspension and exhaust mods to beef up the F8 Tributo, which produces more-than-sufficient maximum figures of 530 kW at 7 000 rpm and 770 Nm at 3 250 rpm in standard trim – it's powered by the most powerful V8 engine that Ferrari has ever put into series production. But for some well-heeled aficionados, 530 kW could never be enough…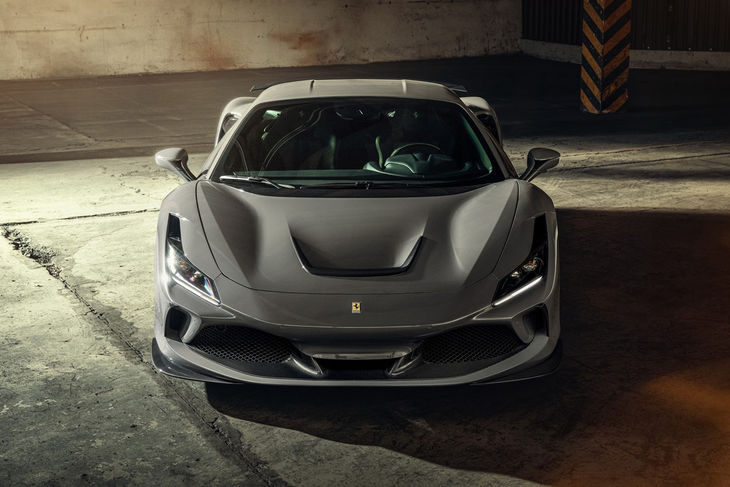 The carbon-fibre-laced front splitter distinguishes the Novitec creation from its factory-built siblings.
With the installation of a Novitec N-Tronic control module, which tweaks the engine mapping, ignition and boost pressure, the F8 Tributo's outputs go up to 579 kW at 8 000 rpm and 882 Nm at 3 000 rpm. Then, with the Power Stage 2 update, which combines the N-Tronic with a custom stainless-steel exhaust system (with catalyst-replacement pipes), the headline figures are 590 kW at 7 950 rpm and 898 Nm at 3 100 rpm.
That means that instead of accelerating from 0 to 100 kph in 2.9 sec (as the Ferrari does in standard trim), the Novitec F8 Tributo is claimed to dispatch the benchmark in just 2.6 sec, before going on a top speed of "in excess of 340 kph".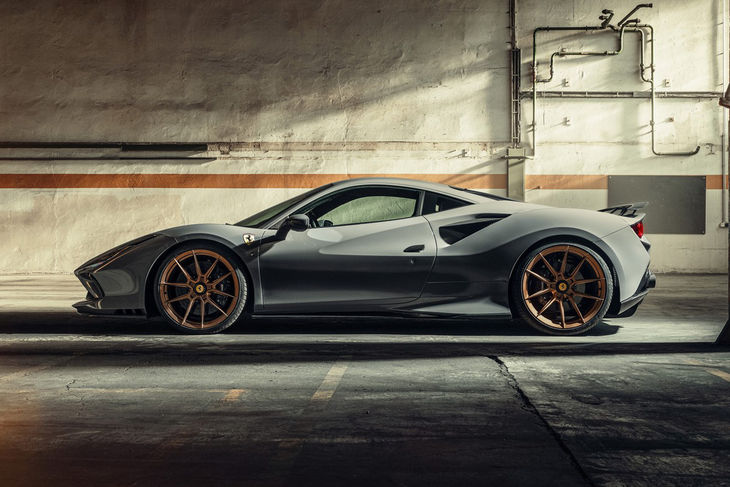 Carbon fibre accoutrements feature all along the flanks of the Novitec F8 Tributo, there is even an extra vane in the side inlet.
However, the car that Novitec presented last year looked much like a standard F8 Tributo, apart from riding on sports springs that lower the car's ride height by 35 mm and being shod with bespoke Vossen-Novitec rims and tyres – 21-inch at the front, with 22-inch at the back. 
Now the tuning firm has unveiled a strikingly styled body kit for its fettled F8 Tributo, of which all parts are optionally available in naked-carbon with a high-gloss clear coat.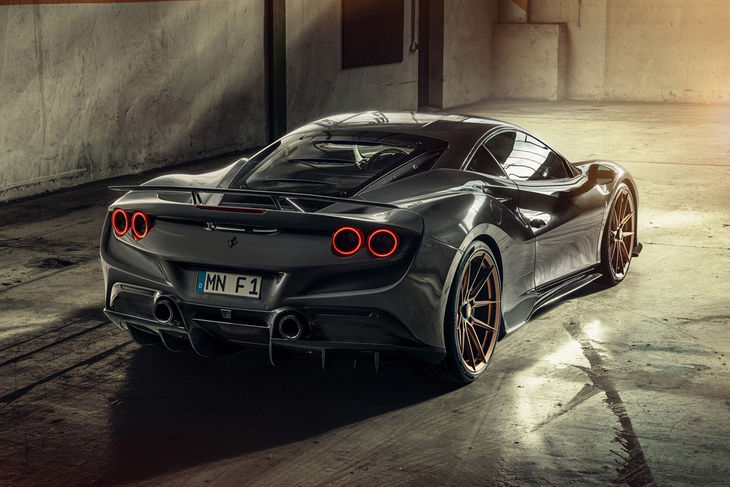 The Novitec F8 Tributo has larger wheels at the back (22-inch alloys) than at the front (21-inch alloys).
The front aspect is characterised by a 2-piece spoiler incorporating an elaborate carbon-trimmed air intake, as well as flaps on the side air intakes (to reduce lift at high speeds). The bonnet vent, meanwhile, is garnished with an insert finished in the same composite material.
More carbon-fibre trim features on the Ferrari's side skirts, wing mirrors, side-intake deflectors and large rear wing. Buyers can upgrade the rear fascia by specifying a cover, air outlets and fins to affix to the production diffuser. Alternatively, a bespoke Novitec diffuser is also available.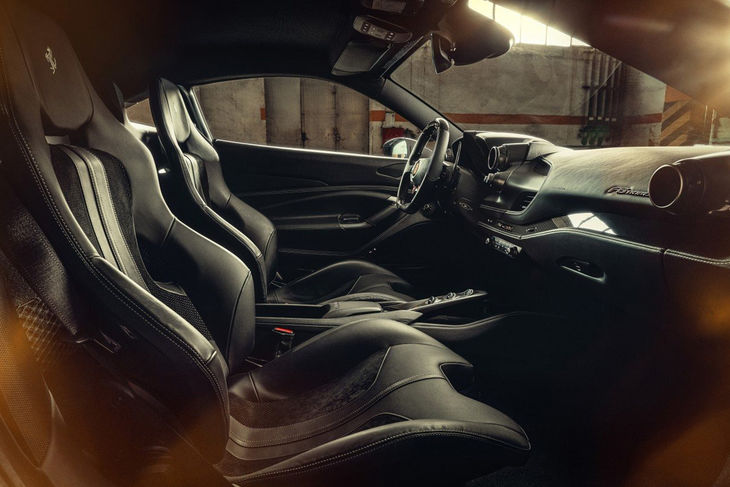 Buyers can personalise the Novitec F8 Tributo's interior to heart's content… as long as there are Alcantara and carbon inserts! 
To personalise the modified Italian supercar's wheels, buyers can choose from 72 colours and brushed or polished finishes. The top-of-the-range wheel has a 5 twin-spoke design with a centre-lock look.
Lastly, there are various exhaust systems to choose from; the fanciest one is made from lightweight Inconel and plated with gold, which makes a bold statement when you open the engine cover… and helps to dissipate heat. The tailpipes are trimmed in a combo of carbon and stainless steel.
Search for a used Ferrari on Cars.co.za
Related content:
Ferrari beefs up its Portofino, adds M
Ferrari Roma launched in South Africa
Novitec cranks up power, volume of F8 Tributo
Original Story by www.cars.co.za